Schiphol tackles landside congestion by digital planning
Schiphol Airport's supply chain partners have signed a Best Effort statement to combat long wait times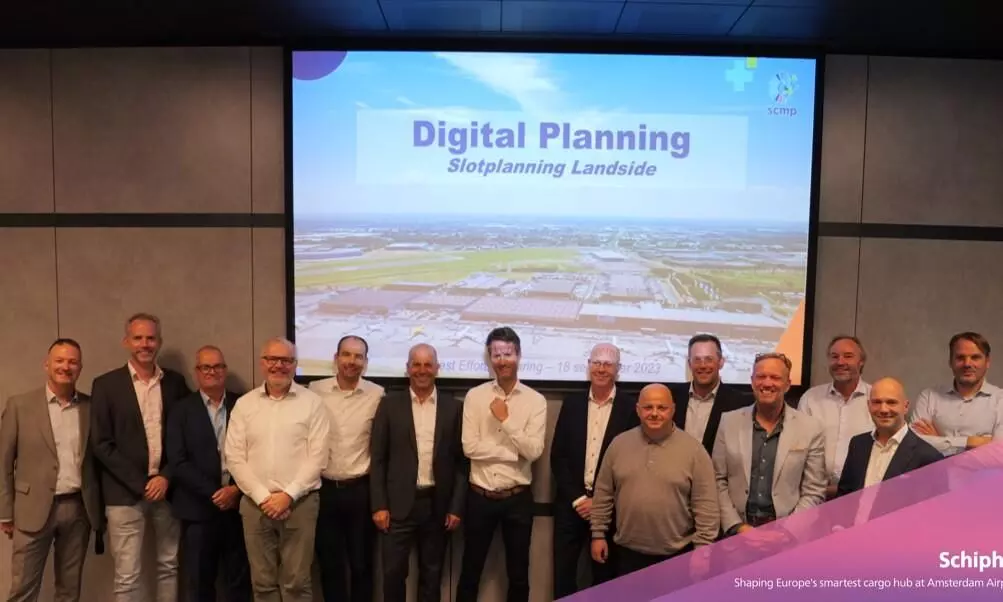 Amsterdam Airport Schiphol and its cargo partners are combating long truck wait times at the hub through the introduction of a new smart cargo mainport programme initiative Digital Planning.
The key players in Schiphol's air freight chain signed a "Best Effort" declaration, committing to far-reaching digitalisation of the landside cargo import and export processes. Handlers, truckers and forwarders, along with representatives from Schiphol Airport and Air Cargo Netherlands, gathered to sign the statement to implement the new way of working, says an official release.
The new system will optimise landside processes by drawing up a clear system of agreements that enable digital planning between handlers and air freight truckers.
"The realisation of this plan will mean that anybody who comes to deliver or collect air freight at Schiphol must first request a time slot digitally through a central platform: if the time slot is granted, parties can then go directly to a handler's loading door.
"Vehicles with unregistered freight will have to wait in a buffer parking lot, which will be developed with a reporting and calling system, from where they will be called as soon as their handler has the capacity." The new framework will be made possible through the introduction of a set of business rules managed by trade organisation Air Cargo Netherlands along with a new central planning portal which will be built by Cargonaut and SmartLOXS.
Dimitri Brink, Vice Chair, ACN/FENEX Freight Forwarders Sector Council says: "Within the smart cargo mainport programme, the air freight industry has taken the steps necessary in recent years to digitise the supply and removal processes chain-wide. Digital Planning is the golden piece of the puzzle that should make waiting times at Schiphol a thing of the past once and for all."
Jeroen Giling, Chair, ACN Sector Council for Handlers adds: "Freight handlers at Schiphol work towards a uniform system of pre-registration to enable door planning at handlers Schiphol-wide. Success depends on the involvement of all chain partners. Signing the Best Effort today is therefore an important step."
Joost van Doesburg, Head of Cargo, Schiphol Airport says: "The Schiphol Cargo Community's ambition is to offer a competitive, high-quality and sustainable air freight hub. With this combination of digitalisation and chain process agreements, we save a lot of unnecessary waiting times and frustration for customers, we optimise the logistics process, and we make the supply and removal process of freight at Schiphol airport more sustainable."
Maarten van As, Managing Director, Air Cargo Netherlands says: "Chain parties have been irritated by costly and demotivating waiting times for years. We are now entering a joint process where chain parties will really see each other as chain partners by drawing up business rules that enable far-reaching digitalisation of supply and disposal processes."
Support and coordination regarding secure data sharing will also be provided by the national Digital Infrastructure Logistics (DIL) programme within the Ministry of Infrastructure and Water Management, the release added.