Quikjet Airlines resumes operations in India; to fly for Amazon
Quikjet reapplied for the renewal of its AOC under the new ownership of Cyrus Guzder and ASL Aviation Holdings a few months ago, which is approved and valid until 2027.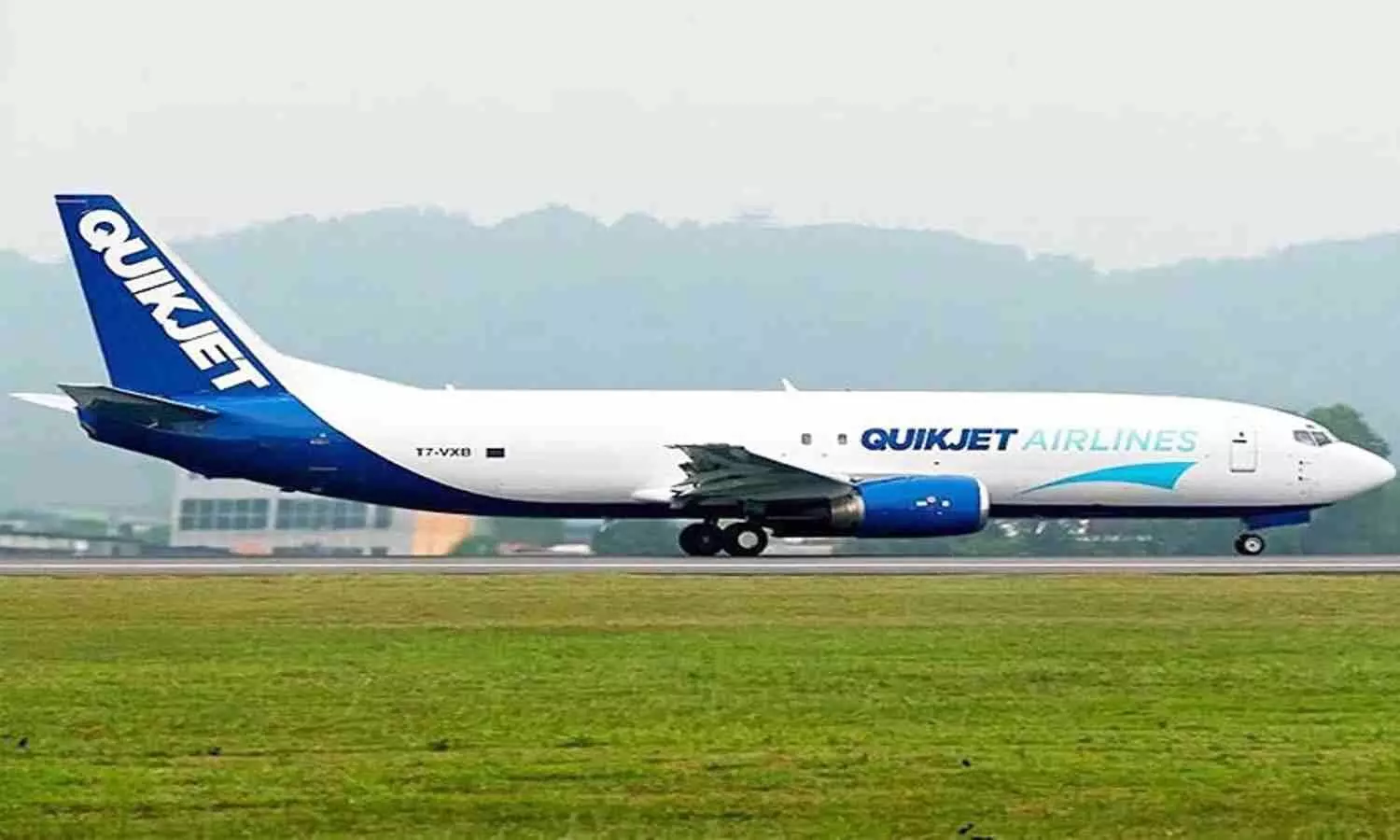 Bengaluru-based cargo airline Quikjet Airlines has returned to the skies after it obtained a new Air Operator's Certificate (AOC) from the Directorate General of Civil Aviation (DGCA), the Indian civil aviation regulator.
The cargo carrier, with two converted Boeing 737-800 freighters (B737-800BCF and B737-800BDSF), has been operating for the eCommerce giant Amazon in India connecting Hyderabad with Delhi and Bengaluru. The cargo airline is expected to start Delhi-Mumbai-Delhi sectors shortly.
When reached out for a comment on the operations for Amazon, a Quikjet Airlines spokesperson declined to give details and requested to wait till the official launch, which, according to the spokesperson, is scheduled for January 23.
The GMR Hyderabad International Airport took it to LinkedIn over the weekend to welcome the new cargo airline. It said, "#HYDAirport is delighted to welcome back Quikjet for relaunching cargo airline operations today with daily connectivity from Hyderabad to Delhi and Bangalore. This will boost the state's economy and empower businesses with increased cargo connectivity & quicker reach for E-commerce. We look forward to growing together".
According to The Times of India (TOI), a Boeing 737 freighter carrying Amazon's cargo landed at Bengaluru's Kempegowda International Airport (KIA) from Hyderabad Airport twice last week.

Quikjet Airlines was founded in 2007, and on February 16, 2016, the company announced the beginning of B737-400SF jet freighter operations with Mumbai-based Sovika Aviation, as well as domestic and international cargo charter services, initially connecting Delhi, Chennai, Bengaluru, and Hyderabad. After retiring its B737-400SF, it ceased operations in 2017 and has remained inactive since.
When it was launched Ireland-based ASL Aviation Holdings, a global aviation services provider and a world leading ACMI airline operator, was the majority shareholder. However, early last year, ahead of its application for a new AOC, the company brought in India's leading logistics and supply chain entrepreneur Cyrus Guzder as an investor holding a majority stake of 51%. The rest of the company is still owned by ASL Aviation Holdings.
Guzder is the Chairman and Managing Director of AFL Private Limited. He led the introduction of international air courier services in India, through DHL Worldwide Express, which he headed for over 25 years. He served as a Director on the Boards of several companies, including Air India, Alfa Laval, Tata Infomedia, Tata Honeywell, Barclays Bank Local Advisory Board, BP India and others.
According to a few industry experts that we spoke to confirmed that a change in ownership of the airline, with a majority stake held by an Indian, made the Indian regulator grant the AOC.
According to a report published last month, Amazon.com is actively seeking clients to help load its cargo aircraft despite a global slowdown in air freight demand. The US-based corporation has over 100 aircraft deployed across different freight carriers and wishes to maintain them fully loaded and operational.
ASL Aviation Holdings has been operating on behalf of Amazon in Europe for quite some time. ASL has contracts with Amazon for its full charter or CMI contracts.