Qatar Airways Cargo launches Kigali Africa hub with RwandAir
QAS Cargo provided consultancy support to RwandAir for its cargo handling processes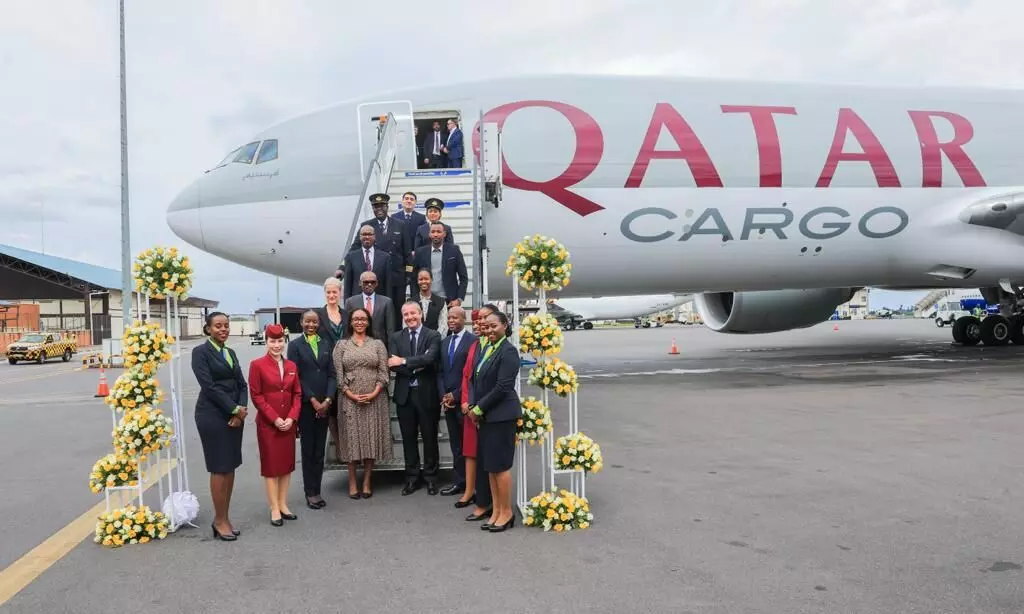 Qatar Airways Cargo's Boeing 777 freighter landed at Kigali International Airport at 13:00 Central Africa Time on May 3, 2023.
Guillaume Halleux, Chief Officer, Cargo, Qatar Airways and Yvonne Makolo, Chief Executive Officer, RwandAir officially launched operations at the Kigali Africa Hub, says an official release from Qatar Airways Cargo.
"The Boeing 777 aircraft will fly from Doha to Kigali twice a week. Since March, Qatar Airways Cargo has created an intra-Africa service between Kigali and Lagos (three times per week), and a weekly service from Istanbul via Doha to Kigali, all operated by an Airbus A310 aircraft. New destinations from Kigali will be announced soon, the release added.
In the run-up to the Kigali Cargo Hub launch, QAS Cargo, a subsidiary of Qatar Airways, provided consultancy support to RwandAir Cargo to help improve its cargo handling performance, the release said. "A team from QAS Cargo visited the cargo handling facilities and presented RwandAir with a detailed action plan for operational improvements and handling performance. The team is now working together on a future roadmap, including a proposed improvement plan for its warehouse infrastructure, which will form part of a long-term strategic plan for the cargo division of RwandAir."
Halleux says: "Africa is one of the world's fastest growing economies, yet for it to develop to its full potential requires investment in logistics infrastructures. Qatar and Rwanda have long-enjoyed bilateral trade agreements with both Qatar Airways and Qatar Investment Authority having previously invested in Kigali International Airport and RwandAir. It was therefore a logical step that Qatar Airways Cargo supports RwandAir in its cargo ambitions. Our customers will benefit from both a reliable intra-African network through our Kigali hub as well as enhanced service levels and cost synergies. We are proud to partner with RwandAir in establishing Kigali as the Central African hub in preparation for the Next Generation of air cargo on this fast-growing continent."
Qatar Airways Cargo currently serves 28 cities in Africa with a mixture of freighter and belly-hold services, carrying up to 2,800 tonnes to and from Africa, the release said.
Qatar Airways Cargo covers a global network of more than 60 freighter destinations and 150 passenger destinations utilising freighters and belly-hold passenger flights. The airline's freighter fleet includes two Boeing 747-8 freighters, two Boeing 747-400 freighters, 26 Boeing 777 freighters and one Airbus 310 freighter, the release added.