Pharma logistics challenging but fruitful and meaningful
Visibility, national regulations, temperature controls - logistics players have to deal with a handful of challenges while transporting pharmaceuticals. The end result - a happy customer and the smile on the face of the patient...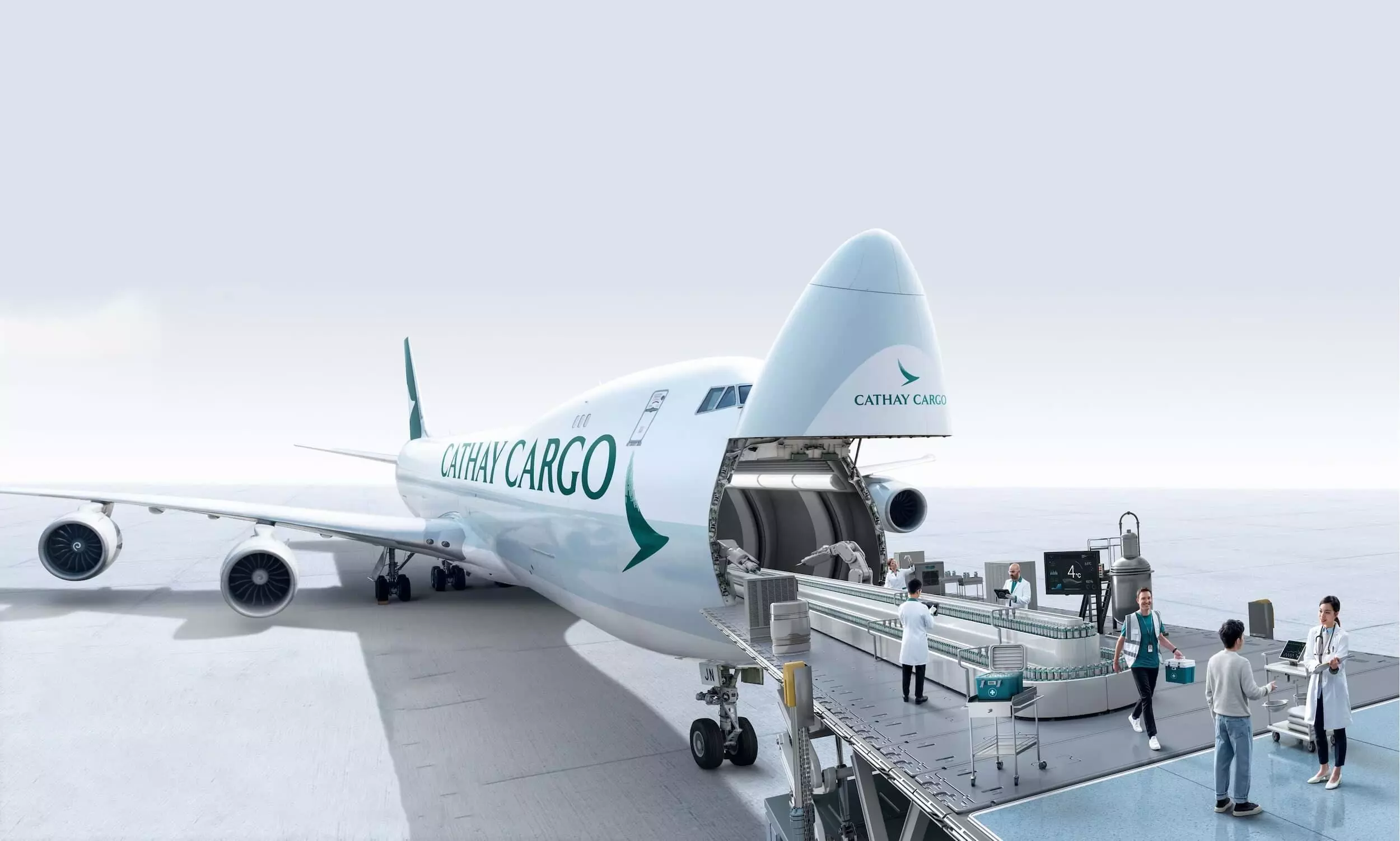 The global Covid-19 pandemic shook up the pharma logistics market like never before - it was like a tsunami had hit the calm waters of pharma transportation, storage and eventual distribution to everyday consumers like me and you...
What changed? The whole set up, the whole thinking and the whole approach to pharma logistics - cold chains got prominence, air freight was in the thick of action and every participant wanted to ensure that they put the best foot forward to ensure error-free delivery of healthcare products.
The global pharmaceuticals logistics market was estimated to be around $85 billion in 2022, and is seen to grow to around $170 billion by 2030 - driven by innovations, service-on-demand and latest technologies to keep pace with industry changes.
"Prior to the Covid-19 pandemic, Etihad Cargo had already sought out and achieved International Air Transport Association (IATA) Center of Excellence for Independent Validators (CEIV) Pharma certification, going on to become the first airline and only one of a few globally to hold the trilogy of IATA CEIV Pharma, Live Animals and Fresh certifications for our PharmaLife, LiveAnimals, SkyStables and FreshForward products," says Fabrice Panza, Manager, Global Cool Chain Solutions, Etihad Cargo. "In the post-Covid era, Etihad Cargo has continued to enhance our PharmaLife product to ensure we deliver on our service promises and can respond to the evolving pharmaceuticals and life sciences sector's requirements with agility. In addition to covering Etihad Cargo's airline operations, CEIV Pharma Certification extends to cargo handling and warehousing at Abu Dhabi International Airport (AUH). With a multi-phased cargo infrastructure development strategy in place, including an expanded pharma facility, Etihad Cargo is committed to developing a Cool Chain Centre of Excellence at its state-of-the-art UAE hub. We also invest extensively in training as highly trained staff are essential to maintaining quality throughout the pharmaceuticals' entire journey. We continuously manage and monitor this training to ensure every stakeholder involved in the handling of pharmaceutical cargo, ensuring on-going awareness and communication.
"We learned many lessons during the pandemic, which we have continued to apply such as the importance of collaboration with stakeholders within the pharma supply chain. Etihad Cargo has further strengthened our capabilities and expertise in handling temperature-sensitive pharmaceuticals by seeking and establishing partnerships. Via our PharmaLife product, we have implemented robust cool chain management practices, established partnerships with vaccine and medicine manufacturers, and enhanced our operational efficiency to meet the urgent demands of pharmaceutical distribution.
"Etihad Cargo also recognises that increased standardisation will help stakeholders across the pharma supply chain to eliminate risks, increase compliance and improve processes, which is precisely why Etihad Cargo sought out and achieved IATA CEIV Pharma certification. All IATA CEIV Pharma members, which extend beyond air cargo carriers to ground handling partners and airports, are aligned, and the same commitment to quality and adherence to international regulations is embedded throughout the entire air cargo and airport ecosystem. This makes mitigating risks easier as every stakeholder is effectively on the same page.
"To continue addressing the most critical issues in the pharma supply chain and improving processes, Etihad Cargo is a founding partner of the Pharma Logistics Masterclass. Now in its third year, the Masterclass brings together academics, pharmaceutical manufacturers and business logistics stakeholders from around the world and encourages cross-industry collaboration and knowledge sharing to help address the challenges faced by the pharma supply chain."
Being accredited under the same IATA CEIV Pharma standard, it has definitely facilitated the collaboration between Cathay Cargo, operations team at our Cathay Cargo Terminal and ground handler Hong Kong Airport Services, says Siddhant Iyer, Head, Cargo Marketing and Customer Solutions, Cathay Cargo. "We are able to communicate in the same set of languages, and have mutual understanding on the expected service level within our respective roles and responsibilities.
"Tarmac is one of the most common critical control points throughout the journey of a pharmaceutical shipment. Due to its highly sensitive nature, it is very important to minimise the exposure to the ambient environment. We have specific procedures to ensure pharma shipments are loaded last, unloaded first and will enjoy priority towing sequence into the warehouse. Upon request, we also give priority to pharma shipments on the use of temperature controlled dollies at ramp side for extra protection."
The single biggest change is the evolution of legislation surrounding the shipping of pharmaceuticals, says Dirk Venter, Global Head of Life Science & Healthcare, DHL Global Forwarding. "Keeping the fact that there is the life of a patient at the end of every shipment is now more important than ever. Interestingly, this also applies to animal healthcare and the management of medical devices.
"On the other end of the spectrum, there is a dramatic increase in research and development pipelines of large molecule treatments. The management of these supply chains require specialised handling at sometimes extremely low or ultra-low temperatures. In some cases, as low as -197 degrees Celsius. From a storage and distribution point of view, this requires more sophisticated equipment, upgraded facilities, and, of course, people who are trained in the management of these shipments."
Handling of temperature sensitive cargo like vaccines and perishables has gained a lot of importance and necessitated major advancements in technology and practices, according to Pradeep Panicker, CEO, GMR Hyderabad International Airport (GHIAL). "At GMR Hyderabad Air Cargo (GHAC), to minimise the ramp exposure time of temp-sensitive cargo like vaccines and perishables, the cargo apron is positioned only 50 metre away from the cargo terminal, adding a competitive advantage. This helps in any temp-sensitive cargo to be transported as soon as vaccines are offloaded from an aircraft for transportation till the cargo terminal cold storage section.
"During Covid, GHAC operated 24x7 to provide unhindered service delivering pharma, medical supplies and perishables to the frontline warriors of the nation and in other parts of the world. Today, GHAC can also cater to the direct delivery of pre-cleared vaccine shipments. To promote an end-to-end unbroken cold chain solution, a dual X-ray with the dimension of 180cmx180cm is available at the pharma zone. This large tunnel X-ray omits the need to open all containers for regulatory compliances thus eliminating any break in the cold chain integrity. We will continue to invest in technology to enable higher efficiencies and improved customer experience."
Plethora of regulations and how to navigate them
Cathay Cargo is committed to complying with all applicable laws and regulations, including sanctions and import/export controls. "While we trust our customers will take the necessary steps to ensure compliance, we will also perform compliance and regulatory checks, request for complete information on the air waybill and reject any cargo that is deemed non-compliant with applicable laws and regulations," says Iyer.
Think Globally, Act Locally is the driving force at DHL, according to Venter. "At the DHL Group, governance & compliance is embedded in our core values as a global organisation. We have modelled our product offering to be in line with the guiding principles of the World Health Organization (WHO) in combination with the local legislation in the area where we do business. Our internal GxP certification addresses these subtle differences."
As the national carrier of the UAE and a market leader in the transportation of pharmaceuticals and life sciences products, Etihad Cargo has continued to enhance its IATA CEIV PharmaLife product to further contribute to and enhance compliance across the global pharma supply chain. "Today, Etihad Cargo's PharmaLife network covers over 62 destinations," says Panza. "Furthermore, to strengthen connections between Abu Dhabi and the rest of the world, Etihad Cargo has developed over 1,330 IATA CEIV Pharma/ Good Distribution Practice (GDP)-certified trade lanes, which ensure the integrity of products. Etihad Cargo is actively collaborating with key airline partners to establish further IATA CEIV-certified pharma trade lanes to broaden our network through dedicated PharmaLife agreements.
"Etihad Cargo has also launched Pharma Champions, a development programme to enhance pharmaceutical transportation expertise and customer service. Comprising online and onsite training, a visit to Etihad Cargo's dedicated pharmaceutical hub and the development of a dedicated PharmaLife action plan, Pharma Champions gives participants the tools they need to add value to current partnerships, provide improved service levels, more effectively identify new business opportunities and ensure Etihad Cargo's PharmaLife product is delivered in full compliance with rigorous international standards."
GHAC has consistently maintained best-in-class industry standards, adds Panicker. "The security systems employed by GHAC have obtained RA3 validation under EU security standards and have also received certification from the Transported Asset Protection Association (TAPA). In addition, GHAC adheres to the quality management system in accordance with ISO 9001:2015 standards. The safety standards have received ISAGO accreditation (IATA safety audit for ground operations). Furthermore, WHO-GDP certification validates the company's adherence to quality management standards and international requirements throughout the pharmaceutical supply chain. All these accreditations are testimonials to prove that GHAC follows stringent compliance norms, leading to superior customer service. Support is also extended to airlines/forwarders with regulatory directives/procedures to enable smooth operations."
Visibility - the key challenge
One of the key concerns for pharma shippers, more than any other shipper, is visibility of products - state, position and transit time before delivery to customers. Venter says: "DHL Global Forwarding pharma customers have access to our online platform called LifeTrack. This system is one of the only within our industry that is validated to the global standard required by the pharmaceutical industry. The system allows our customers to track each consignment, monitor the temperature, humidity and GPS location of these consignments in a live environment. Additionally, our customers have the ability to integrate into the system via an automatically programmed tool (APT) allowing visibility of the shipment milestones directly in their own systems."
Cathay Cargo customers have shown great interest in Ultra Track service, "and have seen great value in the enhanced shipment data visibility and 24/7 shipment monitoring by our Operation Control Centre," says Iyer. "We are constantly working on enhancements to extend its usage on special shipments beyond pharma, and also to stay abreast of the emerging technologies and evolving market needs."
Through the first-of-its-kind pharma corridor, Etihad Cargo has already shipped 71 percent more pharmaceutical and life sciences cargo volumes than before its creation, ensuring smooth and efficient delivery of more than 1,900 tonnes of medicines and treatments across more than 32 countries.
"To ensure data is collected, analysed and shared more efficiently, Etihad Cargo has launched initiatives that have brought much-needed transparency, traceability and trackability to the sector, benefiting not only customers but also the global pharma supply chain," says Panza. "We played a pivotal role in establishing Pharma Corridor 2.0 between Abu Dhabi and Brussels. The main objective of this project is to provide the highest levels of assurance in the quality of handling to pharmaceutical shippers and forwarders through the establishment of pharma corridors between airports with cargo handling communities certified under the IATA CEIV Pharma programme. This unique collaboration has seen Etihad Cargo working closely with government bodies, including the Department of Health and the Abu Dhabi Customs, and other industry associations including Abu Dhabi Airports Company, Brussels Airport Company and Pharma.Aero to offer complete transparency on the status of temperature-controlled pharmaceutical shipments, recording quality, time, temperature, potential deviations and actions. Reliable data, and the ability to freely share this data, will enable every stakeholder to track shipments in real-time and react dynamically as and when required."
2023 growth story
The next steps for Etihad Cargo in the pharmaceuticals and life sciences sector involve further expansion and innovation. "We have already enhanced our PharmaLife product through the adoption of innovative features and utilisation of technology so our partners and customers can be confident their temperature-sensitive pharmaceutical products are being shipped reliably. For example, we are exploring the utilisation of artificial intelligence to improve forecasting and automation to enhance our current capacity and capabilities to support the sector's growth," says Panza.
DHL and Cathay, too, reported volume growth and continue to be bullish on the sector - "the fact that the pharmaceutical industry is not immune to the current global economic state, we at DHL Global Forwarding are happy about the volume of business that we have moved within the first six months of 2023," says Venter. Iyer adds: "We have seen a strong and steady growth in pharmaceutical shipments in the first half of 2023 with an optimistic outlook for the next two-three years, especially in the Asia market."
We have observed seven percent YoY growth in Q1FY24, says Panicker of GHIAL. "GHAC has brought in operational excellence in the temperature-controlled facility by investing and developing the infrastructure to maintain the requisite temperature from truck dock to aircraft loading on the tarmac. Unloading area, X-ray area, racking area, ULD/pallet built-up and ULD/pallet storage area are temperature-controlled with varied temperature zones. Transportation of ULDs/pallets from terminal exit to the aircraft is being done using the cool dolly to avoid any temperature excursions on the airside.

"GHAC is a World Health Organization-Good Storage and Distribution Practices (WHO-GSDP) certified major gateway location in India. It is strategically positioned to handle temperature sensitive cargo and ensure its seamless distribution."
Value add services
To increase the value added services on offer, GHAC has taken several paperless initiatives on e-reception, e-OOC, e-LEO and e-AWB to minimise human interface and provide contact service to the customer, says Panicker. "The GHAC terminal functions over a world-class cargo management IT system that has been specifically tailored and designed for the Indian market. GHAC has an electronic data interchange (EDI) system with interfaces to regulators, airlines and other stakeholders.
"GMR Hyderabad Air Cargo has India's first pharma zone with WHO-GSDP certified facility with end-to-end temperature controlled dedicated pharma zone. GHAC terminal is also accredited with an EU-RA3 (European Union – Regulated Agents-3) certification having a dedicated warehouse for exports, imports, domestic outbound and domestic inbound.
"GHAC provides a unique cargo village ecosystem complete with banking facility along with a cargo satellite building, which provides space for various regulatory authorities and stakeholders like drug control, quarantine office, and office/warehouse space for freight forwarders.

"The terminal is equipped with various temperature zones from -20 to +25 Deg C and with state-of-the-art equipment and cool containers to cater to specific requirements. With the help of the large stocks of various cool containers, GHAC can facilitate services for the break-down of large import consignments for domestic distribution and load the smaller batches in various cool containers for further shipping to different destinations in India by air or by trucks."
The DHL Group has been providing this level of service for several years at a number of our facilities across the globe, adds Venter. "This service allows our customers to cater different global markets from strategic points of gravity. As a result, the management of excess stock, expiration dates and speed to market is managed successfully and in a cost effective manner."
Etihad Cargo has partnered with global packaging suppliers including CSafe, Dokasch, Envirotainer, SkyCell and Va Q Tec to provide solutions that provide a constant controlled temperature for several days regardless of the ambient environment or adverse external conditions.
"Additionally, every member of Etihad Cargo's team follows strict protocols to control the temperature of cool chain products. All of Etihad Cargo's cool rooms are equipped with alarmed temperature-monitoring systems and are calibrated every 12 months. Every critical point throughout the cool chain cargo's journey is temperature checked, and the results are recorded in Abu Dhabi, offering our clients full transparency and traceability of error-free shipments," says Panza.
Way ahead for pharma logistics
The DHL Group is seen as the market leader within the pharma Logistics world, adds Venter. "This is no coincidence. From inception, we worked closely with all the relevant regulatory stakeholders to design and build a set of services that are in line with the expectations of the market. Over time, our product suite has evolved due to our focus on innovation and our digitisation strategy.
"The journey started with finding the best partners throughout the temperature-controlled supply chains within the pharma world. This is followed by setting up a robust quality agreement with these partners and regular audits to confirm that the standard is maintained. As the pharma world evolved, the level of sophistication of packaging suppliers and IoT monitoring devices increased. We also saw a number of new entrants from an air freight and ocean freight carrier point of view. Our supplier management methodology evolved to include the latest technology.
"From a risk management point of view, we use predictive analytics that allow us to be flexible and proactive around the management of our pharma shipments."
Technology is playing a great role in the storage and movement of temperature-sensitive pharmaceuticals, says Panza. "Etihad Cargo works with several packaging suppliers that are using the latest technology to develop more efficient containers including phase change materials (PCMs), which release and absorb energy to provide cooling. The new generation of containers is equipped with dynamic tracking to provide accurate data on location and temperature. This technology is continuously evolving, with materials becoming more sustainable and recyclable.
"Etihad Cargo meets its service promises by continuously enhancing our PharmaLife capabilities. Of primary importance is ensuring pharmaceuticals and life sciences products are kept within a strict temperature range - not only during the flight but also during the transportation of cargo between the aircraft and cooling facility. This requires air cargo carriers and other stakeholders, including shippers and freight forwarders, to work closely together to manage every stage of the journey, monitor temperatures and facilitate handovers. To meet our promise of transporting pharmaceutical cargo within 60 minutes, our PharmaLife product offers prioritised ground handling and loading, pre-cooled thermal blanket protection to and from the aircraft, and Etihad Cargo monitors and controls external conditions with contingency plans in place to mitigate the risks associated with temperature and other external factors."
Iyer of Cathay Cargo added that they have received positive response from pharma customers on the refreshed solution. "They find the streamlined active and passive solution categories more straightforward, and at the same time appreciate the enhanced features that can better cater for their or their clients' specific needs such as our new Pharma Handling Centre, newly added transport temperature range and cool container options as well as add-ons for speed or visibility."