North American market in corrective mood as supply outstrips demand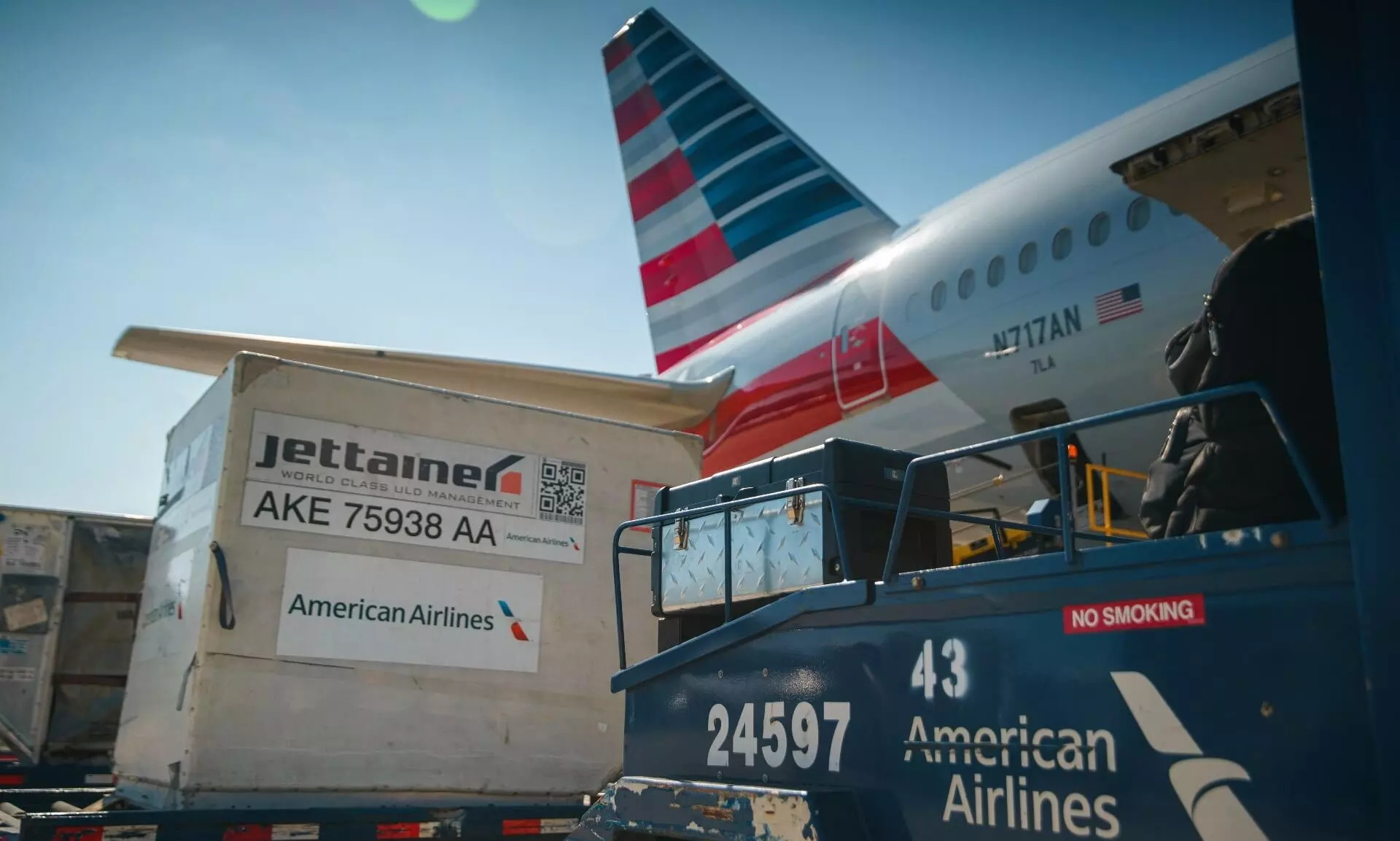 The North American air cargo market is in a state of correction as capacity aided by the increase in long haul widebody, outstrip demand. Analyses are showing a fall in demand while passenger travel is increasing, thereby increasing the belly capacity. In the short term, airlines and forwarders are expecting the demand to remain weaker as the global economy slows down.
"There is an increase in supply relative to demand that we haven't been used to since before the pandemic."
This is how American Airlines Cargo's head of global sales Indy Bolina articulated the current state of air cargo in North America. He also noted that the market is in a state of correction and therefore rates need to correct to ensure competitiveness.
"Much can be attributed to macro-economic factors, including rising inflation and interest rates, coupled with long haul widebody capacity being up significantly (driven by passenger demand which is good for the industry)," he said.
The struggle is not only for the airlines but also for the freight forwarders as both are experiencing more of a challenge in filling planes.
For example, Brandon Fried, Executive Director, Airforwarders Association (AfA), agreed that there is tension mounting in the global air cargo market heading into the weaker summer months.
"This is because the demand for air cargo has been declining in recent months due to a number of factors, including the easing of Covid-19 restrictions, more passenger belly capacity in the market, and the war in Ukraine," he reasoned. As a result, he also reported that air freight rates have been falling.
"Our expanded network has opened many more markets with increased capacity, allowing us to say "yes" to more customers this year."
Indy Bolina, American Airlines Cargo
Several market analyses are also showing similar trends. For example, CLIVE Data Services, part of Xeneta, reported that general air freight rates fell in May to their lowest level since March 2020 "as restless airlines and freight forwarders went in search of volumes."
"The global airfreight spot rate fell 40 percent in May from a year earlier, reaching its lowest level in over three years of $2.41 per kg," it reads.
Meanwhile, WorldACD reported that chargeable weight in weeks 24 (June 12 to 18) and 25 (June 19 to 25) were down six percent in the global market compared with the equivalent period last year, mainly driven by decreases in tonnages ex-North America (17 percent), ex-Europe (9 percent) and ex-Asia (3 percent).
"Worldwide average rates are currently 38 percent below their levels this time last year, at an average of $2.37 per kilo in week 25," it reads.
This is no good news as most of the airlines in the region reported significantly decreased cargo revenues in the first quarter of 2023 ended in March and the International Air Transport Association (IATA) expects cargo revenues to be $142.3 billion in 2023, down sharply from $210 billion in 2021 and $207 billion in 2022.
However, Bolina told The STAT Trade Times that "looking back to 2019 – our last "normal" year as an industry – we are performing well and are optimistic for the future."
"Looking at our own business, our expanded network has opened many more markets with increased capacity, allowing us to say "yes" to more customers this year," he added.
Bolina noted that increased capacity allows American Airlines Cargo to offer customers creative and innovative solutions.
"For example," he added, "We are utilising more of our narrowbody network to move freight across the network with domestic connections. We're also expanding our presence digitally, making it easier for customers to do business with us while expanding our reach to potential new customers."
"The market is being driven by the growth of e-commerce, the rise of Mexico and Central America markets and the importance of air cargo for the global supply chain."
Brandon Fried, Airforwarders Association
Another interesting development in the market is the building up of freighter capacity as many airlines both in North and South America are buying new freighters. Fried is concerned that the increase in freighter capacity may put downward pressure on air freight rates.
"The freighter capacity building up in the Americas may be resulting from decisions made during the pandemic when volumes were extremely high. However, many carriers and forwarders remain optimistic as airlines are adding freighter capacity to maintain their market share and to ensure that they can continue to meet the needs of their customers," he said.
On the demand front in the short term, Fried is expecting it to remain weaker as the global economy slows down.
"However," he added, "in the long term, demand for air cargo is expected to grow as e-commerce continues to expand and as new markets for air cargo emerge."
Bolina also noted e-commerce as an important trend and thinks that many stores moved to or increased online inventories.
"We are seeing more e-commerce introduced to the supply chain. The pandemic changed a lot of behaviour and underscored the importance of the logistics industry – especially, the requirement for quick and reliable transportation of goods across long distances that air cargo can bring. A lot of business moved to air cargo over other modes of transport due to bottlenecks in the supply chain that air cargo could bypass," he added.
"This year's year-end peak season from September onwards is likely to be muted for the Europe-US trade after its exceptional peak last year."
Wenwen Zhang, Xeneta
The demand fluctuations in the North American market are closely correlated with the larger North American economy. When the economy is strong, demand for air cargo increases. However, when the economy is weak, demand for air cargo declines.
Fried reports that demand for electronics and clothing has been declining in recent months, while demand for food, beverage and perishables has been relatively stable, it is expected to decline in the coming months, due to the rising cost of living.
"But perishables demand is expected to increase thereafter when the weather changes and the holiday season begins," he added.
In the long run, however, Fried thinks that the growth of the North American air cargo market will be driven by the rise of new markets, such as Mexico and Central America, the increasing importance of air cargo for the global supply chain, along with the growth of e-commerce.
He added, "The stakeholders in the North American air cargo market must prepare themselves for this growth by investing in new infrastructure, such as warehouses and distribution centres, developing new partnerships with airlines and freight forwarders, adopting automation to increase efficiency and shipment transparency, expanding their reach into new markets."
Efforts in this direction can be already underway with many airports upgrading their capacity to handle more and more cargo.
For instance, in October 2022 The United States Department of Transportation's Federal Aviation Administration (FAA) awarded more than $31 million in grants to expand cargo infrastructure at nine airports across the country.
U.S. Transportation Secretary Pete Buttigieg noted the purpose of these grants as to make improvements at airports across the country so they can handle cargo more efficiently and help strengthen America's supply chains.
The programme pays for a variety of projects including the construction of new and improved airport facilities, repairs to runways and taxiways, maintenance of airfield elements like lighting or signage, and the purchase of equipment needed to operate and maintain airports. And the majority of this goes for Ted Stevens Anchorage International Airport, Chicago Rockford International Airport, Huntsville International Airport in Alabama and Greenville-Spartanburg International Airport in South Carolina.
Meanwhile, Mexico is facing several issues in handling cargo at its airports. For example, the Mexican government is forcefully moving all cargo operations out of Mexico City International Airport to Felipe Ángeles International Airport to ease congestion at Mexico's biggest hub despite protests from industry bodies. Even though July 7, 2023, was the original deadline, the government has extended it by eight more weeks. While Air Canada Cargo and Lufthansa Cargo have been the latest to switch their freighter operations, many other airlines have already shifted.
Talking about the nature of the market, Fried opined that the North American air cargo market is less susceptible to economic shocks.
"The North American air cargo market is more resilient than other larger markets, such as Europe and Asia. This is because the US economy is more diversified and less reliant on exports," he said.
He also noted that there is easier and faster transport of air cargo happening between North America and Europe and Asia.
"The North American air cargo connectivity to these larger markets is evolving rapidly. In recent years, there has been an increase in the number of direct flights between these regions," he added.
On the same line but from the perspective of the North America-based carrier, Bolina said that they have seen a lot of resilience in this region.
"We have the benefit of moving a lot of cargo even just within the domestic U.S. market, thanks to our network. But even at the beginning of the pandemic, our lanes between the U.S. and Europe were always in high demand. Those routes, as well as up from Latin America, are strong," he said.
However, he also spoke about the lesser capacity available in the transpacific.
He said, "Transpacific flying remains challenged from a capacity perspective due to the inability to utilise Polar routes because of the conflict in Ukraine. The current, and less-favourable routing requires additional flight time and fuel, which is ultimately resulting in less cargo capacity available for our customers."
Meanwhile, for Fried, the decline in cargo revenues for airlines, as mentioned earlier, remains a concern as he believes the implications are significant in the short term.
"While some airlines will need to find ways to reduce their costs in order to offset the decline in revenues, most will find robust passenger sales will help offset the decline," he said. "However," he added, if passenger volume subsides, this could lead to job losses and a reduction in the number of flights."
He is also worried about the implications of the airlines' decline in cargo revenues for other stakeholders in the air cargo market. For instance, he said, "Freight forwarders will need to find ways to reduce their costs, and shippers may need to pay higher prices for air freight."
However, Bolina of American Airlines Cargo saw the expected decrease in the cargo revenues of airlines from a different perspective.
"I think what we are seeing with these numbers is a journey back to a sense of normalcy following all the 'un-normal' activity brought on by the pandemic. The forecasts can look discouraging for all of those who have had record numbers over the last couple of years, but a market correction is inevitable. Ultimately, increased competition in the market is something I see as a positive thing – it leads to more creativity and innovation, which helps the industry," he said.
The outlook for the North American air cargo market is mixed but the air cargo community seems optimistic as the market is expected to grow in the long term, but some challenges need to be addressed in the short term.
There are worrisome trends and observations also emerging. For example, Wenwen Zhang, air freight analyst at Xeneta in a recent blog noted that this year's year-end peak season from September onwards is likely to be muted for the Europe-US trade after its exceptional peak last year.
"Peak-season cargo volumes from September to November last year jumped by 14 and 16 percent from 2021 and 2019 levels, respectively. However, 2023's year-to-date cargo volumes have fallen by 8 percent versus the same period last year and are on par with the same period in 2019 – again, a weak year for air cargo," she wrote on June 23, 2023.
She added, "We expect the Europe-US rate to experience only a slight uptick, but to remain above 2019 levels. This is due to both muted cargo demand and lower jet fuel prices compared to 2022, which are unlikely to provide enough thrust to boost the current air freight rate. Ongoing pressure from labour shortages and rising labour costs are also likely to drag on. However, year-end cargo capacity adjustments resulting from airlines' winter season starting from the end of October should pull some overcapacity out of the market and limit the potential for further rate falls."
While some are optimistic about a peak season recovery, some trends say otherwise.
For example, FedEx, in the results announcement for the fourth quarter that ended on May 31, 2023, noted that FedEx Express is implementing volume-related and structural cost-reduction actions, including further reductions in flight hours and the early retirement of certain aircraft and related assets, to mitigate the negative effect of ongoing demand weakness.
It reads, "Fourth quarter results also include a non-cash impairment charge of $70 million ($0.21 per diluted share) from the decision to permanently retire from service 18 aircraft and 34 related engines to align with the plans of FedEx Express to modernise its air fleet, improve its global network and better align air network capacity with current and anticipated demand."
This was originally published in the July 2023 issue of The STAT Trade Times.