National Air Cargo receives IATA's CEIV Lithium Batteries Certification
In 2021, National Airlines, the airline division of the company, obtained the CEIV Pharma Certification complying with IATA's Temperature Control Regulations for the transportation of time-sensitive and temperature-controlled pharmaceutical cargo across the globe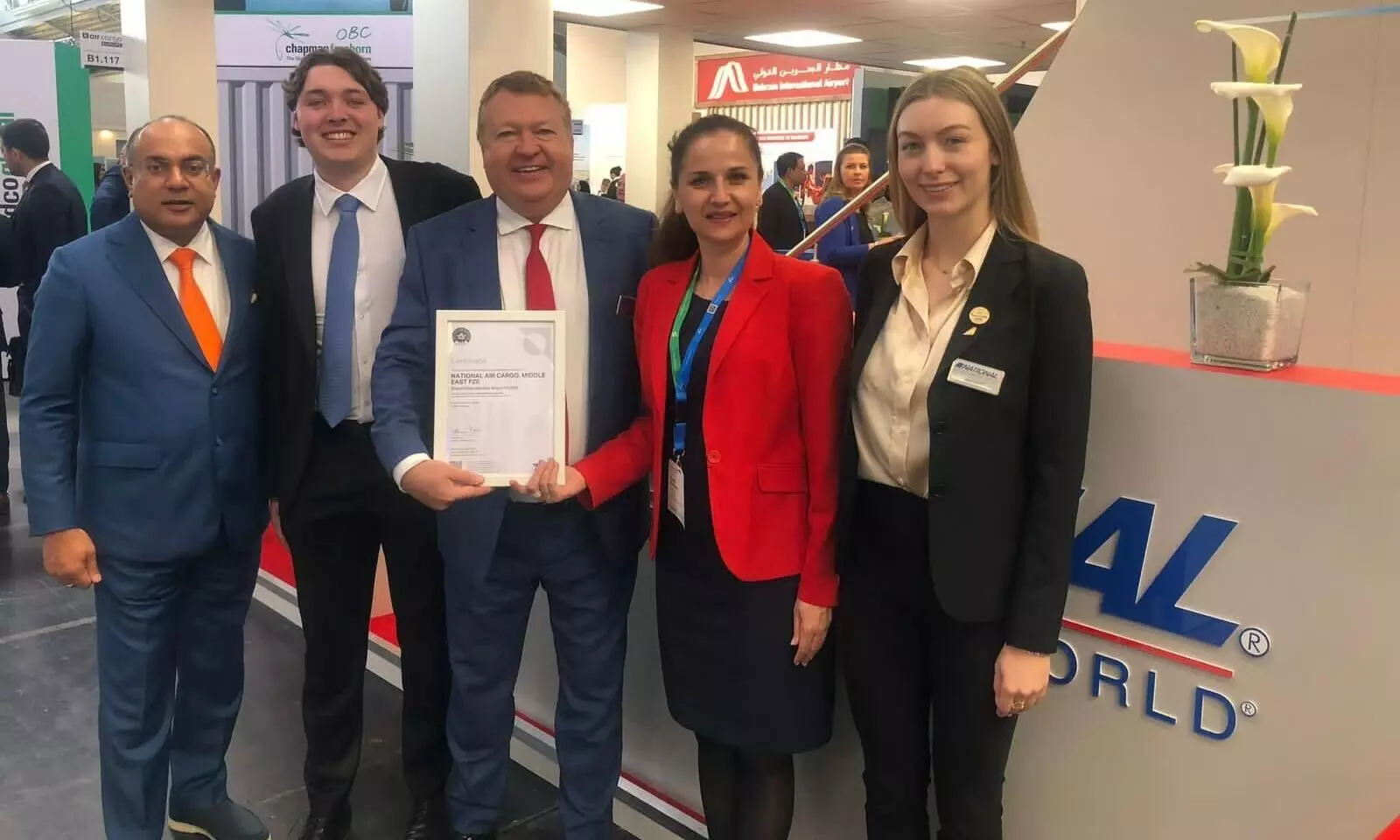 National Air Cargo recently received the Center of Excellence for Independent Validators (CEIV) Lithium Batteries Certification by IATA for its safe handling of dangerous goods, specifically Lithium batteries during air transportation.
Zheni Chaneva, Project Manager, Lithium Batteries Certification, IATA, presented the certificate to Chris Alf, Chairman, National Air Cargo Holdings, Inc. at the company's exhibition booth at Air Cargo Europe event last week in Munich, Germany.
The CEIV Lithium Battery certification is an internationally recognized program that verifies compliance with the International Air Transport Association (IATA) regulations for the transport of lithium batteries. It involves methodical validation and assessment of processes, procedures, and training programs to ensure that organizations are effectively managing the risks associated with the transport of lithium batteries.
This is a validation of National Air Cargo's adherence to the industry's best practices for the safe transport of dangerous goods and in compliance with IATA's Lithium Battery Shipping Guidelines among other relevant regulations.
Achieving this certification is a significant milestone for National and underscores its commitment to safety and quality in all aspects of operations. Henceforth, National's customers worldwide can be assured that the best industry practices are followed and the highest standards are met, for the safe transportation of lithium batteries.
Over the years, National has operated numerous projects for various government departments and armed forces, alongside commercial business partners, transporting all kinds of classified dangerous goods with the support of highly trained and certified global teams of operational experts.
"Handling and transporting dangerous goods needs special care. Achieving CEIV Lithium Batteries certification means NAC's customers can benefit from the extra assurance that their cargo is in safe hands," said Brendan Sullivan, IATA's Global Head of Cargo.

"We are extremely grateful to receive the CEIV Lithium Batteries certification, which recognizes our commitment to ensuring the safe transport of specified dangerous goods. This recognition is also an enhanced safety assurance to our government and commercial customers availing our premium charter services for transporting classified dangerous goods including Lithium batteries," remarked Chris Alf, Chairman, National Air Cargo Holdings, Inc.
In 2021, National Airlines, the airline division of the company, obtained the CEIV Pharma Certification complying with IATA's Temperature Control Regulations for the transportation of time-sensitive and temperature-controlled pharmaceutical cargo across the globe.