MNG Airlines receives 2nd A330-300 P2F aircraft
Passenger-to-freighter conversion took 7 months from Feb-Sept 2022; to begin commercial operations in mid-Sept.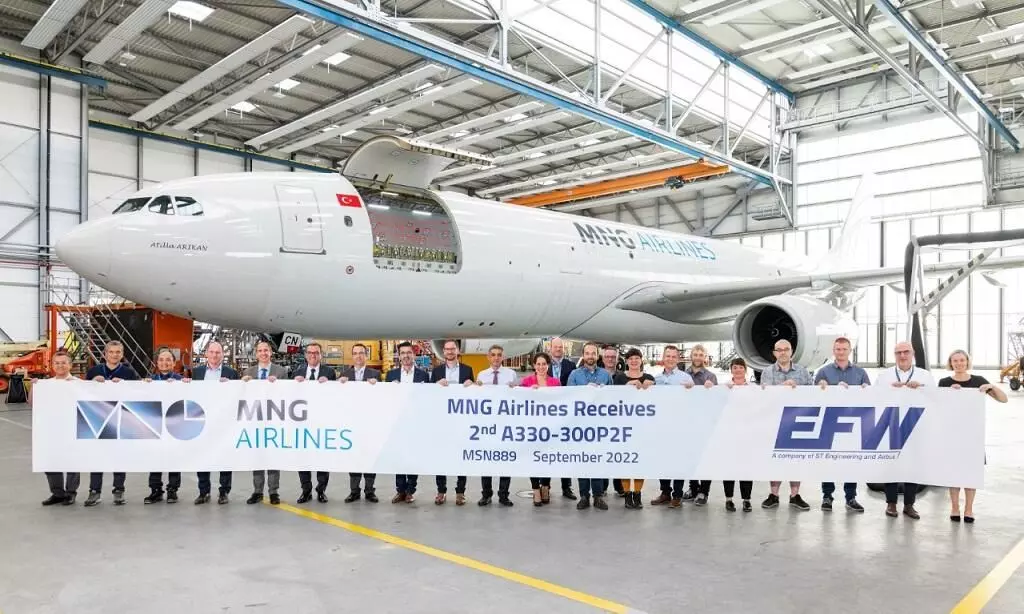 MNG Airlines, a major player in the air cargo industry in Turkey, will complement its fleet with the second A330-300 P2F aircraft from Elbe Flugzeugwerke GmbH (EFW).
"The passenger-to-freighter conversion took seven months from February to September 2022. TC-MCN is already scheduled to begin commercial operations in mid-September," says a statement from MNG.
"I am delighted to receive our second A330-300 aircraft from EFW's facilities," says Ali Sedat Özkazanç, General Manager, MNG Airlines. "As MNG Airlines, we are increasing our cargo capacity with a focus on customer satisfaction and flight safety. The fact that we are the first company in Turkey to invest in the conversion project makes us proud and motivates us to reach higher goals and work even harder. With TC-MCN we will serve a wide range of customers and routes both scheduled and charter.
"I am confident that the collaboration between MNG Airlines and EFW will continue to add value to both companies. We are currently developing transformation plans for 2024 and beyond. These include expanding our flight network and increasing cargo capacity with two additional A330-300P2Fs for which we have already secured slots with EFW. Market demand and trends for short distance as well as the opportunity for highest fuel efficiency and lower cost per tonnes have led us to the decision to complement our fleet with A321P2F in 2023 and 2024."
Turkey's first converted A330-300P2F left EFW facility in November, 2021 and joined the MNG Airlines' fleet as TC-MCM. Since then, it has completed nearly 3000 flight hours, and carried over 12,000 tonnes of cargo in the last nine months to maintain a sustainable network between China-Türkiye and Europe. The second A330-300, TC-MCN was sent to EFW for the same P2F conversion process, the release added.

MNG Airlines currently operates with a fleet of six Airbus A300-600 and three Airbus A330 aircraft.