Lödige develops automated cargo terminal at Chengdu Tianfu Airport
Facility includes two elevating transfer vehicles with a 5-level, 3-directional automated ULD storage/handling system.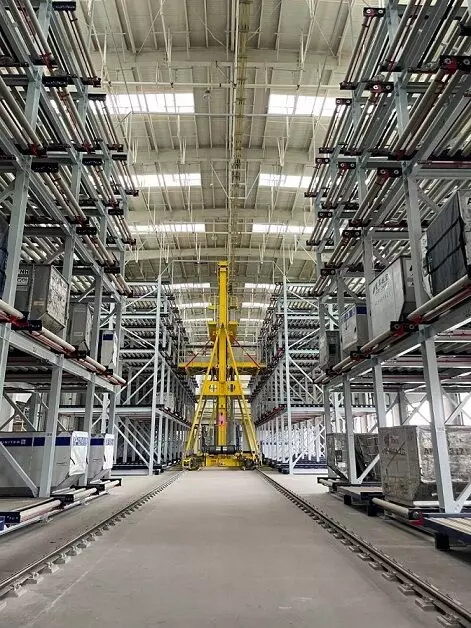 Lödige Industries, the global leader in air cargo terminals, has installed a fully automated air cargo terminal at Chengdu Tianfu International Airport in Chengdu, the capital of China's Sichuan province. The core of the new facility includes two elevating transfer vehicles (ETVs) with a five-level, three-directional automated unit load device (ULD) storage and handling system for 227 20ft storage positions.
"Since it started operations last year, the airport has become one of the largest in the world, handling up to 60 million passengers and 1.3 million tonnes of cargo and mail annually. In the second expansion phase, three additional runways will be added, and the capacity will increase to 120 million passengers and 2.8 million tonnes of cargo and mail per year," according to a release from Lodige.
In addition to the international cargo terminal, Lödige also supplied Sichuan Airport Group with state-of-the-art equipment for the airport's domestic cargo terminal as well as for a special warehouse for hazardous goods and an express distribution centre. It also includes an international export goods supervision warehouse. In total, the contract provides ULD and pallet handling equipment for more than 83,000 square metres of cargo facilities, the statement added.
"We are convinced that with the fully automated, highly modern and scalable terminal, Tianfu Airport in Chengdu is optimally prepared for future growth and can easily meet its high standards and its role as a major air cargo location and international hub at all times," says Nicholas Tripptree, Managing Director, Asia-Pacific region and Australia,Lödige Industries.
"Chengdu Tianfu has been one of the leading airports since the beginning of its operation and is in the process of becoming an integrated international transport hub connecting China with Europe, the Middle East, Central Asia and Southeast Asia," says a spokesperson for the construction commanding department of Chengdu Airport Group. "Therefore, it was particularly important for us in the cargo area to get a state-of-the-art, efficient and absolutely reliable system that will grow with us in the coming years and offer us excellent throughput and turnaround times. Lödige Industries has an excellent reputation in the sector and has also proven its know-how in our joint project."
Together with the air cargo terminal for China Eastern at Shanghai Pudong Airport, Lödige Industries now has three flagship facilities in mainland China.