LATAM Group leads the cargo operation in South America for flower transportation
With the arrival of the Boeing 767 BCF, the operators of the LATAM Cargo group reached a total of 18 cargo planes following their fleet growth plan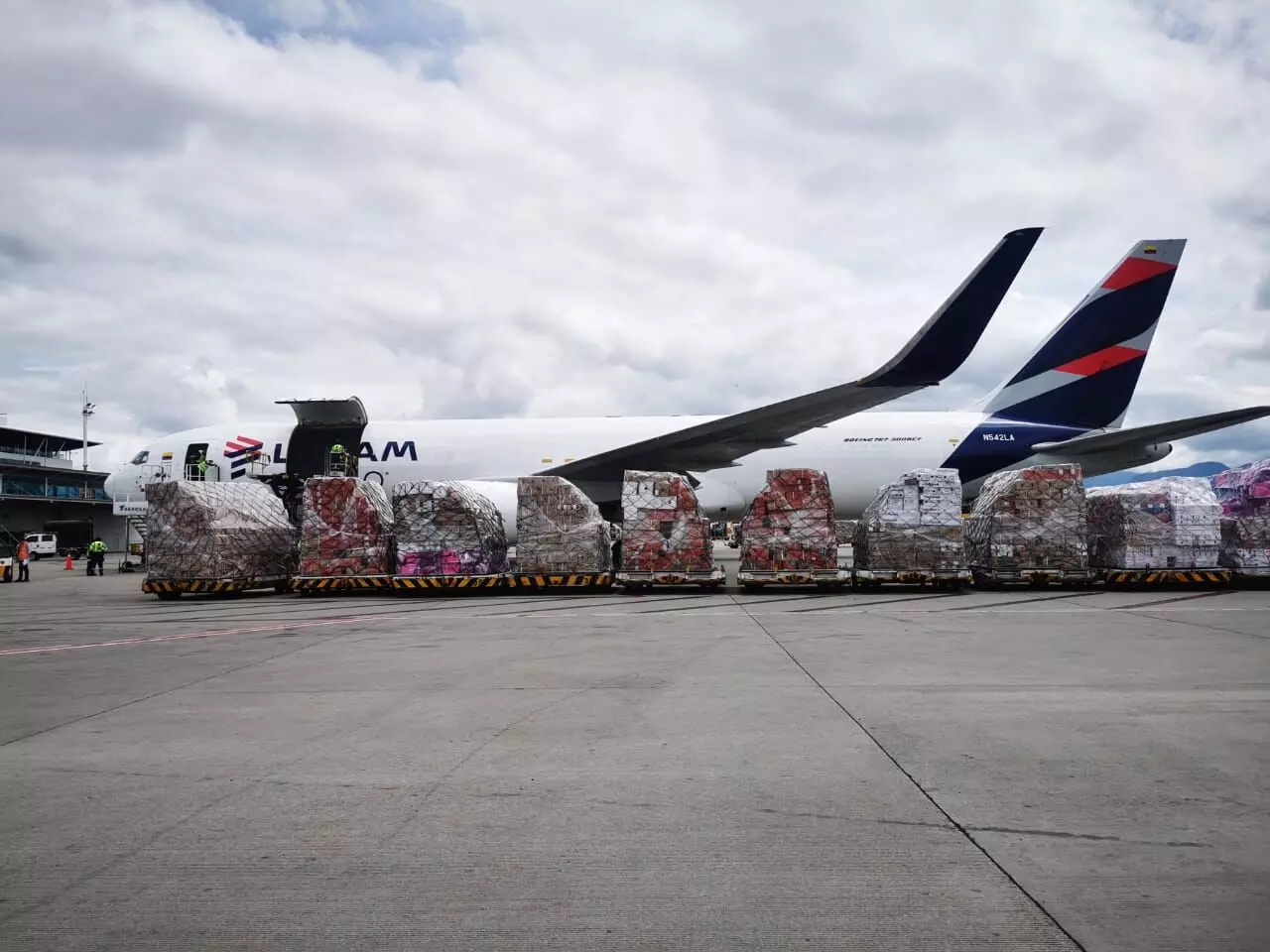 The operators of the LATAM Cargo group position themselves as leaders in the region in flower transportation thanks to the incorporation of a new Boeing 767-300BCF. This cargo aircraft is the 18th in their joint fleet of cargo planes and will allow them to increase their presence in the export and import markets across the region.
In line with this, two of the markets in which the LATAM Cargo Group will use this new capacity are the flower export markets of Colombia and Ecuador. With the incorporation of this new cargo aircraft, the group has been able to add 7 new frequencies departing from Quito, Bogota, and Medellin, thus increasing the capacity offered to customers of the floriculture sector by 20%. The group estimates that with this increase in capacity, it will consolidate itself as the leader in the flower market from South America to the United States.
Since 2019, LATAM Cargo has tripled its operations from Medellin and Bogota, going from operating 12 weekly flights in 2019 to 35 in 2023. In the case of Ecuador, the group's presence has grown by 131% since 2019, with 13 weekly departures from Quito in that year, which will rise to nearly 30 during this year.
"When we embarked on the cargo fleet growth plan, we made a firm commitment to our customers to support them in their long-term needs. The strategic decisions and the addition of this new cargo aircraft are a direct response to this commitment. From investing in the right fleet to significantly increasing frequencies on emblematic routes, such as those supporting the floriculture sector, which now positions LATAM Cargo Group operators as leaders in the transportation of one of the region's most iconic products: flowers originating in Colombia and Ecuador," commented Andrés Bianchi, CEO of LATAM Cargo.
Furthermore, the arrival of this new aircraft strengthens the network of destinations that LATAM Cargo Group offers from its hub in Miami. In recent weeks, the group has announced new flights from this city to San José dos Campos (Brazil), Guayaquil (Ecuador), Santo Domingo (Dominican Republic), San Salvador (El Salvador), and Georgetown (Guyana). This effort is in line with the group's value proposition of providing its customers with access to a greater number of destinations in Latin America.
LATAM and its subsidiaries constitute Latin America's leading airline group, with operations in five domestic markets across the region: Brazil, Chile, Colombia, Ecuador, and Peru, and international service within Latin America and towards Europe, Oceania, the United States, and the Caribbean.
The Group's fleet is composed of Boeing 767, 777, 787, Airbus A321, A320, A320neo, and A319 aircraft. LATAM Cargo Chile, LATAM Cargo Colombia, and LATAM Cargo Brazil are the cargo subsidiaries of LATAM, with a combined fleet of 18 freighters that will gradually increase to a total of 19 aircraft by 2024.