IAG Cargo returns Bob the racing pigeon to his home
Bob set off on a race from Guernsey to reach his home in Gateshead, in Northeast England but made a wrong turn to Alabama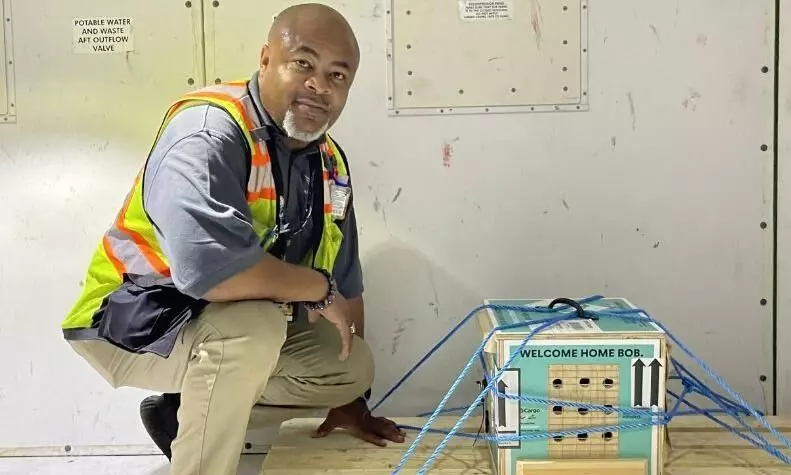 IAG Cargo – the cargo division of International Airlines Group – has safely transported the award-winning racing pigeon, Bob, back home to the UK after he took a 4,000-mile detour to America.

In June, Bob took off from Guernsey and was due to make the 10-hour trip home to Gateshead. However, the pigeon somehow found himself stranded in Alabama after taking a wrong turn. Luckily for Bob, and his owner Alan Todd, the Monroe County Alabama Animal Shelter took Bob in and was able to identify who the pigeon belonged to via his microchip.
Over the last month, IAG Cargo and British Airways have worked together to reunite Alan and Bob and have flown them both back home to the UK.
Whilst IAG Cargo has been transporting animals ranging from dogs to lions to turtles since 1950 – this was the first pet pigeon that the cargo carrier has ever moved. When transporting animals overseas, it is important to check the healthcare requirements for pre-entry and re-entry. For example, Bob has been required to quarantine for a minimum of 30 days, a fee that has been waived by Heathrow Animal Reception Centre (HARC).
Valerie Hadley, Products Manager at IAG Cargo, said, "We are glad to have been able to reunite Bob with his owner Alan. It was an amazing and unique experience to fly out to the US to support Bob's move back to the UK. I've helped fly many animals during my time at IAG Cargo. However, participating in a rescue mission for a lost and subsequently found racing pigeon is a first. Although this move wasn't one we had initially planned for, IAG Cargo's global network meant we had the capacity and routes available to bring Bob safely back home."
Alan Todd, Bob's owner, expressed his joy over being reunited with Bob. "I am delighted to be able to have Bob back with me in Gateshead and that wouldn't have been possible without the help of IAG Cargo. The cargo staff have been supportive throughout and have guided me through the process on how they will bring Bob back home."
In terms of what is next for the star pigeon, Bob was unavailable for comment, but according to Alan, "He will be treated like royalty. I will give him a nice hot bath and make sure he has his favourite seed in."
With more than 70 years of experience in transporting live animals, IAG Cargo has a last on, first off aircraft ethos for animal transit, with a dedicated team of trained staff and animal handlers to ensure adequate care and attention.