How air cargo can put an end to missing, misplacing and mishandling of ULDs
ULDs have been treated without due care and respect for a long time. And it exacerbated recently. Maybe, new technologies and standards could help as it is welcoming some new types.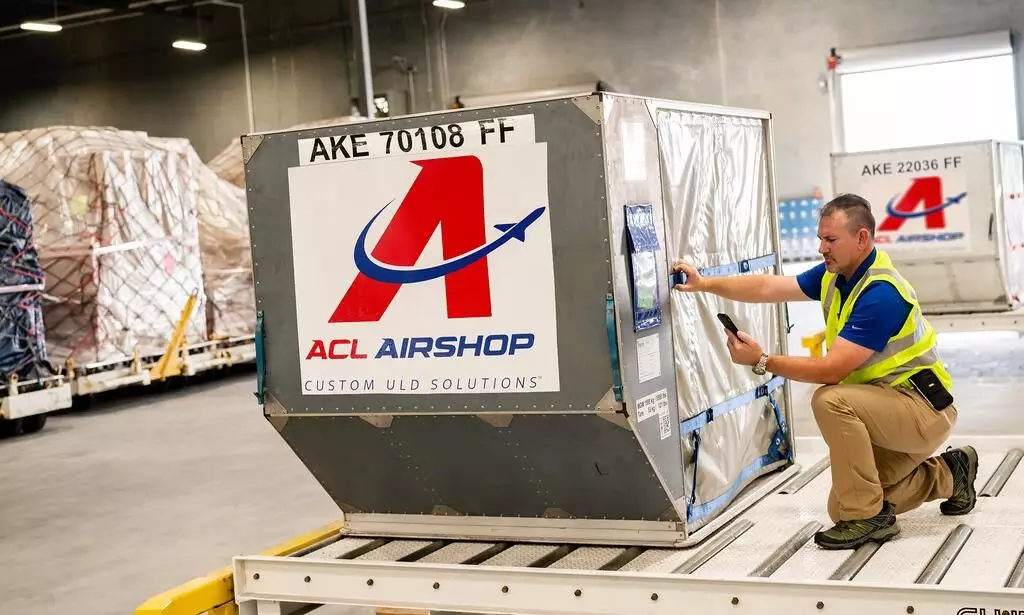 Unit Load Devices (ULDs) like pallets or containers, used by the aviation industry to load luggage, freight, and mail is a $357 million market and is anticipated to grow at a rate of more than 4.7 percent CAGR to reach $495 million over the forecast period 2022-2026, according to a July 2022 report by MarketWatch.

However, particularly since the Covid-19 pandemic, the industry was getting a lot of attention due to the shortages and how they affected the flow of cargo across geographies. The ULD stock shortage has always been an industry issue due to the trade imbalance between the east and the west, the exponential growth of e-commerce which is mostly only one way, trade wars and seasonal passenger traffic and then it further deteriorated by the Covid-19 pandemic and the war.
"There will always be some sort of market inefficiencies, so we maintain our speed of responsiveness and large deployed inventory to help clients in surge periods."
Steve Townes, ACL Airshop
Shortages, imbalances and logistics of ULDs
Andreas Seitz, managing director of DoKaSch Temperature Solutions, called it a "pseudo-demand," as the "loading equipment was available, but just wasn't where it was needed."
"Due to the increased demand during the Covid-19 pandemic, the demand for air cargo ULDs was also high. As a result of the disrupted flight schedules, the distribution of ULDs in the airlines' networks was more inefficient than before the pandemic," he said.
The shortage of ULDs has highlighted the importance of efficient and forward-looking management and a global network, according to Frank Muehlenkamp, director of global operations at Jettainer, which has a global network of 100,000 ULDs. "Especially in this year's summer peak season and in conjunction with staff shortages at many airports, this was a very demanding task," he said.
Zhi Yong Liao, senior manager, cargo safety & ULD, International Air Transport Association (IATA) also identifies the imbalance as the main pain point in the global ULD asset management right now.
Liao is also responsible for the upcoming IATA World Cargo Symposium's spotlight session on ULDs under the Safety & Security stream, happening on September 27 to 29, 2022 in London.
He informed The STAT Trade Times that some airports believe that airlines are using more space for ULDs than they need and reported that these airports are considering charging airlines for the ULD storage. "We were told that airports have started to consider a fine as the result of the inventory imbalance," he notes.
To improve the situation, Liao put forth two recommendations: improve the ULD control across the air cargo supply chain and improve the accuracy of ULD inventory forecasting.
Steve Townes, president and CEO of ACL Airshop, thinks that there will always be some sort of market inefficiencies, so they maintain their speed of responsiveness and large deployed inventory to help clients in surge periods.
Ross Marino, chief executive officer of Unilode Aviation Solutions, which has 145,000 ULDs out there in its global network, pointed out the inefficiencies with airlines owning their own ULD stock which includes, along with repositioning, ULDs getting damaged due to handling incorrectly. "Don't worry about ULD logistics. Let us take care of that," he said.
Marino also reported that during this pandemic, and the supply chain crisis, they've also been able to grow short-term leasing, a new part of their business. "You can lease ULDs, mainly pallets, on a very short-term basis like for a week or a couple of weeks or a month or few months and then you return it to us. We've got over 100 customers who are using the short-term lease. It's enabled them to meet those peaks," he added.
Thorsten Riekert, chief sales officer of Jettainer noted that, especially for airlines on a growth course, outsourcing ULD management is now an even more attractive alternative. "As efficient control means we need around 20 percent fewer ULDs for a full supply. And this surplus is directly available for further growth. Especially in the Asia-Pacific markets, we see the potential for outsourced ULD management," he said.
Niklas Adamsson, chief operating officer, Envirotainer, whose expertise is in highly specialised temperature-controlled ULDs, wants to see the positive side of the market as passenger traffic is coming back and along with that more capacity for ULDs. He noted that there was an efficient system of ULD logistics among the airlines pre-pandemic.
"The airlines used to help each other in repositioning the ULDs. The system was operational and efficient. With the world opening up, the inefficiencies introduced by the pandemic are also going away," he said.
While talking about the way things are heading now, Liao expressed his concern about the lack of ULD tracking across the supply chain, particularly beyond the airports. "ULDs are not only moved between airlines and their ground handling service providers. Today, it's across the air cargo supply chain including the shippers and freight forwarder customers. So, we need to extend traditional ULD control to the whole air cargo supply chain," he noted.
"It is still a pain point that often airlines dont know where the ULDs are, especially when outsourced to the ground service provider or lent to the freight forwarder or shippers outside the airport."
Zhi Yong Liao, IATA
Visibility beyond airports
Even today, it is still a pain point that airlines often receive the report that they don't know where the ULDs are, especially when the ULD control function has been outsourced to the ground service provider and also when the ULD is lent to the freight forwarder or shippers outside the airport, he added.
It is also important for airlines to have a very high level of ULD control and transparency to have flexibility in the types of ULDs used in various routes, even, for example, in the onward compared to return. "For example," Liao said, "One pain point that we often hear from the airlines is the difficulty in repositioning the main deck containers used in freighters as most of the airline partners are flying passenger flights with cargo on the lower decks."
Responding to the lack of visibility beyond airports, Marino pointed out where it goes wrong. "A lot of the big shippers and big freight forwarders take big stocks of ULDs off the airport and sometimes you never see these pallets again for many weeks or months," he said.
Recently in Luxembourg, one of Unilode's staff members went to a freight forwarder and located up to 200 pallets stored at their location and they had to retrieve them.
Regarding how they solve this issue, he noted constant communication with customers and the potential demurrage charges. "However," he added, the standards are very poor in terms of controls in the industry."
The shortages are not the only challenge faced by the air cargo industry related to the ULDs, as Marino mentions the lack of the workforce returning to the ULD as well as the air cargo industry after the layoff during the pandemic. "We've had to get creative with our recruitment and retention strategies to ensure that we keep supplying ULDs to our airlines. We've had to offer more flexible working patterns and pay scales," he informed.
Marino also connects the lack of workforce coming back with the increased misuse, abuse, and mistreatment of ULDs as there are untrained workforce creating issues.
"Treat ULDs with due care and respect. Sometimes its too easy for a handler just to take a knife and cut the net to get the load rather than unclipping it properly."
Ross Marino, Unilode Aviation Solutions
Misuse, abuse, mistreatment of ULDs
"We expect to see some containers come into our repair shops three or four times a year and a large part of this repair work is for damages caused due to mishandling and in particular the use of forklifts. In recent times this has been exacerbated due to the lack of staff coming back into the industry," he said.
"These are uneducated acts sometimes and happen due to a lack of care and attention and training. We're seeing a lot of untrained personnel coming in and they haven't been schooled on proper ULD handling techniques," he added.
Muehlenkamp of Jettainer also agrees on the importance of raising awareness that ULDs are a valuable resource to further reduce the damage caused by improper handling. "We aim to bring the training to airlines, ground handling agents and freight forwarders. Well-trained operational staff, with full support from managers and executives, can work safely, reduce damages, and ensure proper handling of ULDs. In this way, it is possible to save repair costs and keep the assets in service," he said.
Meanwhile, Marino notes that there is a lack of accountability around the same and the industry needs to address them. "The damages cost a lot for the industry and yet, there is a lack of enforcement. Treat these containers and ULDs with due care and respect. Sometimes it's too easy for a handler just to take a knife and cut the net to get the load rather than unclipping it properly. It damages the equipment and the pallet needs repair and the net needs to be replaced and certified," he added.
An interesting point that Adamsson raised while talking about the importance of training is that at Envirotainer one way to minimise the impact of human errors, which is the very purpose of training, is to develop technology to make it even better and more reliable.
For example, providing more energy autonomy, which means you can run a specialised ULD for pharma longer without having to replenish dry ice again or having it at the charging point, he said.
This raises the question of how far technology can resolve some of these issues.
"The digital twins pool data about every step in the ULD lifecycle and form the basis for automated decision-making."
Frank Muehlenkamp, Jettainer
Technology for rescue
One approach adopted by Jettainer, for example, has been to create digital counterparts for each physical ULD in their fleet.
Muehlenkamp, said, "These digital twins pool data about every step in the ULD's lifecycle and form the basis for automated decision-making. Thus we can further optimize the use of each ULD throughout its lifecycle and reduce repair costs."
Seitz reported an increasing demand for Bluetooth Low Energy (BLE) technology to track the containers even though they are pushing for any standard.
ACL Airshop has developed a new Bluetooth Pallet Tag which works on the 1000+ global readers network of Descartes. Townes said, "With this new device our customers will have better utilization of their ULD fleet, extra data like temperature and the airway bill number, more accurate stock insights, and fewer lost ULDs. The integration with the airway bill is another market first for us, we are beyond beta-testing – it works."
Out of 145,000 ULDs in Unilode's network, 120,000 of them are already Bluetooth tagged and they intend to have a complete digital ULD fleet within the next two years. They are also putting readers at key locations beyond airports. As the latest development, Unilode, along with OnAsset Intelligence, announced the deployment of the world's first airborne IoT network, an upgrade that now includes in-flight tracking capabilities.
Marino said, "We've already seen some excellent results like a significant reduction in missing ULDs, which is saving millions of dollars in replacement costs."

Whilst technology will play a part in this it won't work unless there's a collective agreement across the industry to enforce the required handling procedures and best practices.
Marino also believes the solution to some of these problems is the formulation of reliable standards and efficient industry regulations. "For example," he said, "Too often, airlines are not enforcing the required procedure of providing a ULD Exchange Control (LUC) custody transfer message. So the potential demurrage or storage charges are also not enforced," he said.
Implementing new standards
When it comes to industry standards and regulations, IATA, for example, maintains a series of ULD control standards including the ULD control receipt (UCR) that controls the ULD movement on the ground.
Liao said, "We highly recommend, whenever there is a ULD transfer, to use UCR as it is available in digital format as well, in both IATA Cargo XML format as well as integrated into the One Record data model."
Even whilst reporting that IATA has received commitments from some big ULD leasing companies to be the proof and pioneer, he is more concerned about the status of the implementation of such standards. "We would like to see more action than proof of concept," he said.
Whilst mentioning the significance of technology's contribution to efficient ULD management, Liao noted that the most critical element to achieve is senior management support. He said, "Major airlines reported that during the pandemic the attention to ULDs was never compromised even when they suffered resource constraints and were able to recover and bring all the assets back to their hubs. This is mainly because of the senior management's support and commitment."
He also said that "IATA has also been promoting ULD awareness to give ULDs the recognition it deserves."
Townes of ACL Airshop noted that they work with ULD Care, IATA and TIACA for the regulations and standards. "For training, the more seamlessly we can all digitalize every phase of the industry, end to end, the more efficient we will all become. That applies to customers, service and equipment providers, and logisticians of all stripes. "For individual companies, these days and looking ahead, to be a market leader, you must also be a technology leader," he said.
It is also important for the industry to come together, enforce standards and make parties that don't comply, accountable. And the penalties for either demurrage or repair need to be enforced. However, unless there's a collective approach to this issue, it's not going to work, particularly when ULD functions are evolving.
The ULD contours and base dimensions are standardised among the global aviation industry to comply with the aircraft contours and cargo handling systems. However, new functions of ULDs are evolving with new regulatory requirements and market demand which triggers the development of new ULDs.
New ULD types
Liao noted that more and more airlines are interested in the deployment of ULDs with fire containment characteristics, such as the fire resistant container (FRC) and fire containment cover (FCC), as well as the fire containment bag (FCB). "However," he said, "the current design, performance and testing requirements for FRC, FCC and FCB are all based on Class A fires which are in ordinary combustible materials such as wood, cloth and paper, cardboard, rubber and plastics. There has been an increasing demand in the air transport industry to standardise their minimum performance against fire involving lithium-ion cells."
Marino of Unilode also reported the increasing demand for FRCs. "We're also looking at lightweight aluminium containers because they can be reused and recycled, and other composite materials for durability and strength," he said.
Muehlenkamp noted that there is a rise in the need for AAY containers and he attributed it to the conversion of A321 passenger aircraft to freighters. "The AAY container fits perfectly on the main deck of many narrow body freighter aircraft such as the Airbus 320F and 321F or the Boeing 727F and 737F. Typically equipped with a net and cover for use in the express industry, it can also be designed for more specific purposes," he said.
"Moreover, the trend in the future is toward even more resistant and lighter ULDs – in particular if fuel prices continue to rise, lighter ULDs help to save CO2 and kerosine. Recycled carbon fibres are being used for lightweight containers and contribute to sustainability by coming closer to a circular economy," he added.
While talking about the long-term impact of e-commerce, Muehlenkamp also noted that air cargo, especially ULD management, needs further monitoring. "It is likely that the nature of e-commerce activities, i.e., faster turnaround times, interaction with e-commerce players rather than forwarders or shippers, will have an impact not only on operations but also physically on ULDs," he said.
Seitz reported that DoKaSch's own research and development centre is already working on new materials for the production of cost-efficient and at the same time sustainably air freight ULDs.
Meanwhile, Townes of ACL Airshop expressed his excitement over new players and products entering the cold chain for the movement of perishables, pharma, and other temp-sensitive products. "We also foresee the advent of drone deliveries, someday even very large drones, so ULDs will need to be certified for those new styles of airborne platforms. Possibly the interior or exterior configurations of the load-handling systems might not conform to what we have in place today. For some brave companies it will pay dividends to cut some new paths forward," he said.
This was originally published in the September 2022 issue of The STAT Trade Times.