Halleux reflects on key industry topics as he departs Qatar Airways
The longest-serving chief officer cargo at Qatar Airways reflects on key air cargo industry topics as he makes his exit from the world's largest cargo carrier to join Swissport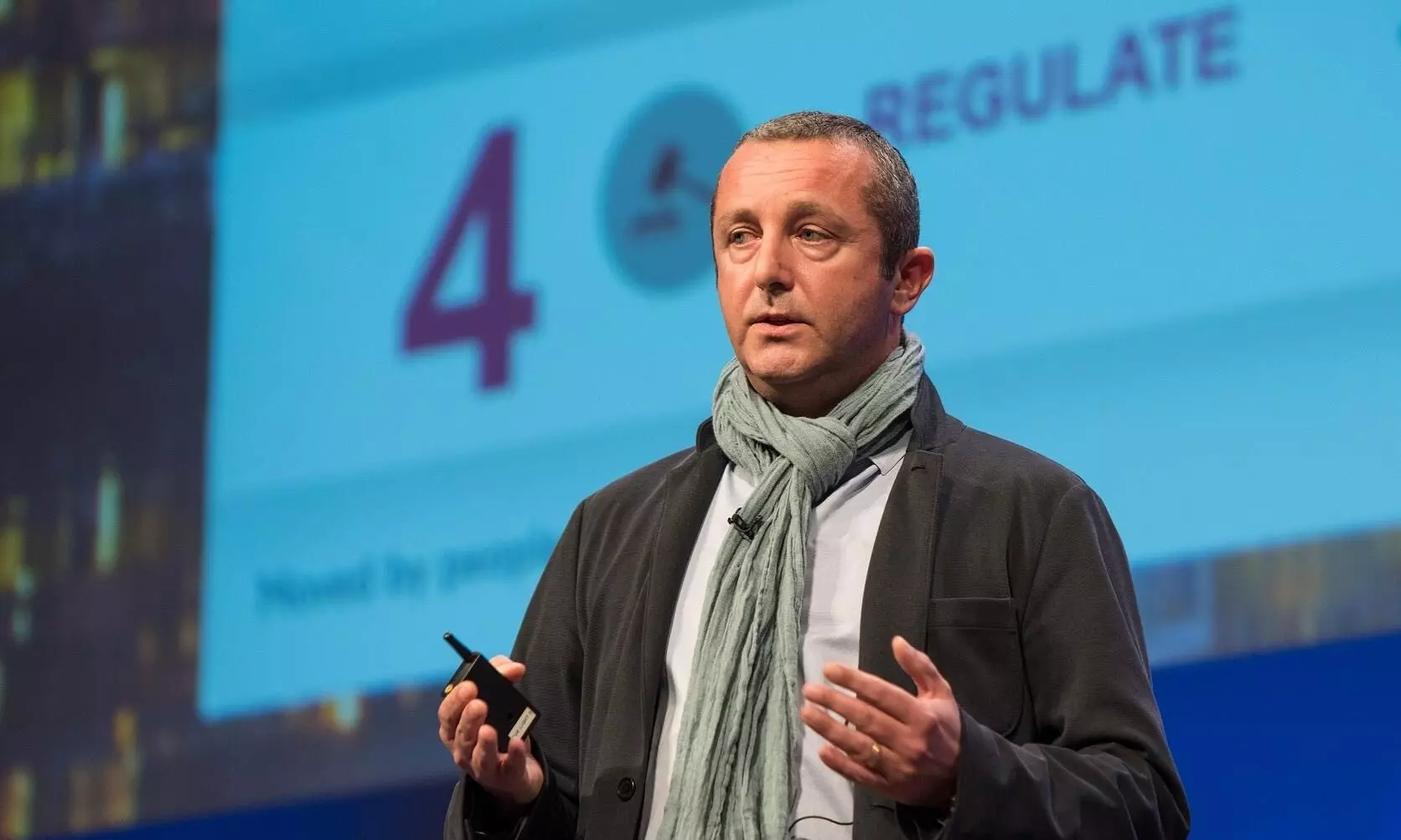 The first time I met Guillaume Halleux was in February of 2018 in Mumbai at the biennial Air Cargo India exhibition and conference. He was already five months into his new job as the Chief Officer Cargo at Qatar Airways. While doing my first interview with him, it was a challenge for me to get the pronunciation of his French surname. I remember getting it recorded by him at the Mumbai event. He was a kind man and continues to be one. But, I still do not get his surname pronounced fully correct!
However, in the second week of October in 2017, Halleux was at the Caspian Air Cargo Summit in Baku, the capital city of Azerbaijan with his predecessor Ulrich (Uli) Ogiermann. He was then the Vice President Cargo for Asia Pacific at Qatar Airways, based in Singapore. I was at the same event but did not know Halleux at all. I recollect my conversations with Ogiermann, who did not then reveal to me his imminent departure from Qatar Airways Cargo despite my requests for his confirmation as a speaker for the Air Cargo India conference scheduled for February 2018 in Mumbai. STAT Media Group was the organiser for Air Cargo India then.
In the following week, the news broke that Halleux would replace Ogiermann at Qatar Airways Cargo with immediate effect. In fact, Qatar Airways had already picked Halleux as Ogiermann's replacement and the Baku event was Halleux's informal initiation to the big global role at the world's third largest international cargo carrier then. Eventually, Halleux, as Chief Officer Cargo, went on to make the Doha-based airline as the world's largest international cargo carrier and helped it to maintain the top rank even as he decided to leave Qatar Airways Cargo to pursue a new role outside of air cargo.

Halleux left Qatar Airways Cargo on August 14 and on 18 September, he joined the Swiss aviation services company providing airport ground handling, lounge hospitality and cargo handling services as Chief Commercial Officer. He will be based at its headquarters in Zurich and will report to Warwick Brady, the President and CEO of Swissport International.
Having been the Chief Cargo Officer for five years and 10 months, Halleux now holds the record of the longest serving head of cargo at Qatar Airways. He became the head of cargo at a time when Qatar came under an air, land and sea blockade imposed by four Arab countries putting a tremendous pressure on the Qatari economy and making air operations extremely costly. Qatar Airways freighters were deployed in a complex operation to bring in essential supplies from around the world for its citizens. The operation involved flying in 4000 cows to make Qatar self-sufficient in dairy products.

From 22 freighters in 2017, the Qatar Airways Cargo now has a fleet of 31 freighters that include 27 B777Fs and 2 747-8Fs.
STAT Media Group visited Doha for a special interview with Halleux even as he was making the final preparation for his transition from Qatar Airways Cargo and his family's repatriation to France. The more than an hour-long interview was meant to record his reasons for his departure from a job that he "loved". It was meant to share his reflections on key air cargo and aviation topics that, he thinks, deserve much more attention from the industry and regulators than what they get right now.

"This is my last opportunity to voice topics that are close to my heart," Halleux said between sips of black coffee sitting in the lobby café of Hyatt Regency in Doha.
From Qatar Airways Cargo to Swissport
It took more than eight months of reflection and preparation for Halleux and his family to make the final decision. He says it was during the FIFA World Cup in Qatar last year that he made up his mind to leave but made his decision formal and official only in May 2023.
"After 18 years of being away from Europe, it's time for us to go closer to our parents, who are ageing," he said. Halleux had his eyes and ears open for a good opportunity that is closer to France where his dear ones live.
"At 49 I still have a good 15 years to go in my professional life. And I've done cargo whole of my life. So it's time for me to do something else," he said. Without being arrogant Halleux argued that the job he was leaving was the most interesting job that air cargo could offer to any airline executive. "Any other airline would be smaller, less ambitious and less challenging. They would be far away from what I have believed here (QR Cargo) and I have enjoyed," he reasoned. He sees Emirates SkyCargo as the closest one to Qatar Airways Cargo in terms of size and ambitions. "I have a lot of respect for Emirates SkyCargo. They are very strong. Good competition to us and they keep us on our toes," he acknowledged.
Halleux confirmed that he looked at senior roles even in other industries. Any opportunity should meet two of his important conditions – a role that is challenging and at a location that is someplace close to France, where his family lives. When the Swissport opportunity came in, he said the job fulfilled both his conditions.
"An organization like Qatar Airways Cargo is built to handle problems and there are teams responsible to deal with them on daily basis. But at some point it takes a toll on you. Now I need to get my health and fitness back on track."
"Ground handling is not really the most glamorous side of aviation. But it is actually a very fascinating aspect of the industry. It is very critical and without it airlines can't fly," he said. "I accepted it because it gives me a foot into the businesses of passenger services, lounges, ramp handling, executive aviation, fuelling and also cargo handling. Cargo handling is something that I know, but Swissport offers much more opportunities to learn and that piqued my interest in that role." Halleux also placed on record Warwick Brady's leadership at Swissport and how he has managed to turn the company around. "That company is on the right track," he said.
Halleux also made it a point to highlight the importance of the impact of such a high pressure job at the world's largest cargo airline on health – both physical and mental. "I blame no one except me for being physically unfit. An organization like Qatar Airways Cargo is built to handle problems and there are teams responsible to deal with them on daily basis. But at some point it takes a toll on you. Now I need to get my health and fitness back on track," he said.
Global air freight market
The unprecedented rise of air cargo during the pandemic and the sharp fall after a very short period of high has made Halleux to reflect on the "irrational exuberance" of the global air freight industry and the several missteps that followed. He questioned the ill-founded decisions by industry players and outsiders to launch new cargo airlines and placing orders for freighters of both production and converted types without serious assessment of the changing market conditions and their business viability.
"So, I don't mean to say that only some airlines have the right to operate freighters. All I mean to say is the aviation world had been lured by Covid and the high cargo revenue and profits during the pandemic blurred their business acumen," he said. "It takes 24 plus months from the time you order an aircraft and its delivery, sometimes even longer. If you're lucky, there's one aircraft available. So those orders that were placed, even for conversion, are now getting delivered. So what's going to happen? The biggest temptation is to say, I have a fixed asset and therefore I'm going to dump my price, because a cheap kilo on board is better than no kilo. One airline does it and several others follow leaving a severe impact on freight rates where everybody loses. The freighter capacity is going to continue to grow before it goes down again. So the market will end up self-regulating at some point because you know, if you bleed money, you end up stopping your operations and parking your planes," he reasoned.

Halleux calls the current problems of global air freight market as "self-inflicted". He reiterated the fact that making money with cargo is not easy particularly if you are operating freighters. If you're a belly operator, it comes with disadvantages; because you don't control your network and schedule. "Passengers have priorities. We all know that. And that's fine. But it also comes with a fixed cost that goes to the passenger division not to the cargo. So you're working on marginal cost, and you can make a living out of that. Operating freighters is another story," he warns.
Whereas the combination carriers like Qatar Airways, Emirates and Cathay Pacific, have a different operating model that allows for risk mitigation. They can be profitable because freighters feed cargo into the bellies of the huge passenger network and vice versa. "If I didn't have the network (Qatar Airways passenger network) to complement the network of my fighters, it would be a challenge to make my cargo business profitable. So that complementarity is very important," he said.
"The biggest temptation is to say, I have a fixed asset and therefore I'm going to dump my price, because a cheap kilo on board is better than no kilo."
Halleux also highlighted another important reason for any cargo carrier to be successful, which he described as "common sense". "Look at the world map and see where you are based. See the flow of goods from production centres to consuming markets. Air cargo is about linking production and consumption. Air cargo is a product of global trade. So carriers in the Middle East have a huge geographical advantage. So they tend to do well."
Digitalisation – massive tidal wave is coming
The air cargo industry, and particularly the freight forwarding part, according to Halleux, is "putting its head in the sand and refusing to see the massive tidal wave that is coming". He cited examples of how unknown companies like Netflix and Uber disrupted entertainment and transportation industries respectively. These disruptive companies originated as ideas completely outside of those industries. He expects something similar is going to happen to air cargo industry. The industry, according to him, has clearly failed in its digitalization journey and it is nowhere close what its peers have achieved.
"Even today, it takes up to 18 parties/people to move one piece of freight from origin to destination. It is opaque and inefficient," he said. According to him, it is going to be freight forwarding and GSA sectors that will see the biggest impact of the current digital transformation that, according to him is only "taking baby steps".
"We are not far from a world where you are able to order online transportation from Shanghai to Delhi. This means you do it yourself. That is the first disruption. You are able to import. You choose your airline. You chose your freight forwarder and your custom broker. Next you choose your destination broker and forwarder. There will always be someone willing to charge for a portion of the service that a forwarder used to control entirely. But the problem is that in today's scenario you don't have access to that information and therefore can't do it. But it is being built up. Trials are being run in the industry where bookings are accepted by airlines without stock of AWBs, bookings are accepted by airlines from forwarders who have never dealt with that airline before. So technology has allowed the elimination of middle men, consolidator and master loader. Bookings are accepted now on an import shipment, which is really unheard of in the air freight industry. Some trials are being carried out to offer an individual shipper to book his or her origin and destination air freight, including payment."
Talking about the digital market place platforms Halleux said that all three of them have payment in their radar. Does that mean it is the end of Cargo Account Settlement Systems (CASS) by International Air Transport Association (IATA). "No," said Halleux. "It means that instead of dealing with only forwarders in a given market who have my AWBs, I can deal with everyone." Then the question comes, if one airline can deal with every forwarder why not deal with shippers directly.
Halleux admits to the fact that the industry is not ready for it. But he firmly believes that the question will be asked sooner rather than later.
"Technology removes obstacles and creates new markets. In my conversations with forwarders, some of them are aware of it and preparing themselves; while others refuse to see the tidal wave."
Does that mean an end for freight forwarders? Halleux thinks that it is not the case. If the forwarder offers additional value to the shipper then there will always be people willing to pay that price for additional value-added service. He also thinks that technology and the digitalization drive taking place in bits and pieces within the industry is slowly demolishing two pillars on which freight forwarding industry was built on – opacity and ignorance. Increasing democratization of data and access to information are making the air freight industry more level playing field.
With the rise of cross border business to business ecommerce air freight volume, there are more and more shippers directly buying capacity with the airline as they do not see the value of going through freight forwarders. This was already happening with some of the leading global shippers from the fashion and high-tech sectors.
"With technology, as we talked about, it really removes obstacles and creates new markets. In my conversations with forwarders, some of them are aware of it and preparing themselves; while others refuse to see the tidal wave," Halleux said.
"I am convinced that our industry is about to be heavily disrupted. And this time around, the disruption does not come from an airline or from IATA," he said. "It will come from tech companies with the backing of investors from Wall Street or The City who have identified the inefficiencies of our industry. This is the end of the status quo and most likely also a rebalance of the value chain between the players."
Lithium Battery transport by air and governance around safety
Halleux's obsession with governance of safety surrounding the transport of lithium battery is well known in the industry. He has been a vocal advocate of bringing a strict regulation encompassing every stakeholder in the lithium battery transport by air and not just airlines. Most often the governance of safety for lithium battery begins and ends with airlines. This does not become a problem for a shipper, forwarder and handler. "The risk is still there. Definitely it hasn't gone down. It's actually higher," he said.
He said when he talks to his airline partners, there are some who understands the risk but don't necessarily take action. There is only a very few who take serious actions to avoid any mishaps. Then there are others who just do not understand the risk. According to him, they mix up processes of screening cargo. Most often screening of cargo for dangerous goods and explosives is not same as screening for lithium batteries. They are not trained to do so.

"So the way it works today is that the most regulated part of the supply chain is the airline. We are extremely regulated. We have to abide by civil aviation rules in every country and follow International Civil Aviation Organisation (ICAO) and IATA rules. And we have mechanisms in place to make sure that airlines comply. One mechanism is appoint one person in the airline and make him/her personally responsible and accountable. If something goes wrong and investigations reveal that the mishap was due to negligence, then the accountable manager is held responsible. In Qatar Airways Cargo, I am the accountable manager. In such cases, the accountable manager is punished for someone else's fault." According to Halleux, the accountable manager is appointed after a rigorous training and interview process by civil aviation authorities of countries. The person needs to demonstrate and convince the authority of the checks and balances in place to ensure that the airline has every safety standards in place. "Therefore, it calls for trust in the processes set up by the organization and trust your people entrusted with such important responsibility," he added.
"So with that kind of risk, I can tell you that I take safety very seriously. And I've made decisions to cancel charter flights that were sold for a million dollar because one element of safety was not met. And I did not want to take that chance," he confessed.
Halleux is of the strong opinion that civil aviation authorities of countries and ICAO have to very seriously start looking at bringing a mechanism to regulate every supply chain stakeholder in the lithium battery transport right from the manufacturer/shipper. Does the claim on the label outside the box same as what is inside the box? Has the shipper packed the lithium batteries or lithium battery loaded devices as per what is described by IATA DGR regulations? "How you manage different parties in the supply chain has to be looked at and evaluated. It has to be done one day. And we don't need to wait to do it after hundreds of people have lost their lives because of someone's negligence or for lack of regulations," he said.
"I've made decisions to cancel charter flights that were sold for a million dollar because one element of safety was not met. And I did not want to take that chance."
Sustainability
Halleux wants to talk about sustainability but admits that he is not very comfortable talking about it. "Because it's a very difficult topic. It is extremely controversial. The reality is that we are operators. So we can only operate what exists. Aircraft manufacturers tell us that a hydrogen powered aircraft –passenger or freighter – is something that is not going to be ready before 2050. Some even claim that hydrogen aircraft is a wishful thinking and that the laws of physics will not allow it. There is no wing structure that can sustain the size and weight of a hydrogen tank," he argues. According to him, the only other important solution to attain NetZero goal is sustainable aviation fuel (SAF). "But SAF is not available. What is produced is only a fraction of the current demand," he said.
None of the above is going to happen overnight; even though many of them are doable. What the industry needs is a collective will to address some of these nagging pain points particularly on the digitalization front. There is certainly a desire for transformation. The industry needs more and even stronger voices. Halleux continues to work in aviation and there will be opportunities in future to discuss the above topics in broad details. Let us hope that future proves Halleux right.