Fallen freighter utilisation, weak demand, sustainability to accelerate aircraft retirements
Shah pointed out four factors that air cargo industry professionals should pay attention to: demand in 2023, appetite for freighters, belly capacity return and how yields will react.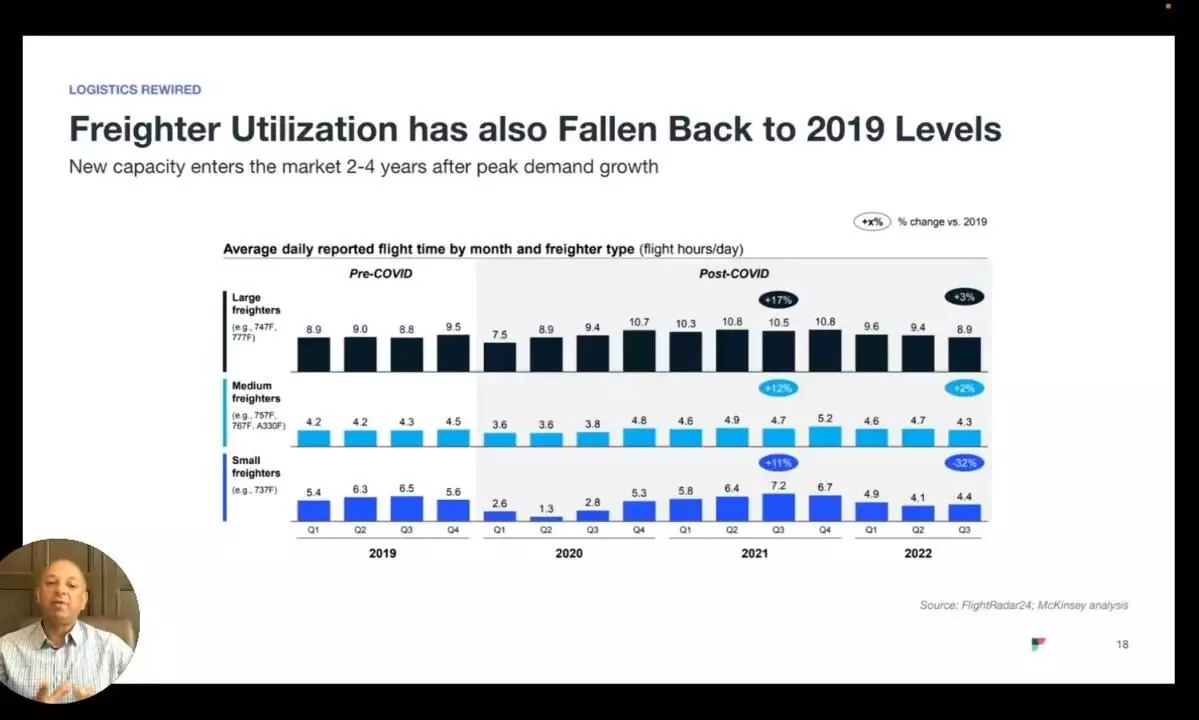 Flexport in its October 13, 2022, Logistics Rewired: Air Market Update webinar noted that they are expecting airlines to accelerate the retirement of older aircraft due to falling freighter utilisation, weakening demand in the global economy and focus on sustainability.

Neel Jones Shah, EVP of Airfreight Strategy and Carrier Development at Flexport, who hosted the show, said that airlines are going to start accelerating retirements and taking older aircraft out while talking about how they are going to react in a falling demand and yields deteriorating environment.
"In all likelihood, that is likely to happen. And it's a very easy thing for them to do and it's a very good and effective short-term planning role," he said.
Another indicator that tells the same story is freighter utilisation which has fallen back to 2019 levels.
"Remember, 2019 was a very difficult year for airlines. We are now falling back to the freighter utilisation rates very similar to that of 2019. The utilisation rates of narrowbody aircraft have fallen below 2019 rates. That is partly because we have seen an influx of narrowbody freighters into the market in the last two years. If these rates fall much further, airlines are going to be forced to retire aircraft," he said.
To put this into context, freighter capacity has been increasing at its highest rate in the last twenty years because belly capacity disappeared during the pandemic, which used to represent 50 percent of global capacity. Freighters had to fill this void and it had a growth of six percent in the last two years.
"What is more significant is that over the past year we had all the Russian-operated aircraft permanently removed from the market which is why we had flat growth from 2021 to 2022," added.
He also noted that airlines had record-low aircraft retirements in the last two years.
"There are 500 aircraft above the age of 30, that's a record number and we never had that high number," he said.
He also noted that a lot of the cargo aircraft is fuel inefficient, with four engines and emitting lots of carbon while for many customers of airlines sustainability is becoming more important.
He said, "They need to partner with people who have a similar vision when it comes to sustainability and airlines know this and they want to be carbon neutral by 2050."
"To do this, they have to think about the role of sustainable aviation fuels, retiring older aircraft, replacing them with much more fuel efficient, newer aircraft," he added.
Before this he had also pointed out the conflicting headlines making rounds in the air freight market in terms of increased demand for freighters on one side with Air Canada Cargo, Lufthansa and Air China expanding their freighter fleet and shipping lines like MSC and CMA CGM entering the freighter operations. While on the other side there are severe market headwinds that may affect the demand.
While analysing the demand side, he concluded the economy news headlines as, "The worst is yet to come, and for many people, 2023 will feel like a recession." He was citing the IMF's (International Monetary Fund) reduction in global growth rate to 2.7 percent compared to projected 3.2 percent this year and the merchandise GDP cut to 1 percent for 2023 from a previous forecast of 3.4 percent.
So the next question would be where the airfreight industry would go in 2023. In other words, will there be an over or under capacity, what will be the load factor moving forward and how the yields turn out to be?
To answer this key question, Shah pointed out four factors that air cargo industry professional should pay attention to which includes how demand will develop in 2023, whether will there be a continued appetite for freighters, how quickly will belly capacity return to pre-Covid-19 levels and how will yields react.
Along with many polls he did during the session, one true or false statement was "Asset owners need to make a consistent RoI for the overall health of the global supply chain."
As the overwhelming response was true, he expressed how much he agree with that.
"Often, they (airlines) are making capital decisions that impact their balance sheets for the next 25 to 30 years. Without a consistent outlook on their business and profitability, boardrooms and boards of directors will be very hesitant to make these investments, not only in aircraft but also in warehouses, ground handling equipment, and the technology to operate more efficiently," he said.
He also noted that the feast and famine historical cycle that has gone on in this business "led us to where we got to during the Covid-19 pandemic, with an industry that was heavily under-invested in, and we want to make sure that doesn't happen going forward."

"Yields have to be at a level that allows everybody in the supply chain to make money. And the airlines play a very key role in how it transpires," he added.