Dutch plan to curb flights at Schiphol airport draws flak
Cargo flights contribute a quarter to Schiphol's economic added value while only 3% are cargo flights.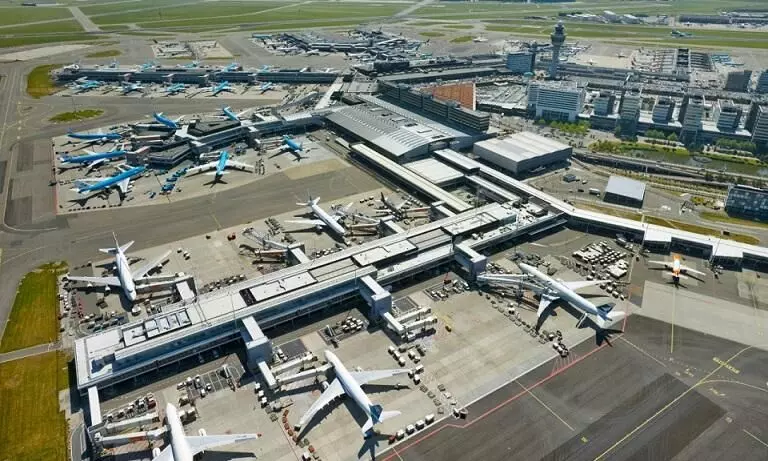 The plan by the Dutch government to reduce 20 percent flights at Amsterdam's Schiphol airport has drawn strong opposition from shippers and evofenedex, an association representing importers/exporters. The plan would see flights restricted to 440,000 per year compared to previous projections of 540,000 flights from Schiphol w.e.f November 2023.
"The Dutch government is very strong on the position of bringing down the total number of air traffic movements at Schiphol," says Rogier Spoel, Policy Manager, Air Cargo, evofenedex. "There are two major challenges for the government which could lead to a setback: the timeframe and legal framework. The rules for cutting back flights are not scheduled to be implemented in November 2023, that is a very short time frame in aviation, with a lot of administration to be done in the meantime. Furthermore, the question remains if the European Commission will approve the Dutch approach in respect to the reduction of noise. There is regulation to cut back the number of flights in relation to noise, however there are steps to be taken first before cutting flights, the so-called "Balanced Approach" . The question is if those steps were taken by the Dutch government."
Cargo flights contribute a quarter to Schiphol's economic added value while only 3 percent of the flights at Schiphol are cargo flights. "This shows that the economic contribution per flight is enormous. It also contributes to an attractive business climate. Many international companies have established themselves in the Netherlands in recent years because of the excellent logistics system with a world-class airport and seaport within the national borders," evofenedex had said in its response to the government plan.
Over the last five years, full freighter flights have been steadily losing historic rights at Schiphol Airport, says Spoel. "A local rule was made to create ad-hoc slots for full freighters if slots were unused during a certain period. Furthermore, the Covid period gave plenty of room for full freighters to land at Schiphol but all on an ad-hoc basis. The curb will be spread out evenly amongst all segments, which would mean a loss of 13-14 percent of full freighter flights. The problem is mainly how that number would affect networks of certain carriers and if a commercial operation would still be possible at Schiphol."
Asked about which segment of air cargo will be affected due to the proposed curbs, Speol says: "It is still unclear but 60 percent of air cargo is carried in full freighters, the rest in belly cargo of passenger planes. Both will be affected but primarily high tech machinery, pharmaceutical and perishables could be affected."
Speol goes on to add that there is a notion in the market that if Schiphol wants to keep its position of a cargo hub "it needs a decent amount of full freighter flights to hold that position in the market."
evofenedex, therefore, is advocating the introduction of a separate slot pool for cargo flights. "In addition, we want to investigate with our members how the offer of freight capacity can be geared even better to the wishes of top sectors. This is to strengthen the position of these sectors and to make better use of the limited space available for cargo flights."
Schiphol's total cargo volume for the first six months of 2022 declined nearly 14 percent to 721,746 tonnes compared to H12021.
Inbound cargo volumes declined 17 percent to 364,376 tonnes, and outbound cargo volumes were down nearly 10 percent to 357,369 tonnes.
"Freight volumes were shipped in two categories of flights: full freighters, which accounted for 65 percent of total volumes, and passenger flights at 35 percent of total volumes."
Full freighter movement dropped 23 percent to 9,720 fights during H12022.