Cathay Pacific carries 5% lesser cargo YoY in Jan-Apr 2022
Airline carried 92,361 tonnes cargo in April, an increase of 26% compared to April 2021.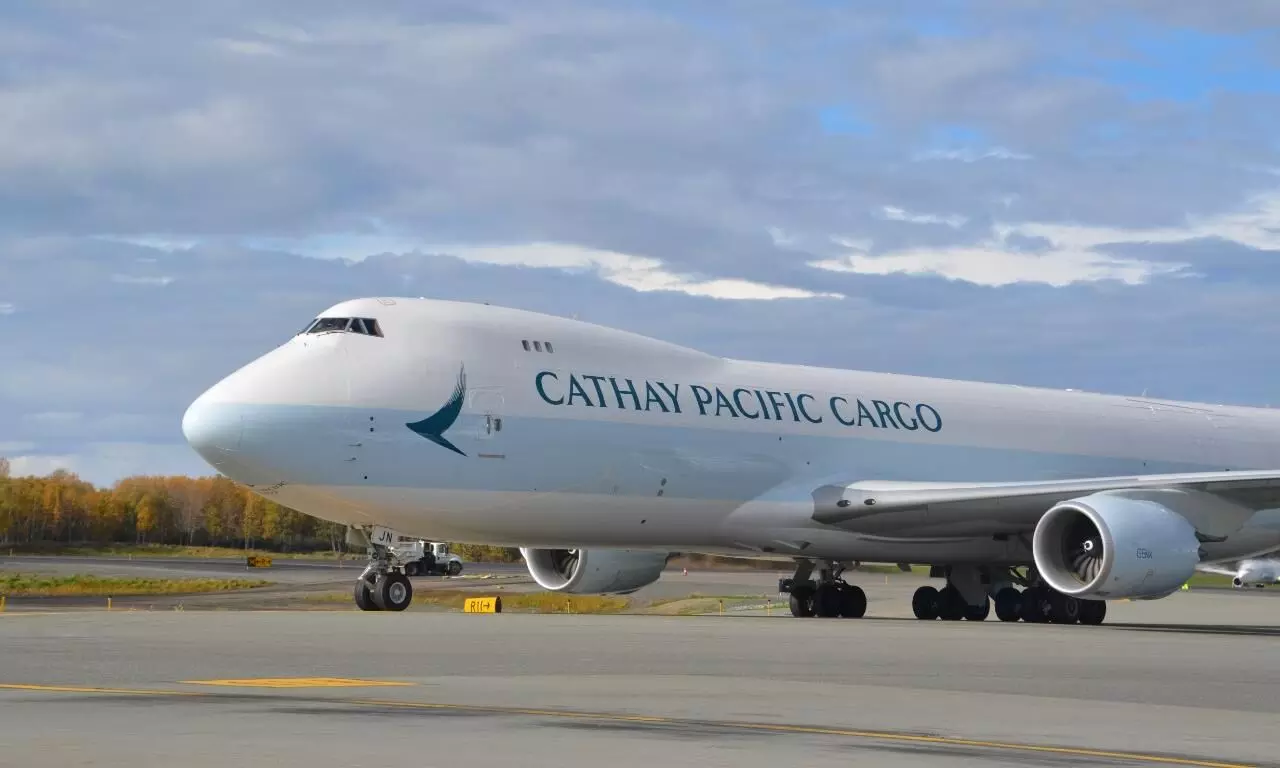 Cathay Pacific carried 328,894 tonnes during the first four months of 2022, a decline of 5.4 percent compared to 2021 against a 42 percent decrease in capacity measured in available cargo tonne kilometres (AFTKs), and a 43 percent drop in revenue tonne kilometres (RFTKs).
"The airline carried 92,361 tonnes of cargo last month, an increase of 26.3 percent compared to April 2021 but a 43.6 percent decrease compared with the same period in 2019," according to an official statement.
April's RFTKs decreased 13.2 percent year-on-year, and were down 62.4 percent compared to April 2019. The cargo load factor decreased by 2.7 percentage points to 80.2 percent while capacity was down 10.2 percent year-on-year and down 70.7 percent versus April 2019, the statement said.
"Our flight capacity continued to recover in April as we maximised regional frequencies and resumed freighter services to Frankfurt - the first freighter flight we have operated to Europe since the end of December last year," says Ronald Lam, Chief Customer and Commercial Officer, Cathay Pacific. "Nevertheless, our cargo flight capacity remained about 29 percent of our pre-pandemic capacity.
"Demand was mixed with cargo exports from Shanghai affected by the city's lockdown, which has disrupted supply chains in the eastern part of the Chinese Mainland. On the other hand, demand from Hong Kong began to recover as cross-border bottlenecks began to ease, driven primarily by sea feeders that helped offset the impact from cross-border trucking services remaining constrained.
"Elsewhere in our network, demand remained healthy with machine parts and industrial products from Northeast Asia and the Americas particularly active. Across many of our markets, we saw a strong end of the month coinciding with the pre-holiday rush ahead of Labour Day and Golden Week in Japan.
"April also saw the launch of our new Priority service, which offers cargo customers a suite of different options for time-sensitive shipments across our various cargo solutions, and can be easily accessed through our online booking portal, Click & Ship."
Outlook
"The recent adjustments to the government's travel restrictions and quarantine requirements will help facilitate the gradual resumption of travel activities and the strengthening of network connectivity to and from the Hong Kong aviation hub," Lam said.
Cathay plans to add back long-haul freighter destinations in Europe and the Americas, and resume freighter services for the UAE, Saudi Arabia and Cambodia on top of the additional cargo flight capacity provided by increased passenger flights.
"We will continue to look for opportunities to add back capacity, and rebuild our hub and network. Encouragingly, we expect this additional capacity to have a positive impact on Cathay Pacific's business and we have been evaluating the potential benefit on our operations and cost base," Lam added.
Cathay, according to preliminary assessment, is targeting to reduce operating cash burn to less than HK$0.5 billion ($63 million) per month for the next few months.