Cathay offers intermodal cargo ops at Hong Kong Airport
Regular sailings from Dongguan will bring security-screened and palletised air cargo direct to secured pier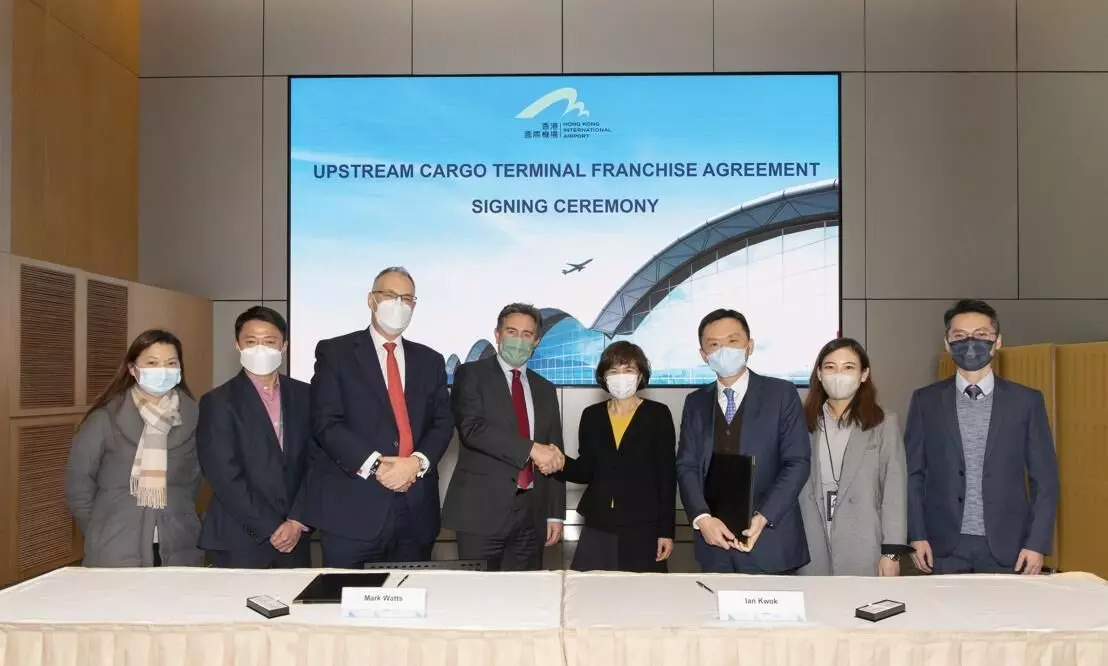 Cathay Pacific Cargo and the Cathay Pacific Cargo Terminal, operated by Cathay Pacific Services (CPSL), became the first carrier and first cargo terminal operator to have cargo shipments accepted in Dongguan and transported to Hong Kong International Airport (HKIA) by ship for outbound air freight, enabling full upstream sea-air intermodal export cargo handling between the Greater Bay Area (GBA) and Hong Kong.
"The HKIA Logistics Park in Dongguan, developed by the Airport Authority Hong Kong (AAHK), enables shipments to be security screened, built up and accepted as cargo for flights before being loaded on ships that unload in a secured area at HKIA from where pallets and ULDs can be towed straight to a waiting aircraft. The pilot scheme's base will migrate to a permanent facility from 2025," says an official release.
Cissy Chan, Executive Director, Commercial, AAHK says: "The HKIA Logistics Park with sea-air intermodal connectivity aims to reinforce HKIA's role as the international air cargo hub in the GBA. The initiative brings our extensive air network, enormous handling capacity and efficient services to the doorstep of the air cargo customers in the GBA, contributing to the supply chain and economic development of the region. We are delighted to have keen support from the industry partners, especially the Cathay Pacific Group, which has pioneered with us the successful implementation of the pilot scheme of this strategic initiative."
CPSL is the first cargo terminal operator (CTO) to sign an air cargo service agreement with AAHK to operate in the pilot scheme, and has established its own upstream bonded facility – Cathay Cargo Terminal Dongguan – located at the Bestar Logistics Centre in Dongguan, the release added.
"We have been actively engaged in the downstream trials of the service over the past year and are delighted to be the first CTO to have provided full upstream acceptance of intermodal cargo in Dongguan," says Mark Watts, Chief Operating Officer, CPSL. "By extending our air cargo handling services to Dongguan, we are able to offer more choice and more value-added services for our customers as part of our vision to become the world's most customer-centric air cargo terminal operator."
The new facility is fully compliant with Hong Kong's air cargo security regulations, and export cargo can be screened, palletised and accepted for shipment by cargo terminal operators in Dongguan before being transported seamlessly by ship to a secured pier area at HKIA for air transhipment to worldwide destinations via Cathay Pacific's passenger and freighter network.
"We are delighted to join hands with AAHK to promote the economic growth of Hong Kong and the region, while further strengthening HKIA's status as an international aviation hub by using this first and only upstream facility of its kind," says Tom Owen, Director, Cargo, Cathay Pacific. "We would like to extend our thanks to our friends at Bolloré, Cargo Link, DHL Global Forwarding, Dimerco and Yusen Logistics, who helped to realise the viability and benefits of this programme with trials using real cargo shipments."
The scheme will offer cost savings, improved efficiency and reliability as well as improved cut-off times for shipments from the GBA, the release added.