Airbus introduces Beluga aircraft for over-sized cargo operations
The Beluga possesses the world's largest interior cross-section of any transport aircraft, accommodating outsized cargo of up to 7.1m in width by 6.7m in height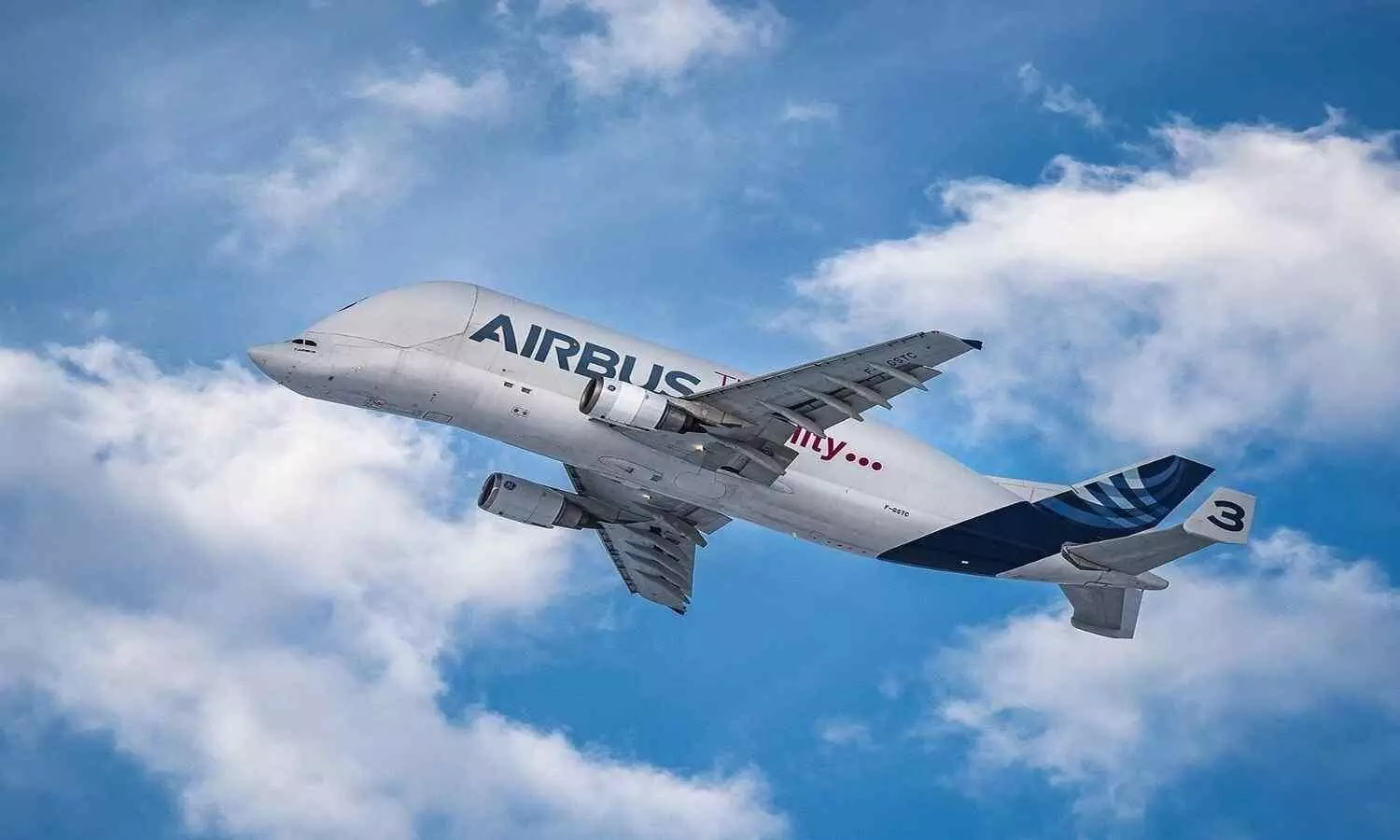 Airbus brings in BelugaST 'Super-Transporter' aircraft, based on the A300-600 design, to offer outsized freight transportation for customers worldwide. Over the years the Beluga fleet has occasionally been called upon over the years to transport outsized cargo (such as industrial machinery, complete space satellites etc.) ie. unrelated to its normal day-to-day job of transporting Airbus aircraft sections.
The five-strong aircraft fleet, which has previously been the backbone of Airbus' inter-site transportation of large aircraft sections, will be replaced by Airbus' six new-generation BelugaXLs – based on the larger A330-200 platform to support Airbus' ramp-up of its airliner production.
First mission: transporting an Airbus helicopter to Japan
The launch of the service took place during the last week of December 2021, when Beluga "No. 3" delivered a brand new helicopter from Airbus Helicopters' manufacturing site in Marignane, France, halfway across the world to Kobe in Japan. Along the way, the Beluga stopped to refuel at various transit points – including Warsaw (in Poland), Novosibirsk (in Russia) and Seoul (in Korea). Notably, the whole helicopter could be accommodated inside the Beluga without any prior disassembly -- only needing its long rotor blades to be folded back.
New service dedicated for "outsized freight" customers

With the new service, these five Belugas will be dedicated solely to transporting such cargo for commercially contracted customers. Typical industry sectors which would be served include: engine manufacturers; space industries; helicopter manufacturers; oil & gas and energy providers; machinery manufacturers; land vehicles and other military equipment; humanitarian supply distributors etc., to name a few.
Largest cross-section to open new markets

The Beluga benefits all possible market applications, since it possesses the world's largest interior cross-section of any transport aircraft, accommodating outsized cargo of up to 7.1m in width by 6.7m in height.
Phillippe Sabo, Head of ATI Air Oversize Transport at Airbus, notes, "The Beluga's wider cross section will open up new markets and new logistical possibilities – which would not be feasible with other current airborne transport means. For example, customers could consider in their future manufacturing process to make larger parts to be transported whole without prior disassembly. In the case of transporting helicopters, not having to dismantle them first really is a plus."
Clement Beaunis, Project Leader of Airbus Beluga Transport, says: "The large dimensions accommodated are also attractive for satellite manufacturers for example, as they would like to design bigger ones in the future. In contrast, today they are constrained in size by the available transport means. The Beluga will relieve that constraint."
Another 'use-case' is if an airline is facing an AOG situation due to an on-wing engine issue. Sabo explains: "The Beluga can bring a full engine-change kit directly to the airport allowing the AOG team to change the engine in a few hours.

This is possible because the Beluga can transport the engine and inlet in a fully dressed configuration. Whereas with other air transport means the engine would first need to be partially dismantled, and would subsequently need around two days to reassemble and re-test."
Dedicated airline to be created for worldwide operations
For the initial Beluga missions such as this first one to Japan -- Airbus' in-house 'airline' Air Transport International (ATI) is using its own aircrew. However, in the near future, once Airbus has commissioned all six new BelugaXLs, the fully released BelugaST fleet will be handed over to a newly created dedicated subsidiary airline with its own Air Operator Certificate (AOC) and staff.
Sabo points out: "Whereas the ATI structure is inherently focused around the European network of Airbus' plants, the new airline which we will create will be flexible and agile to address the needs of external markets. Moreover, it will have a worldwide scope and we will be organised for that around the globe."
In addition, to better meet the demands of a truly international operation, the Belugas will be upgraded with a new generation Flight Management System (FMS) with ADS-B for enhanced intercontinental navigational capabilities.
New loading innovations for quick reactivity and short turnaround
To maximise the BelugaST's reactivity and short turnaround capability required by its targeted international customer base, new loading techniques and equipment are being developed for the operation. To this end, an automated on-board cargo loader (OBCL) will enable missions from/to airports which do not have available any suitable loading/unloading platform, and for payloads weighing up to 20t. This OBCL – available from 2022 – will be transportable inside the aircraft (stored in front of the internal payload hold area) and be able to load and unload the payload autonomously.
To complement the OBCL, and for the heaviest and longest cargo, a new redesigned transportable Outboard Platform (OP) is also under development. These OPs (at least six to start with) will be strategically pre-positioned at various airports around the world and be easily transportable prior to a mission at short notice.
The third loading innovation is the new Multi-Purpose-Pallet (MPP) recently developed and produced by Airbus at its sites in St Eloi and Nantes. Compatible with a range of payloads, the MPP, when it is already carrying the cargo, is raised by around five metres above the apron level and loaded through the Beluga's nose opening using either the OBCL or OB described above.
(Photo And Video Credit: Airbus)