Air cargo never had it so good in India. But the best is yet to come
Freight carried across Indian airports increased 27% to over 3mn tonnes in FY2022. Target is 10mn tonnes by 2030.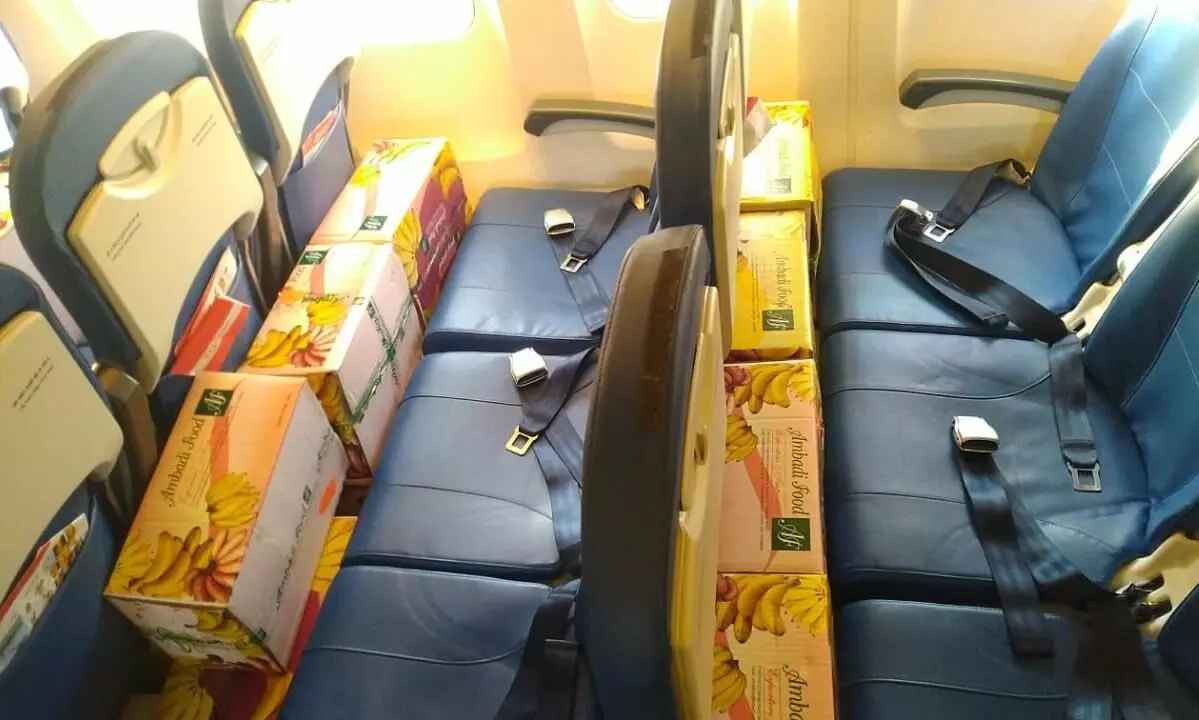 Air cargo has been a solace for international as well as domestic airline companies, airports and freight forwarders over the last couple of years for multiple reasons - pandemic, more flights, more offerings and the growth of e-commerce across categories.
Freight carried across Indian airports increased 27 percent to 3.1 million tonnes in FY2022 compared to 2.5 million tonnes in 2021. While international freight increased 29 percent to 1.9 million tonnes, domestic freight increased 24 percent to 1.2 million tonnes.
Mumbai saw a 26 percent increase in international freight to 556,899 tonnes and Hyderabad saw an 18 percent increase to 75,546 tonnes.
On the domestic front, Mumbai saw a 40 percent increase to 214,054 tonnes and Hyderbad saw a 38 percent increase to 64,529 tonnes.Indian airlines, during the last two years, have witnessed a 520 percent increase in cargo revenue, according to Civil Aviation Minister Jyotiraditya M. Scindia. Addressing the annual event of the Air Cargo Forum India (ACFI) recently, Scindia said there are 21 international and 35 domestic cargo terminals in the country. The minister said in order to achieve the 10 million metric tonne target in cargo, industry players need to focus on the transportation of smaller cargo loads from tier-II and tier-III cities to metros. The government is establishing as many as 33 new domestic cargo terminals by 2024-2025, Scindia added.

Global air cargo moves volatile
Air cargo volume declined 8 percent year-on-year in April globally, following a 4.5 percent drop in March, according to data from CLIVE Data Services, which is now a part of Xeneta. Air freight rates remained elevated despite the addition of new capacity as airlines launched their summer schedules.
"The conflict in Ukraine, measures in China to prevent the spread of Covid, and the high cost of living all contributed to the fall in demand, which is also likely exacerbated by the staff shortages jolting airport handling services and manufacturing production. Volumes in April were - 5% compared to the same month of 2019, before the pandemic took hold."
While capacity increased marginally (1 percent) in April, global dynamic load factor – taking into account both weight and space - dropped nine percentage points to 62 percent.
"The rationale behind lower load factors and higher rates is the bottleneck on the ground – which appears to be being caused now by not only the shortages of people handling cargo at airports around the world and the severe lack of truck drivers to move the goods, but also by a wider shortage of people for lower paid logistics jobs. We are now seeing this larger theme impacting the entire supply chain," says Niall van de Wouw, founder of CLIVE and now Chief Airfreight Officer at Xeneta.
The International Air Transport Association (IATA), in its latest update, added: "Now with the Omicron wave spreading in China and the Ukraine-Russia conflict continuing, the likelihood of air cargo having entered a downturn is mounting."
The Freightos Air Index (FAX), based on transactional prices from forwarders and airlines, hit a high of $4.82/kg during week 13 (March 28-April 3, 2022) before dropping to $4.64/kg for week 20 (May 16-22, 2022).
Getting back to the Indian story, what worked for Indian airlines, freight forwarders and airports? "A footloose contagion (Covid-19) closed all international airports, and flight services stopped," says an Air India Express spokesperson who did not wish to be named. "Aircraft were parked at various bases in India doing nothing. Maintenance cost to keep these aircraft airworthy was mounting and NIL revenues did set our minds to think.

"The same time, other airlines across the globe were also looking at carrying cargo in the cabin, then called P2C and now known as Preighters. Air India Express also submitted its proposal to the Directorate General of Civil Aviation (DGCA) with all necessary compliance procedures.
"So, short answer to your question - we had a huge capacity available, about 17 tonnes per aircraft, and with that we went into the market and played our cards. This was April - May of 2020. Thereafter (effective September), airlines were permitted to bring back stranded passengers, and so started the Vande Bharat Mission (VBM) flights, Hence, aircraft operated P2C outbound from India and brought in passengers on the return. This was a super success as total revenue increased.

"To summarise, capacity availability for cargo carriage and a conducive market was what worked for Air India Express in the last two years."
"Over the last three years, the aviation industry grappled with several Covid-affected issues but cargo came out as the silver lining to the darkest clouds that the industry ever experienced," says Ramesh Mamidala, Chief Cargo Officer, Adani Airports Limited. "The air cargo industry delivered to the best of its capability on several fronts, ranging from helping nations with emergency medical supplies to helping airlines/airports to generate cash flows to help them survive. Adani Airports are no different. Our airports contributed to the industry and public at large."

Yashpal Sharma, Managing Director, Skyways Group, says the focus of customers and government, over the years, has been towards ocean freight and inland freight. "As the pandemic hit, the movement by air gained lots of attention and importance. The Indian carriers also were forever focusing on narrow body operations and passenger business. The pandemic brought the importance of cargo aircrafts to the forefront of their strategy too. Even other stakeholders of the logistics industry started to give bigger importance to air cargo in the country over the last 24 months."

Airlines and airports showed the world both the inevitability and extreme reliability of air transport in dealing with a crisis of unprecedented magnitude by moving people, food, daily essentials and life-saving drugs to populations across geographies, a challenge that seemed impossible at the peak of the pandemic, says S Vasudevan, Partner and Head- Aviation in India & Global Head-Airports, KPMG.
"Brownfield and greenfield airports are now building new capacity for handling air freight driven by the global demand for perishables, pharma, cold-cargo and e-commerce in general, reflecting the optimism of airport operators. One of the biggest asks of the aviation industry has been a reduction in value added tax (VAT) on aviation turbine fuel (ATF) to 5 percent or less, which remains unfulfilled yet. Doing that could become a game-changer not just for the cargo business but for the health of the airline industry as a whole because of the significant multiplier benefits it could generate."
Preighters carrying agricultural produce or Krishi cargo were launched during this period, the AI Express official said. "We concentrated on tier-2 cities like Trichy ,Trivandrum, Kochi and Kozhikode to name a few. Clients were shippers and their freight forwarding agents but it benefited the farmers at large."
The focus during the Covid period had been to help the domestic vaccine supplies and emergency medical supplies, Mamidala added. "The domestic cargo operations also helped the e-commerce industry as commerce evolved as a great contactless alternative to traditional retail industry even in tier-2 cities. International cargo terminals continued the flow of both import and export to help the trade continue its business. Pharma and perishable exports did well."
Pandemic-related improvisations in the logistics supply chain are largely process related, says Sharma. "Ramp deliveries of certain products, frequent use of cargo charters, better cargo visibility etc came into play and created a highly proactive and concerted end-to-end delivery system. The support from respective regulatory bodies and port customs turned out to be a game changer as policy decisions struck for years were implemented, and actually reduced congestion and cost overruns. The optimum use of technology was a key enabler in the lockdown period.
"Skyways Group has been tech-driven with many embedded systems which have flexible integration options. Our warehouse management system, e-bookings, GPS-enabled transport services worked perfectly with airlines booking, tracking and custom EDI filing portals.

"To expand the outreach of our tech-based services, we developed a cold chain vertical by setting up temperature controlled spaces and reefer transport fleet, which have been adding great value to customers."
Increasing client focus, did it happen?
"Yes, always," said the AI Express official, adding, "the last two years made us bond a bit better, the camaraderie between the airline and our agents/ shippers is much better because we helped them at their time of trouble. Also to add, the prices stabilised only after Air India Express entered the fray."
Skyways Group has always been functioning on a "Client First" approach, says Sharma. "Our business process is embedded with certain checkpoint triggers which come into play without the need to wait for escalation. In order to deliver a smooth and efficient service experience, we have established elaborate SOPs mandated under AEO programme, WHO-GDP Certification, ISO-9001-2015, ISO-14001-2015 and ISO-18001-2005. Our teams are constantly monitoring the dashboards in collaboration with the product specific control towers so that real-time information flow is available. Our capability to add more capacity for customers through our charter vertical has been hugely appreciated by customers."
Where is growth happening?
"We are an organisation that operates across the country, and committed to nation development in its completeness," says Mamidala. "All our existing airports, from a cargo perspective, present great growth opportunities. We have special expectations from our airport in Guwahati as the airport has the potential to grow as the gateway for the entire north east and help the region in its industry and trade development."
AI Express official added: "We operate from 21 airports in India to the Middle East and to Singapore, and that's our current market. All steps to carry more cargo in this segment is what we are working on. Yes, we will want to move on to other cities/ destinations, subject to increase in fleet size. Yes, we want to focus on other areas to grow which are to be part of the e-commerce segment. India is set to capitalise on this, and participation in this arena will require more capacity, ideally in the form of freighters.
Sharma says a scattered geographical landscape in 5-6 states were catering to our country's exports in the past 20-30 years. "Lately, many new cities and towns are beginning to mushroom for manufacturing and logistics. Our group has had a decent presence across North, South and West of India with 27 offices across India. We do have solid plans to have a bigger spread over the next 10 years. Lot of our expansion geographically will come from our e-commerce logistics setup which is expanding to cover maximum zip codes in the country. We currently stand at 12,000 zip code capability and growing monthly. We operate 18 pick-up and delivery centres across India and will grow to 50 by March 2023 and 150 by December 2024. Each of these locations will have offerings of each of our products and verticals bringing us closer to customers even in Tier 3 cities of the country."
The next big challenge will be to create capacity and cost-efficient logistics solutions at tier-2 and tier 3 airports that could feed cargo to domestic hubs or fly their cargo directly to other regional and international destinations, says Vasudevan. "Airport operators, state governments and 3PL service providers will have to come together to find innovative solutions to address this challenge."

Cost increase, customer response and actions
"Yes, cost is the most important factor and this market is very cost conscious," says the AI Express spokesperson. "We have always been competing with other airlines and have always aspired to keep the cost much better than the competition. Key customers are well aware of the market rates and they know who is conducive to them."
It is true that the cost of air freight has gone up but so has the cost of freight in other means of transportation, says Sharma. "As capacities return to pre-pandemic levels, the costs will get checked. The demand for goods has remained strong since capacities are a constraint and backed by uncertainty in resumption of ocean supply chains, we will see demand for air cargo remaining strong in the near future too. (12-15 months)."
Inflation appears to be the new challenge to deal with for all segments and industries, not only in the country but globally, says Mamidala. "We are working hard to ensure our processes become more efficient, with adoption of technology and smart process innovations."
While air freight continues to be higher in costs by a factor of 5-6 despite the increase in sea freight charges, the growing preference for express cargo and opportunity costs of time still provides a reasonable incentive for shippers to shift to air, particularly for high-value cargo with sustained demand, adds Vasudevan.
Challenges of imports
"This is an area where we stagger, and the reason is NIL capacity," says the AI Express official. "We fly a B737-800 aeroplane and with 189 passengers and higher baggage allowance, this means NIL or very less payload available for cargo. We cannot go to the market without having to offer at least two tonnes."
Says Mamidala: "Across all our airports, we are working on plans to develop Integrated Cargo Terminals (ICTs) that deliver sufficient cargo handling capacity for imports. The infrastructure is being developed, keeping at least the next 5 years' foreseeable demand in mind. Some of these terminals will be highly automated, to the global standards, so that we minimise the terminal footprint but maximise throughput capacity."
Imports were hugely hit due to lack of capacities, and Skyways was the first one off the block to charter aircrafts from China, Germany, Vietnam, etc to bring in Covid relief goods," added Sharma. "We also moved some of our team members from other verticals to imports to manage the increased loads for us in air and ocean freight. Our custom brokerage team was immediately enhanced to ensure the customers have seamless experience despite our teams majorly working from home."
Manpower, investments, growth and more

"Cargo is a by-product of an airline, and hence calls for negligible additional investments," says the AI Express official. "Operating cost is the key here. The cargo division of Air India Express is under the ground operations department, and hence the human force of ground operations were fully occupied for cargo's sake and operations. So, we did not see any additions in that area. The ground operations team transformed into a cargo team as it was a single department. Air India Express is the only airline I know which has ground operations and cargo under the same wing. It actually helped a lot and continues to do so. Budding airlines should look at this model of operations. The "territorial '' war which is seen between two departments is absent here ensuring better camaraderie."
Air India Express is definitely looking at a capacity increase of 20 percent year-on-year for the next 3-5 years, the official said.
Very significant investment is committed for airport development, across all our airports, which includes development of cargo infrastructure, says Mamidala. The airports' cargo industry, pan-India, is expected to experience double digit growth, he added.
"We have been one of the fastest growing companies in logistics over the last couple of decades," says Sharma. "Skyways Group has had a CAGR of 30% over the last 10 years. We expect us to have a 25% and above CAGR over the next five years too at a group level."
Challenges for Air India Express
"Absolutely, now that's the trump card of success with the airline. A robust management means strong decisions and this for an airline means higher capacity in terms of new / additional aircraft leading to a vast network. Cargo will surely be in focus, I am sure. No wise leadership will be able to ignore this byproduct."