Air cargo market in May suffers lowest rates since March 2020
Shippers are the dominant players in the market right now, as freight forwarders and airlines are nervous of missing/losing the volumes that are actually offered in the market.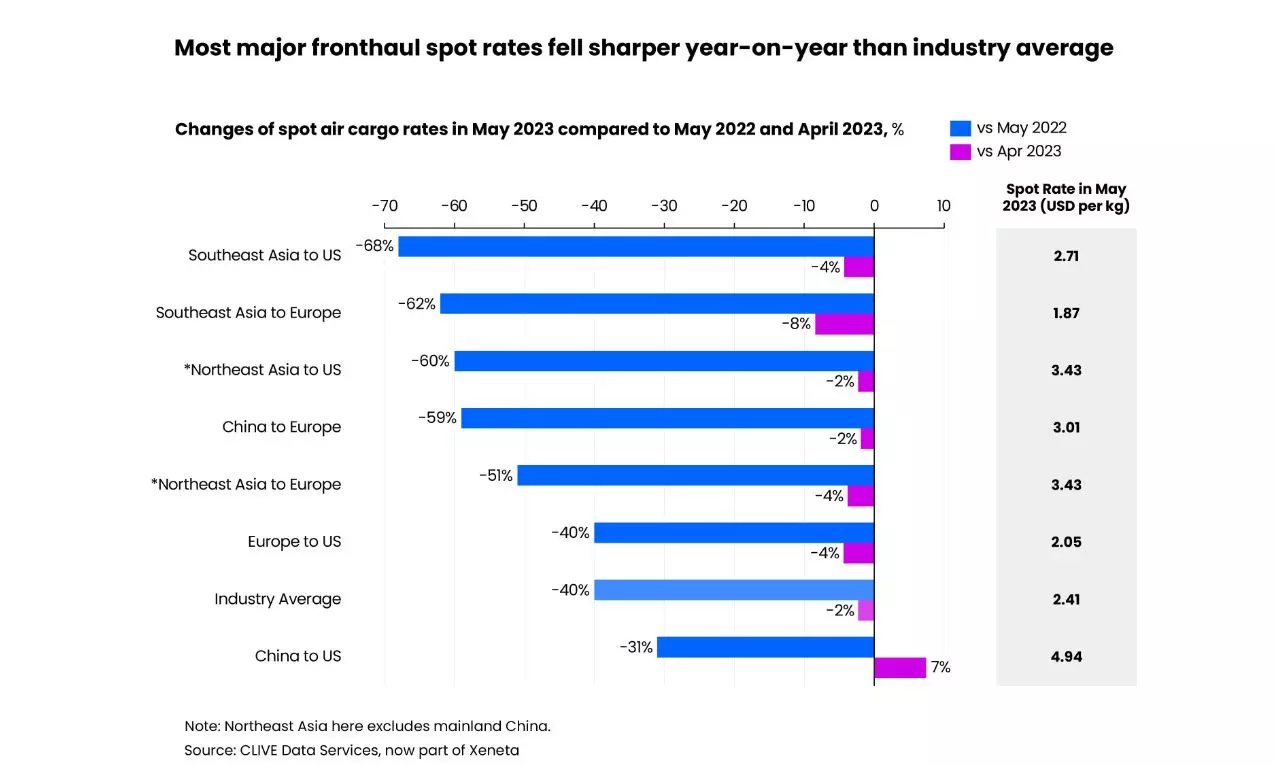 Tension is mounting in the global air cargo market heading into the weaker summer months with general airfreight rates falling in May to their lowest level since March 2020 as restless airlines and freight forwarders went in search of volumes, indicates the latest weekly market analysis by CLIVE Data Services, part of Xeneta.
The global airfreight spot rate fell 40 percent in May from a year earlier, reaching its lowest level in over three years of $2.41 per kg, just days after IATA predicted airline cargo revenues and yields could fall by more than 31 and 29 percent respectively in 2023.
Softening global air cargo demand saw a less severe year-over-year drop of -1 percent in chargeable weight in May, the smallest monthly decline in the past 12 months, but the influx of belly capacity for the peak summer leisure travel market applied more downward pressure on rates. Global air cargo capacity in May continued its double-digit increase, up 14 percent year-on-year.
Less demand and more capacity led to an inevitable fall in dynamic loadfactor, CLIVE's measurement of global volume and weight perspectives of cargo flown and capacity available. It was -5 percent pts lower vs. May 2022 at 55 percent.
Niall van de Wouw, Xeneta's Chief Airfreight Officer, said it's not only rising capacity which is causing restlessness. "There are a lot of ambitious forwarders in the market that want to grow – but they cannot grow with their current customer bases because the airfreight demand is not there, so, as we highlighted in April, they are looking to take a bigger share from someone else.
"At the same time, we see a lot of shippers going to market now because they want to refresh their rates and benefit from the different conditions to 3-6 months ago. Challengers for their business – not the incumbent freight forwarders – smell a chance to buy volumes and are going in and offering low rates. And, whether they get the business or not, the overall rates drop because shippers often stick with their current provider but expect them to adjust their rates accordingly to this lower market level," he said.
The year-on-year decline of freight rates on most of the major fronthaul lanes in May outpaced the industry average. In line with deteriorating PMI readings, the outbound Southeast Asia market experienced the largest year-on-year rate fall among top fronthaul corridors. Its spot air cargo rates to the US and Europe fell 68 and 62 percent respectively over the month. Northeast Asia (excluding mainland China) to the US saw cargo rates slump 60 percent from a year ago. The only exception is the China to the US corridor. It recorded only a 31 percent decline from a year earlier, which is below the industry average of -40 percent. Furthermore, this is the only corridor among these major lanes to experience a price surge from a month ago.
This is influenced by a small window of opportunity for air cargo in May, which stemmed from the latest dockworker absences due to persistent US west coast labor contract negotiations and weight limits set for passing through the Panama Canal due to low water levels. However, with ocean freight demand matching the fortunes of air cargo, any benefit of some goods switching from ocean to air is likely to be short-lived and have little meaningful impact at a global level.
"Shippers are the dominant players in the market right now, as freight forwarders and airlines are nervous of missing/losing the volumes that are actually offered in the market.
"It's a time of 'stick or twist' for airlines and forwarders. Do they become more short-term driven and flick the 'let's-just-buy-the-volumes' switch or do they sit it out? Do they take drastic action or hold their course? If companies become trigger happy in using such tactics, we could see more downward pressure on the air cargo market than the actual changes in demand/supply.
"In my conversations with airlines and forwarders during Transport Logistic in Munich in mid-May, I heard the market was slow, but there was no panic. But the overall market sentiment seems to be changing. Now, more airlines and forwarders are clearly getting nervous, are accepting the fact that hopes of an uptick in peak season demand later in the year are dwindling," van de Wouw stated.