FedEx major hubs to remain open following TNT acquisition
May 27, 2016 The €4.4 billion acquisition of FedEx Corporation and TNT Express combines the strengths of the companies, the world's largest air express network and an unparalleled European road network, which will expand the existing FedEx portfolio and reshape the global transportation and logistics industry.
"This acquisition is a significant accomplishment and marks the beginning of a new era, filled with promise for our people, customers and shareowners," said Frederick W. Smith, chairman and CEO of FedEx.
"The timing of this historic event is important, particularly in the current market environment where global e-commerce is growing at double-digit rates," Smith added. "Adding TNT's capabilities to our existing world-class suite of services, including GENCO and the recently relaunched FedEx CrossBorder, will further expand the ability of FedEx to support business connections around the world."
"Over our 43 year history, FedEx has repeatedly reinvented and revolutionised the industry, from the first overnight express service backed by a money-back guarantee to the invention of internet shipping. And just as we revolutionised the US domestic parcel business through the acquisition and development of what is now FedEx Ground, the acquisition of TNT will change the way customers view FedEx around the world," Smith continued.
Speaking at a press conference in FedEx's new European headquarters, in Hoofddorp, Netherlands, David Binks, head of FedEx Europe and now CEO of TNT, stressed that there would be no immediate change to service quality or networks and hubs would remain.
David Bronczek, CEO, FedEx Express, said, "There was no plan to eliminate any hubs. TNT's Liège hub (LGG) would join FedEx's hubs at Paris Charles de Gaulle Airport (CDG) and Cologne/Bonn Airport (CGN) in a three-hub system. Bronczek said Paris would be the biggest of the three, serving as the point through which FedEx and TNT's European operation would connect with the rest of the world, adding that Liège would remain as a regional hub."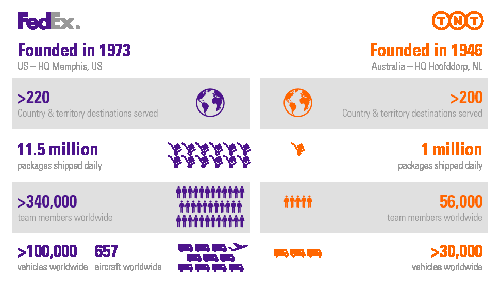 "Obviously, the Liège hub must remain in the near term. Even if FedEx's intent was to eliminate it (or Cologne) as quickly as possible, it would still take considerable time. But in the longer term, it is hard to see the need for two regional hubs just 100 kilometres apart."
Binks, added, "We will have three primary hubs in Europe, but that doesn't mean we don't have other important facilities, we just opened new facilities in Copenhagen, Milan and Stansted.
"So part of the integration planning will be to sit down and determine how we will use those different hubs and how we connect those different hubs."
Bronczek, added, FedEx is putting its faith in the growth of e-commerce in Europe, which it said, several times, would grow at 15 percent a year, making the market worth €60 billion in 2017. He said he had no concerns about the move of FedEx's customer, Amazon, into logistics.
"Amazon is a big customer who we meet all the time. We hear they need our services. If you look at the Wal-Marts of this world, they do e-commerce and have trucks and they are a big customer. They have their own logistics but need us too."
"We believe that this strategic acquisition will add significant value for FedEx shareowners, team members and customers around the globe, particularly in Europe where we will establish a strong new competitor," said Alan B. Graf, Jr., executive vice president and chief financial officer, FedEx.
"The TNT team members bring 70 years of diverse experience, which combined with that of FedEx team members, will make this integration a success."
Now that FedEx has acquired TNT Express, the integration process will begin immediately. The FedEx track record of successful acquisition integrations in the US and globally will serve the combined companies well to leverage investments in technology, infrastructure, facilities and operational capabilities to position the combined companies for long-term growth and success.
In the near term, customers can expect to interact with each company as they always have and receive the world-class service they have come to expect. Once the integration is complete, FedEx expects customers to enjoy an expanded global offering that draws upon the breadth of expertise from both companies.
Together, FedEx and TNT Express will continue to make a difference in the lives of people around the world, further supporting the communities in which team members live and work, connecting even more people and possibilities.
You may also like:-
---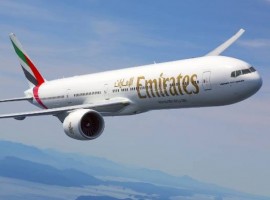 Aviation
The airline continues to gradually and safely restore its network, delivering on its health and safety promise as it responds to growth in passenger demand across the globe.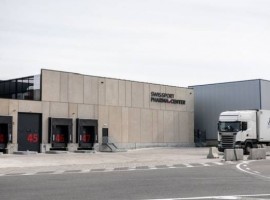 Logistics
All of them are certified by the IATA CEIV Pharma or by the British MHRA, making them benchmark operations in the Swissport network.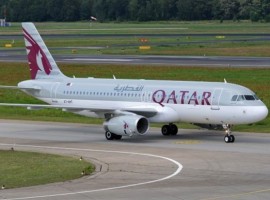 Aviation
The airline's variety of fuel-efficient efficient aircraft and strategic network management has enabled it to quickly resume flights and expand services in line with passenger demand.