QuikJet Cargo's inaugural flight touches down at KIAB, Bengaluru
Feb 17, 2016: QuikJet (QO) Cargo's inaugural flight arrived at Kempegowda International Airport, Bengaluru (KIAB) on February 16, 2016. They operate to KIAB six times a week. The terminal operator for QO at KIAB is Menzies Aviation Bobba Bangalore (MABB) and Globe Ground India which is the airline's ground handling partner.
The 737-400F aircraft with a 19-tonne payload will operate in this domestic network between Delhi, Chennai, Hyderabad and Bangalore. The aircraft features a new livery featuring both Sovika and QuikJet Airlines. It will be based in Delhi.
Formal celebrations took place in front of the aircraft involving QuikJet's crew, members from Sovika and Cargo team from the Bangalore International Airport Limited.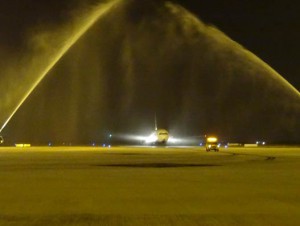 Last year, Sovika, the Mumbai headquartered airport-to-airport logistics specialist, had decided to launch domestic freighter operations. Sovika had leased the 737-400F aircraft from QuikJet, the ASL-owned, Bangalore-based carrier, which has already secured its Scheduled Air Operators Permit from the Indian Directorate General of Civil Aviation (DGCA).
Sovika has offices in every major city in India and at strategic business locations globally. Over the years it has gained substantial experience in every aspect of aviation: be it aircraft leasing, charters, ground handling, cargo handling, warehousing and terminal management. Currently Sovika's operations span 31 airports across India.