Qatar Airways starts non-stop service between Doha and Ras Al Khaimah, UAE
Feb 08, 2016: Qatar Airways started non-stop service between Doha and Ras Al Khaimah on 2 February, its fifth destination in the United Arab Emirates. Ras Al Khaimah is known to be a gateway to many of the UAE's natural treasures, popular for weekend getaways for travellers from the GCC, and a resort destination for longer stays for travellers from China, Europe and India.
An Airbus A320 operates the Ras Al Khaimah route, featuring 144 seats in a two-class configuration of 12 seats in Business Class and 132 seats in Economy.
Akbar Al Baker, Chief Executive, Qatar Airways Group, said, "We are delighted to launch our newest route in the United Arab Emirates – Ras Al Khaimah. Qatar Airways' network expansion will undoubtedly increase the flexibility and choice for our passengers to travel to and from different Emirates in the UAE, and we look forward to enhancing passengers' travel opportunities from Europe, Asia and the Americas to new tourist destinations in the region such as Ras Al Khaimah."
Ras Al Khaimah is located in the northern part of the UAE, approximately 45 minutes from Dubai.
Qatar Airways now offers up to 200 weekly flights from Doha to the UAE including the new four flights to Ras Al Khaimah: 105 flights a week to Dubai International Airport; 28 flights a week to Dubai Al Maktoum International Airport; 42 flights a week to Abu Dhabi; and 21 flights a week to Sharjah.
Photo: Celebrating the arrival of Qatar Airways' inaugural flight to Ras Al Khaimah are representatives from the airline's senior management team and members of the Civil Aviation and Airport authorities of Ras Al Khaimah.
You may also like:-
---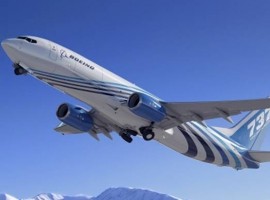 Aviation
Logistics
Primarily used to carry express cargo on domestic or short-haul routes, the airplane is capable of carrying up to 23.9 tonnes (52,800 pounds) and flying up to 2,000 nautical miles (3,750 kilometers).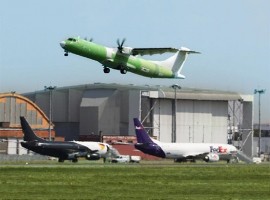 Air Cargo
Logistics
The ATR 72-600F will provide cargo operators with advantages of the latest generation market-leading regional turboprop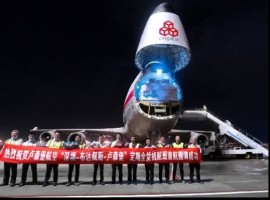 Aviation
The weekly frequency is routed Luxembourg-Bangkok-Shenzhen before returning westbound to Luxembourg via Bangkok with an additional stopover in Budapest.