Qatar Airways adds 14 new global destinations to its network
Mar 10, 2016: Qatar Airways announced a significant network expansion of 14 new destinations spread across four continents. The new routes will further expand the reach of the airline's network, and will include the world's longest flight, between Doha and Auckland, New Zealand. This announcement of expansion was made by, Akbar Al Baker, group chief executive, Qatar Airways' at ITB Berlin, world's largest trade fair.
Al Baker, remarked, "These new destinations are where our customers want to go, and where we see the most opportunity to provide a best-in-class experience at great value. We look forward to growing our network and welcoming new passengers to Qatar Airways."
The airline extends its reach to five new European destinations. The Italian city of Pisa, starting on August 2 with daily non-stop A320-family service from Doha, will be the fourth Italian destination for Qatar Airways, joining Venice, Rome and Milan. Service to Sarajevo (Bosnia) will start on September 7, with three flights per week on A320-family aircraft. Daily non-stop flights from Doha to Helsinki (Finland) will start on 10 October, offering new connections between one world hubs. Three times weekly service between Doha and Skopje (Macedonia) in November. Both new cities will be served with A320-family aircraft. Qatar Airways will return to Nice (France) by summer 2017, with five flights per week with wide-body aircraft.
Qatar Airways will begin services to six new destinations in Africa. Marrakech (Morocco) will begin in July, three times per week, from Doha on the airline's Boeing 787 Dreamliner aircraft. It also begins with four flights per week between Doha and Windhoek (Namibia) will begin on September 28. Daily scheduled service to the Seychelles will resume on December 12.
In January, Qatar Airways will offer three flights per week from Doha to Douala (Cameroon) and Libreville (Gabon) utilising one aircraft. Non-stop service, three times weekly from Doha to Lusaka (Zambia) will begin by summer 2017.
New Qatar Airways destinations in South West Pacific / Southeast Asia are daily service to Auckland -Qatar Airways' first route to New Zealand, and what will be the world's longest flight – will begin on December 3. Qatar Airways will use the Boeing 777 aircraft for this route.
Just in time for the winter break, it will begin four flights per week to Krabi (Thailand) on December 6 and three flights per week to Chiang Mai (Thailand) also in December, enhancing overall connectivity to Thailand through four gateways. Qatar Airways currently flies to Bangkok and Phuket.
The introduction of the new destinations comes two years after the opening of Qatar Airways' hub, Hamad International Airport. The airport, one of the most technologically advanced modern airports in the world, serves more than 28 million passengers annually – and is set to grow up to 50 million in 2018.
Qatar Airways recently started service to Los Angeles, USA on January 1, Ras Al Khaimah, UAE on February 2 and Sydney on March 1. The airline will begin service to Boston, USA from March 16; Birmingham, UK on March 30; Adelaide, Australia from May 2; Yerevan, Armenia from May 15 and Atlanta, USA from June 1.
Photo: Qatar Airways Group Chief Executive Akbar Al Baker was joined by Qatar Airways SVP NSW Europe, Jonathan Harding (left) and Qatar Airways Country Manager Germany and Austria, Frédéric Gossot (right) at the airline's ITB Press Conference hosted by Sky TV Presenter, Ruth Hofmann.
You may also like:-
---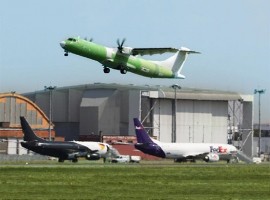 Air Cargo
Logistics
The ATR 72-600F will provide cargo operators with advantages of the latest generation market-leading regional turboprop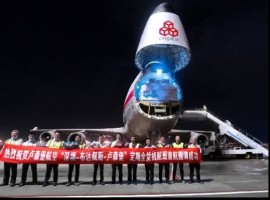 Aviation
The weekly frequency is routed Luxembourg-Bangkok-Shenzhen before returning westbound to Luxembourg via Bangkok with an additional stopover in Budapest.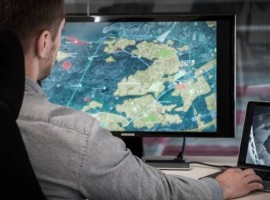 Drones
With a focus on regions with long response times, Everdrone expects to reach more than 100,000 residents in 2021 with the service