Logistics provider GAC appoints Mark Delaney as managing director India
April 04, 2016: Mark Delaney has been appointed managing director of GAC India, following the retirement of Paul Haegeman who has held the position since September 2004. Mark brings his over 30 years of related industry experience to this new role and is responsible for overseeing the continued growth of GAC's shipping and logistics businesses in India.
Fredrik Nyström, GAC's Group vice president, Asia Pacific speaks of the 'exciting times' that lie ahead for Mark and his team, as major reforms are expected for the country's shipping industry: "Being the 16th largest maritime country in the world, India's trade and commerce relies heavily on its ports and the shipping industry. Cargo volumes have been increasing at the country's 12 major ports with cargo traffic hitting 1,052 million metric tonnes in 2015 and set to grow by more than 60 percent by 2017. It will be interesting to see how developments in India's ports and road infrastructure unfold under the Sagarmala project. Such infrastructural projects investments and increasing cargo traffic will benefit shipping and logistics services providers like GAC.
During his 23 years in GAC, Mark has held various positions including managing director of GAC Thailand, managing director of Abu Dhabi, commercial director of GAC Marine and commercial development manager of GAC China. Prior to joining GAC, he worked for a number of established shipping and logistics companies.
[caption id="attachment_15385" align="alignleft" width="160"]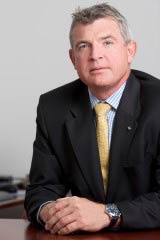 Mark Delaney[/caption]
 He continues, "GAC India has made remarkable progress under Paul's leaderhip, and I  believe it will continue to serve the industry well with our comprehensive suite of services,  under the new leadership."
 Dr Roy Mathews, chairman of GAC India, says, "I would like to thank Paul for the many    contributions that he has made to the company. He opened up new business channels for  GAC India through leading the restructuring of its Logistics department and our  diversification into new sectors such as oil and gas and offshore support. His passion and  constant pursuit of new ways to improve the company and the workforce has brought the  company to new and greater heights and won him the respect of everyone within GAC    India. We wish Paul a happy retirement.
"I look forward to working with Mark, who brings a wealth of experience in shipping and  logistics, along with astute business acumen to his new role."
GAC India is part of the global shipping, logistics and marine services provider, GAC Group. Through its extensive network of 26 offices, it provides a complete range of shipping, logistics and marine services at all ports and anchorages in India, including ship agency, freight forwarding, project logistics and offshore and oil and gas support. GAC is the world's leading provider of global Shipping, Logistics and Marine services.