FROM MAGAZINE: Logistics amidst the Internet Of Things canvas
The advent of the internet of things heralds a new era of smart logistics. We explore the challenges and opportunities in the information matrix that the internet of things espouses within a rapidly evolving supply chain.
Lionel Alva
Technology has become ever ubiquitous and digitalisation has taken the world by storm. Much akin to that of a tempest, its impact has been felt across industries. So much so that it has changed the core dynamics of both manufacturing and the supply chain.
It is expected that technologies like the Internet of Things (IOT) shall push the envelope even further in terms of possibilities. Gartner forecasts that 6.4 billion connected things will be in use worldwide in 2016, up 30 percent from 2015 and will reach 20.8 billion by 2020. In 2016, 5.5 million new things will get connected every day.
"When tens of billions of devices/things are connected to each other, the cloud and the user, the IoT will unlock greater efficiencies, personalised services and new user experiences. The IoT will not only give the supply chain additional visibility on how products are produced and delivered, but also offer information about products when they are actually in use. For example, this information can help manufacturers refine their products or provide predictive maintenance," asserts David Miller, senior director, marketing, Qualcomm Technologies.
Tracking devices in trailers, containers, and pallets reached 1.8 million worldwide in 2014. It is expected that once IoT is implemented, organisations can use the IoT to better track assets, control and manage inventory and foster the implementation of an optimal supply chain. The IoT would make it possible for shipments to be traced through the manufacturing and transportation process in real-time, providing accurate delivery and improved customer service. Thus through adding connectivity and compute into everyday devices the IoT will foster new business models, transforming entire industries as well as the supply chain that serve them.
"One of the biggest benefits will come from demand forecasting for manufacturers. For devices that require ongoing support, supplies and replenishment, automatic notifications that can be sent to the OEM will reduce the requirement for additional inventory to be stored/ordered at consignment. For example, if a company purchases printing machines, they will no longer need to order additional, excess and expensive toner," highlights Brian Bourke, vice president, Marketing at SEKO Logistics.
Since with the use of 'big data' and the IoT, organisations can proactively replenish inventory based on exact physical data and forecasted demand that combines many factors, maintaining efficiency while never losing a sale due to out of stock merchandise. Embedded sensors can monitor finished products or equipment and predict, alert and even book service and maintenance.
Miller adds, "One of the early places the IoT is manifesting itself in the supply chain is in asset tracking, where connectivity such as Bluetooth, LTE or WiFi combined with location tracking technology like GNSS is enabling precise indoor and outdoor asset tracking from packages, to trucks and large vehicles. These smart devices also can provide environmental data from a variety of sensors such as temperature, humidity, shock etc."
Analyst firm Berg Insight anticipates there will be a strong focus on cargo transport security and increased supply chain visibility in the coming years. These measures would also lead to enhanced transparency in the supply chain; visibility into the supply chain will no longer be limited to merely when items will be shipped or delivered, but will expand to include exact time of arrival, temperature control and quality control information. All this data will be automatically recorded in the system, adding significant value by documenting each step of the supply chain process. Strengthened by advanced technologies, sensors and data generated by the IoT, businesses will benefit from a strong informed supply network that is able to predict, correct and even prevent problems before they occur, keeping their supply chain running at optimal efficiency.
"Currently the lack of real time visibility results in all supply chain actors operating with a buffer which means that a lot of capital is tied up in inventories and resources. We are already seeing many large freight forwarders and end customers pushing to have supply chain events and activities captured in real time. Over the next 5-6 years a critical mass of leading container carriers is expected to implement real time tracking for normal dry ventilated containers as well. Many large carriers have plans under way to do this for reefer containers," says Peter Ludvigsen, senior vice president, European Business Development, INTTRA.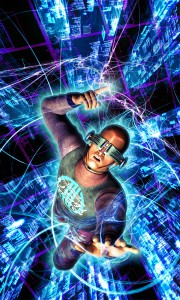 The IoT will impact every stage of the supply chain. For example, product life  cycle management systems will expand to incorporate various product  performance measurements; Enterprise resource planning (ERP) systems will  be able to monitor parts that need replacing; and customer relationship  management applications will automatically notify customers of the need to    replace the part before a fault occurs. For now; the IoT is only the first step and technology is expected to reach  nearly every object known to man transforming into the IoT. Organisations  must be geared up for the inevitable as the advent of the IoT would be an  epoch making event for the supply chain.
 Ergo, by integrating all supply chain related systems, businesses can    revolutionise the customer experience and create a competitive edge. The Port  of Hamburg is a fine example of the implementation of IoT. According to Sebastian Saxe, who is the chief information officer for the Hamburg Port Authority (HPA), 2011 was when HPA really entered the Internet of Everything era. That year, HPA built its first higher-level, broad-based application that leveraged the initial network upgrade: a traffic management system. HPA installed 300 roadway sensors to monitor traffic across major roadways in the port area. Based on its accumulated knowledge and experience, HPA is now expanding and installing new sensors in the port area for different purposes. According to Saxe, years ago the city realised that efficient port operations weren't just a question of IT architecture; there was a need to improve the overall process. That generated the push toward implementing the concept of connectivity and sensors.
In 2009 and 2010, HPA started to build the foundation for connectivity implementation. The initial network has since been expanded to include a broader network throughout the port area, as well as Wi-Fi hotspots in strategic locations, with the assistance of a network firm and a local telecom. In the future, HPA plans to expand and upgrade the system so that all the information; sensor data, video, photos, and other pieces of data feeds into a central management hub. Once a robust volume of data has been accumulated, HPA anticipates building an intelligent system that can quantify what is going on and help analyse the best way to manage the different systems of transport.
HPA is attempting to integrate additional sensors into its systems based on initial findings. It wants to place additional and more capable sensors in key hotspots to gain a deeper understanding of what is taking place. HPA also wants to learn more about who is moving where and when they are moving.
According to Saxe, this will bring HPA into the realm of Big Data. For this step, HPA is currently looking at auto registrations using sensors and images. According to Saxe, these higher-level intelligent applications are the future for HPA and are already in the planning phases.
The implementation of the Internet of Everything has allowed the Port of Hamburg to greatly optimise its operations, cut down on dwell times and set new paradigms for port operations while making the best use of the space available. Certain new developments like the advent of 5G shall give a further boost to the implementation of IoT in everyday applications.
Miller highlights that the advent of 5G would play a critical role in IoT implementation. He states that the foundation of this platform is a unified air interface that will not only enhance mobile broadband services, but also enable connectivity for the Internet of Things and new types of mission-critical services that require lower latency, higher reliability and robust security. 5G is envisioned to meet significantly expanded connectivity needs in the next decade with much more than higher peak rates. 5G will enhance mobile broadband, but more importantly, have the scalability to support an extreme variation in use cases spanning form connecting a massive number of things to new services like ultra-reliable mission critical control. To support massive numbers of connected things there is a need to scale down in cost, data rates, power and mobility on demand to provide extremely lean and low complexity protocols. One example could be a tiny sensor that communicates infrequently and is battery powered. Other connected things and machines require scaling up in complexity to provide high performance, such as video surveillance, which require more traditional broadband services.
However, with better transparency and visibility in the chain, concerns about cyber security also come to the fore. Since IoT is already growing at a rapid pace, security needs must also be prioritised.
Ludvigsen concludes, "IoT and security are areas with many concerns. Gartner estimates that by 2017, more than half of all IoT products and services will be developed by companies less than three years old. And while some of these newcomers are likely to have formidable technical expertise, many will lack the know-how or capability to implement the tight security that is needed. Therefore, extremely robust security needs to be implemented on these gateways to improve the overall security."