FROM MAGAZINE: Healthcare delivery goes high-tech
There is a paradigm shift in global healthcare industry. Healthcare is increasingly becoming patient-centric and personalised. Such a trend has led to the pharma industry to work closely with tech companies to create new healthcare delivery mechanisms and search for more efficient systems in the pharmaceutical supply chain. From big data analytics to the Internet of Things; from health apps to drone deliveries, there is a brave new world out there for healthcare delivery.
Twinkle Sahita
There are two commodities that live fast and die young. One of them is perishables and other is pharmaceuticals. Amidst declining air cargo market scenario, the skies look brighter now as growth is expected to come from increased interest in using air transport for pharmaceutical products.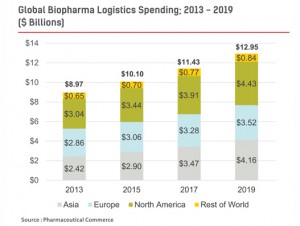 Preliminary data from Pharmaceutical Commerce's annual Biopharma Cold Chain Sourcebook shows that managing the transportation of temperature-controlled products (refrigerated and frozen) will total $12.6 billion this year, continuing an 8-9 percent per year growth rate that is roughly double that of pharma products overall. The report,  now in its seventh edition, pegs non-cold-chain pharma  logistics costs at $78.8 billion and rising at the 4-5 percent  growth rate of pharma volumes. By 2020, pharma cold-chain logistics will be worth $16.7 billion, and non-cold chain at $77.1 billion.
In Pharmerging market scenario, amongst other cargo carriers, Turkish Cargo prioritises to increase pharmaceuticals share in its shipments in the 2016 strategy. "Pharmaceutical industry is a fast-growing business in the global market. On the other hand, transporting pharmaceuticals adds more value to companies. Commercially, as well known, the yields of pharmaceuticals are higher than general cargo," states Seref Kazanc?, Cargo VP (Commercial), Turkish Airlines.
The major factors driving the growth for these products are shift from bulk to patient centric pharmaceutical solutions and pharmaceutical companies developing more personalised treatment solutions.
GDP and IATA CEIV Certification
The GDP (Good Distribution Practice) certification plays a key role in assuring the quality and the integrity of the transportation and distribution of medicinal products for human use.
Cargolux became the world's first GDP-certified airline worldwide in early 2014. "GDP Certification ensures compliance with best distribution practice and quality in all related logistics services, especially in this highly regulated sector," says Franco Nanna, director Global Logistics Services and also chairman of IATA's Time and Temperature Task Force, Cargolux. "It provides peace of mind to the customers when shipping these valuable commodities from point of origin to destination. Customers satisfaction is our passion".
However, in recent years, carriers are in the race to receive IATA's Center of Excellence for Independent Validator's CEIV programme which has been around since August 2013. The IATA CEIV initiative helps to fulfill the requirements of the pharmaceutical industry – with CEIV being like the GDP for the air cargo players. Amongst all the airlines, Finnair was the first airline in the world to become IATA CEIV certified.
"Our hub in Zurich, via our partner Cargologic was also awarded the GDP compliance from Swissmedic (the Swiss drug registration institution) in 2014 and received the CEIV certification last year, which further assures the highest quality and security standards in the handling of pharmaceutical goods," says Susanne Wellauer, senior manager Vertical Industry Pharmaceutical & Healthcare, Swiss WorldCargo.
Pharma supply chain trends
When it comes to temperature sensitive shipments, patient's safety remains shipper's priority. In order to make the process reach the 'superlative' degree of efficiency, pharmaceutical industry is moving ahead to embrace technology. New technologies such as big data and analytics, IoT (Internet of Things), new mobile apps catering to health sector and drone delivery sets the industry to change.
Ground handlers face the most challenging sections of the particular part of the cool chain as they are in charge of initially taking over shipments and in terms of handing them over to the next party involved in the supply chain.
Sharjah Aviation Sevices is now certified by IATA as the first CEIV Pharma validated airfreight handler in the Middle East and Africa. "Beyond the not so new bar-code, in Sharjah we are using cloud computing, wireless technologies, real-time data as some of the technologies being applied. A combination of IoT (Internet of Things), RFID and cloud computing is likely to be tested in the near future. Other technologies, such as robotics, whilst highly interesting for specific areas and airports, are not yet ripe for air cargo," shares Gonzalo Jacob, head of Cargo, Sharjah Aviation Services.
With time, ground handlers have realised the importance of real time monitoring. Besides the chillers, real-time temperature and humidity monitoring coupled with access to shipment data and history from anywhere (web-accessible) ensures that real-time-monitoring is possible, for all interested parties such as shipper, carrier, GHA and consignee.
Hong Kong Air Cargo Terminals (Hactl), Hong Kong's largest cargo handler that achieved GDP accreditation covering the provision of handling, logistics and storage services for pharmaceuticals in 2014 also finds the need for real time monitoring. Mark Whitehead, chief executive of Hactl, says, "The issue of remote monitoring of temperatures is the next area in which we are likely to see developments, but there are technical issues in operating this equipment while airborne that need to be resolved before this becomes an industry norm."
[caption id="attachment_16359" align="alignleft" width="300"]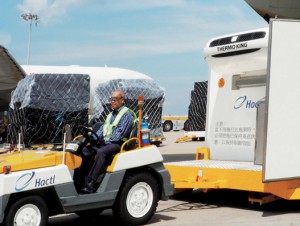 HACTL's temperature controlled dolly for pharmaceutical handling[/caption]
 He adds, "Airports like Hong Kong suffer extremes in  temperature on the ramp, so the faster the shipment can be  unloaded and stored, the better. This is why Hactl  instigated its "Golden Route", which is a combination of  physical equipment and procedures that fast-track pharma  through our facility, to minimise the handling time. This is  a fundamental aspect of our WHO GDP accreditation,  which we were the first Hong Kong handler to achieve."
 The biggest pharma hub in Europe, Frankfurt Airport  (FRA) that aims to achieve IATA CEIV Certification by early  2017 also finds temperature monitoring a necessity.  "Tracking and tracing along the transport networks is requested and more and more sensors are installed," says Dirk Schusdziara, senior vice president, Cargo at Fraport AG. In 2015, over 100,000 tonnes of pharmaceutical freight has been handled at FRA, more than at any other European airport.
Technology intervention calls for increasing transparency in supply chain operations. Major European gateway, Amsterdam Airport Schiphol tries to keep up with the slogan of Pharma Gateway Amsterdam that says 'qualified and transparent' with new technological initiatives being taken at the airport in order to bring in transparency in pharma supply chain operations.
Jonas van Stekelenburg, head of Cargo, Amsterdam Airport Schiphol, informs, "Here in Amsterdam, we are working on a case study with apron dollies or carts that are equipped with temperature and humidity sensors as well as a tracking module. Using the available radio frequencies at AMS airport we are able to monitor in real time the location of the cart as well as the temperature and humidity inside the cart. Data sharing with customers, whether that be the freight forwarder or the shipper, is a possibility. Using this data together with data provided by the ground handling companies, e.g. during storage in the different cold rooms, gives an insight of the location and condition of shipments from door to aircraft or vice versa."
In the recent years, carriers have started specialised services to handle pharmaceuticals. QR Pharma, launched by Qatar Cargo in January 2014 is now available in over 65 destinations worldwide and carries 5.7 percent of the global pharma shipped by air. It uses special containers in collaboration with Envirotainer, CSafe, Dokash and VA-Q-TEC companies that are leading the development of active temperature-controlled air transportation solutions. The Doha Cargo hub of the carrier operates in accordance to the highest Pharmaceutical Industry Standards compliant with 'Good Distribution Practice' (GDP).
"The use of refrigerated trucks at our hub has increased and we use them for products such as pharmaceuticals that require specific temperature during the transportation process. We make sure every unit is consistently under temperature control. The pharmaceutical products are stored in these trucks if the connection time is short and they are required to wait on the tarmac. If the connection time is longer, we transport the goods in these trucks to the refrigerated area of the warehouse. We have invested in these vehicles to make sure there's never a gap in the cool chain," comments Ulrich Ogiermann, chief cargo officer, Qatar Airways Cargo.
Of all technologies, drones are the hot topic today. Drones will definitely assist the last mile transportation to patients living in remote locations where access is difficult. In general, drones / RPAS (Remotely Piloted Aircraft Systems) / UAVs (Unmanned Aerial Vehicles) / UCAs (Unmanned Cargo Aircraft) can revolutionise tomorrow's logistics. Drones can play a crucial role in the pharmaceutical industry as being a first response to natural disasters; to transport emergency supplies in remote areas and for first and last mile delivery of small packages.
"IATA is currently exploring the opportunities and challenges of the usage of drones for air cargo, from micro-drones to ultra-large unmanned cargo aircraft. IATA's activities entail learning from early adopters, establishing appropriate partnerships and identifying the areas where IATA needs or will need to play a role (standards, recommendations, guidance, etc.). IATA's Safety division is working on issues like access to airspace, use of aviation spectrum, safety and security threats caused by all sorts of drones," informs Ronald SCHAEFER, project lead, Center of Excellence (CEIV) Pharmaceutical Logistics.
Drones reach the continent that has the highest rate in the world of maternal death due to postpartum hemorrhaging. UPS has formed a partnership with medical alliance Gavi and robotics firm Zipline to explore the use of unmanned aircraft to deliver vaccines to remote locations in Rwanda, Africa. The UPS Foundation has awarded an $800,000 grant to support the launch of the Gavi and Zipline initiative, with the belief that the model could be replicated in other areas of the world. Starting later this year, the Rwandan government will begin using Zipline drones, which can make up to 150 deliveries per day of life-saving blood to 21 transfusing facilities located in the western half of the country.
New Facilities
In recent times, air carriers and third party logistics firms have made substantial investments in capacity expressly for life sciences products.
American Airlines Cargo opened an Expedite TC 25,000-sq.-ft. facility in Philadelphia for inbound and outbound shipments of pharma products; it includes refrigerated (2-8°C) and controlled room temperature (CRT, generally 15-25°C) space, and the ability to recharge the air-freight containers offered by CSafe, Envirotainer and others, which use batteries to run self-contained heating and cooling units. "Our new COOL Nordic Cargo (CNC) hub at Helsinki Airport opening in May 2017 will feature a 3000m2 dedicated, temperature-controlled area for the handling of pharmaceutical products and a separate 3000m2 area for perishables. Process optimisation work for both special cargoes as well as general cargo in the new terminal are already being defined to ensure excellent quality handling of growing cargo flows in future," informs Fredrik Wildtgrube, head of Global Sales, Finnair.
United Cargo started the year with the opening of a TempControl facility for healthcare products at Newark Liberty International Airport; the CRT space is used for inbound and outbound freight, and for transiting shipments within the United Air Cargo network. The company noted that it now has 56 TempControl facilities (where there are trained personnel in handling healthcare logistics) in its global network, including a just-opened one in Vienna, Austria.
DHL recently opened a new logistics centre for life science and healthcare products at Amsterdam Airport Schiphol. The facility covers 1,000 square metres and took an investment of one million euros. One area is dedicated to pharmaceutical products that must be stored at constant temperatures between two and eight degrees Celsius, while the second one allocated to a controlled temperature range of between 15 to 25 degrees Celsius. There is a special temperature-controlled loading area, with a loading dock for both ULDs and pallets. The logistics centre will also provide DHL Thermonet, the standard product of DHL Global Forwarding for managing temperature sensitive air freight shipments.
Another logistics player, FedEx launched cold chain centre (7,710-square-metre facility) at the FedEx Express World Hub in Memphis, Tennessee, US. FedEx already operates smaller-scale cold chain facilities at the Charles de Gaulle Airport in Paris, the Cologne Bonn Airport in Germany, and the Kansai International Airport in Japan.
Shanghai Pudong Int'l Airport Cargo Terminal (PACTL) that handled about 50,000 tonnes of temperature sensitive goods in 2015 also keeps the product cool with its new eco-friendly cool centre. The facility recently obtained the IATA CEIV Pharma certification as the first Chinese air cargo terminal. In full operation, it now provides an annual handling capacity of 100,000 tonnes of temperature-sensitive goods. Refrigerated dollies and thermo-blankets are available for the seamless transportation of goods between the apron stands and the warehouse.
[caption id="attachment_12649" align="alignleft" width="300"]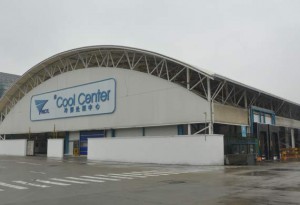 PACTL's cool centre at Shanghai[/caption]
 Talking about the centre, Lutz Grzegorz, vice president of  PACTL, says, "After a careful evaluation and extensive  testing, we implemented several mature and applicable  technologies at the new PACTL Cool Centre to ensure a  stable and efficient operation. In terms of cargo handling,  we introduced a Production Management System as well as  an automated temperature measuring & alarm system  which assists us in improving our storage utilisation and  realising a real-time monitoring on temperature and  humidity. Furthermore, we implemented an eco-friendly  cooling technology as well as electric equipment in order to contribute to the environmental protection."
Challenges of pharmaceutical shipments
Considering the fact that already small temperature excursions can do a huge damage to pharmaceutical products, an uninterrupted and transparent cool chain is probably the biggest challenge.
One of the challenges in the pharma industry today is counterfeiting and shelf-life. Counterfeit is also an important topic in the GDP Guidelines. The whole supply chain including logistics service providers must be aware of this. Although it will be very hard for a logistics service provider to see the difference between an original and a counterfeit product, it is a responsibility that we should take very serious. Due to the temperature excursions caused during transportation of pharmaceutical products, shelf-life of a certain annual volume of pharmaceutical products is decreased or even reduced to zero (disposal).
Luxair, airfreight ground handler, sees stable pharma volumes for the first quarter of 2016 compared to 2015. "Quality issues in terms of temperature control and especially ramp time and cargo exposed to weather conditions before loading onto ac. By avoiding a hand over from a warehouse to a ramp handler and having only one single handler controlling the whole process reduces the complexity and the risk of a failure," says Patrick Silverio, Special Services manager, Luxair.
Schusdziara of Fraport AG believes that all the players involved in the transport process of these sensitive goods should work closely together. He believes, "Only by collaborating, we can play out our advantages towards sea freight where you do not have so many players involved and interruptions are less likely. We need to speed up processes and offer quality and transparency, so that shippers increase their trust in air freight."
Ergo, the new innovations and certifications are transforming the pharmaceutical industry and air cargo operators are investing in their infrastructure and handling capabilities to provide the best service as well as a seamless cool chain to the customers. With all the initiatives, carriers, along with the equal efforts put in by ground handlers and airports manage to 'fly it on time everytime'.