FROM MAGAZINE: Asian air cargo on the rise amidst global downturn
While the world air cargo faces turbulent times, prospects for Asia's air cargo market remain bright. There is a need to assess what the road ahead holds for the industry in Asia and the key trends that are shaping its future.
Lionel Alva
The world air cargo industry is seemingly on a precipice and is staring into the abyss. With sluggish growth and a fall in revenues, the year 2015 was a tough year for the air cargo industry. International Air Transport Association (IATA) statistics highlight that the current state of the air cargo industry is a far cry from what it was in 2011 when air cargo revenue peaked at $67 billion. It is expected that in 2016, revenues shall not exceed $51 billion. A confluence of factors such as the UK's recent exit from the European Union (EU) and the consequent weakening of the EU has only added to global woes.
This weakness reflects the trade growth slump in Europe and Asia-Pacific. This was also depicted in the IATA released figures for global air freight markets showing cargo volumes measured in freight tonne kilometers (FTKs) expanding by a mere 2.2 percent in 2015 compared to 2014; highlighting a slower pace of growth than the 5 percent growth recorded in 2014.
The silver lining
Despite the bleak outlook presented, the long term picture for many emerging markets remained bright given how the economic systems there are evolving. Especially for those in Asia, considering the rising economic growth levels there and growing intra-Asia trade. The growth of Asia's air cargo industry is in stark contrast to the overall flat-lining of global air cargo growth.
Ergo, with per capita income rising in Asia, the region is at the forefront of international air cargo growth. And while the growth in China has slowed, its growth rate is still far higher than most countries in the world. Furthermore, India's liberal foreign direct investment policy in civil aviation has provided further impetus to its already rapidly growing air cargo sector with implications on both the domestic and the international front. The government in India too has brought about favourable policies for civil aviation. Overall, the market fundamentals for air cargo in the Asia Pacific region remain strong.
"We are optimistic that the market fundamentals will remain buoyant, in tandem with the positive GDP growth of most Asian nations. This will spur the consistent demand for airfreight commodities. Carriers will need to dig deep into their pockets to contain costs and look for potential partners to collaborate and increase efficiency," asserts Amiroel Shazrie Yussof, head of sales and marketing, MAB Kargo.
As per the statistics provided by Boeing for the year 2014-2015, Asia is expected to play a prominent role in leading the world average in annual air cargo growth. So much so that the domestic market in China and intra-Asia markets are expected to expand by 6.7 percent year-on-year. The statistics forecast a need for 38,050 airplanes valued at more than $5.6 trillion.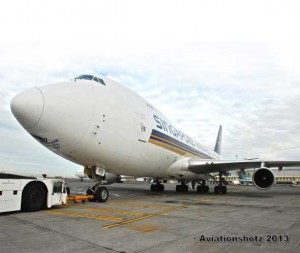 To enhance the connectivity in the air cargo industry, new and more  efficient wide-bodies have entered the market and enabled airlines to    efficiently open new routes. Aviation is becoming more diverse, with  approximately 40 percent of all new airplanes being delivered to airlines  based in the Asia Pacific region. The 777 and 787 have made a drastic  change in flights from North America to destinations in Northeast Asia,  compared with 20 to 30 years ago. In the 1980s, the 747 was the airplane  of choice for this market, but the majority of flights had to make a  connection through the West Coast of North America, primarily through  Anchorage. Recognising this potential, top airlines around the world have  launched freighters on routes connecting to the rest of the world. For instance, Qatar Airways Cargo, has launched three new freighter routes to Budapest, Prague and Ho Chi Minh in March 2016. For Qatar Airways, the new Doha – Budapest – Prague service will provide a major new gateway into Eastern Europe from Asia for electronics and automotive parts, as well as textiles, pharmaceuticals and biotech products. Singapore Airlines has announced they are increasing their services to California from October, with a new non-stop service to San Francisco on their brand new A350s, and a second daily flight to Los Angeles. The carrier shall also commence daily non-stop flights between Singapore and San Francisco.
Mark Whitehead, chief executive of Hactl, points out, "Asia is a large and diverse market; each country has its own dynamics and economic factors. A number of countries such as Myanmar, Indonesia, Vietnam and Thailand are at various stages of industrialisation, which is initially fuelling increased imports of machinery and materials required in the construction of plants. Once these are completed and industrial output develops, this will lead to economic growth, increased consumer wealth and increased disposable income. This will drive imports of discretionary, non-essential goods – and this is all good news for airfreight."
Low oil prices and increased consumer confidence will be key near-term drivers, while pent-up demand and available production capacity provide longer-term potential. However, economic and social reform toward sustainable growth in developing, emerging, and advanced economies alike will be needed to realise long-term economic growth.
Jeremy Chang, vice president of cargo sales and marketing division, China Airlines, observes, "Overall, the demand for air cargo is expected to remain flat and will still be behind the relatively robust growth on the passenger side of the business in the near future. However, we believe that in the long run the growing domestic consumption in Asia's emerging markets (e.g., Vietnam, Cambodia, and India) and the position as a key manufacturing hub for commodities will enhance the growth potential of air freight in Asia."
Preparing for an evolutionary leap
The outlook for air cargo markets in 2016 will depend on a number of factors, including the way in which the global economy adjusts to slower rates of growth in key emerging markets, and the effects of ongoing currency volatility on patterns of international trade. However, airlines from the Asia-Pacific region to the rest of the world have benefitted greatly from the booming trade in that region. To cite an example, IAG Cargo's Heathrow-to-Kuala Lumpur route has exceeded expectations one year after being launched. The service has benefited from strong demand by manufacturers, high-tech shippers and pharmaceutical customers. IAG Cargo has commenced its new Madrid to Shanghai service, touching down in Shanghai, making it one of the only carriers to directly connect the two cities.
IAG Cargo has also announced that the winter 2016 schedule will offer 10 flights per week from London Heathrow to Shanghai; an increase of three flights per week compared to the 2015 winter schedule. The new route forms one small part of IAG Cargo's global network, which connects more than 350 destinations worldwide.
David Shepherd, head of commercial, IAG Cargo says, "Our new direct route from Madrid to Shanghai will provide our customers with better connections between East Asia and Latin America and to our wider network which spans over 350 destinations. With high technology goods, pharmaceuticals and automobile parts driving both imports and exports and our additional services and larger, more cargo-friendly aircraft, we are able to offer forwarders greater flexibility and efficiency over where and when they ship their goods." With the noted general global growth in e-commerce transactions, this additional Asia Pacific capacity and frequency will allow forwarders to respond swiftly to any sudden increases in demand. This will be of particular benefit when we head into peak season."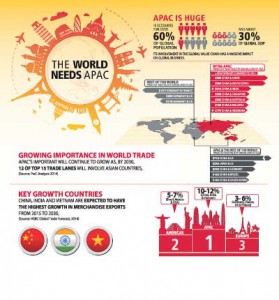 Cargolux Airlines International S.A announced in June this year that cargo  volume on the Luxembourg and Zhengzhou route has surpassed 100,000  tonnes, just eight months after the carrier announced hitting the 50,000-  tonne mark last October. While Emirates has launched a weekly air cargo  service between Dubai and Phnom Penh in Cambodia as it looks to tap into  the lucrative Cambodia-European Union trade route. The new freighter  service to Cambodia's capital is the carrier's 53rd destination in its  worldwide freighter network and the 13th in the Far East.
"I still do believe Asia Pacific is the market for air cargo. Since the living  standards within Asia are also improving which creates a new customer base  for goods that have to be traditionally carried by air. These are luxury items,  electronics, perishable items, and foodstuff. So this unique demand will  come forward and it will create a more vibrant market situation. And technology is something that is a must have in order to aid this growth," says Lee Shashitheren, executive director and chief executive officer, Raya Airways.
While Asia remains a dominant contributor to the air cargo market and intra-Asia growth provides significant flows within Asia. However, as yet, air cargo demand in Asia has stayed flat and expansion in available freight capacity continues to outpace the growth in demand.
There is a clear intention to increase trade within the ASEAN region; this may impact trade with the west, but is more likely to simply form part of an expanded international trade picture that will see growth regionally and globally. In the nearer term, global economic growth continued accelerating in 2014, putting the world economy on an increasingly firm footing. Further moderate economic acceleration, helped by lower oil prices and monetary policy stimulus (most prominently in Europe and Japan), characterises the medium-term forecast. China and Japan, Asia's two ringleader economies, are expected to continue to show sustained improvement.
Especially with economic corridors being created in the region connecting ASEAN and into China and centres for manufacturing being established in Vietnam and now in Cambodia. The significant growth from cross-border trade with emerging ASEAN markets has given freight service providers reason to be excited about their China-ASEAN offerings, which have recorded steady growth. While the slowing of the Chinese output has certainly impacted airfreight exports, but the simultaneous explosion in e-commerce imports is simply contributing to a desirable re-balancing of traffic that will enable carriers to make better use of their capacity in both directions. China's growth may have slowed, but it's still running at a rate exceeding that of almost all other countries.
"According to the latest statistics by Japan Customs, trade with Asia, especially China zone including Hong Kong and Taiwan, accounts for a substantial share in terms of total imports-exports value. As observed, China zone remains to be key market driver for Narita International Airport," Avers Fumio Gunji, deputy vice president, Cargo Sales & Marketing Department, Business Division, Narita Airport Corporation.
Apart from these factors, Asia's emerging economies are also witnessing rapid urbanisation and the emergence of mega regions that driven by an increase in mega cities. These regions shall consist of a tier of one to three mega-cities with a sizeable population. Consequentially, this shall foster an agglomeration of GDP and population that will drive world trade. The DHL study highlighted in the infographic above, "Demystifying Asia Pacific Trade Trends" presents key APAC trade trends and their supply chain implications. In the current fragile global macroeconomic environment, the APAC region remains a beacon of optimism, positioned to be the world's fastest growing region with trade as a key growth sector.
Chang adds, "Economic activity is the primary driver for air cargo. Over the years, the expansion of air freight traffic in Asia has been led by booming Chinese economy and by shifts in production and manufacturing of consumer goods from North America and Europe towards Asia. Moreover, in order to decrease production costs, many lower value components and products have been outsourced from China to its neighboring countries such as Vietnam or the Philippines for final assembly in China."
With economic centres shifting, aviation will be critical to support the movement of people and goods between mega-cities and regions. However, the industry should strengthen its value proposition and competitiveness to ensure alternative modes do not capture the growth. The advent of e-commerce and digitalisation has further added to the opportunities in the air cargo supply chain.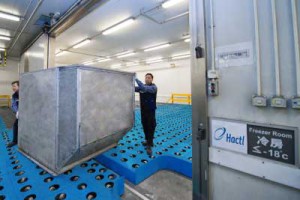 Since air cargo has an intrinsic advantage in an age where supply chain  lead times and delivery cycles are becoming shorter. Conversely, the  geographical span of e-commerce is increasing as goods and services are  being delivered across countries and continents. For air cargo there is  much potential in e-commerce and a report by eMarketer showed that the  global B2C e-commerce sector is expected to hit $2.3 trillion by 2017.  However, intense competition for cargo and combination carriers from  integrators and ocean and land freight options in Asia would require that  air cargo players buckle up and bring about a paradigm shift in operations and efficiency.
"Efficiency gains are critical as the sector adjusts to shortening global supply chains and evermore competitive market conditions. We have to adjust to the 'new normal' of cargo growing in line with general rates of economic expansion. The industry is moving forward with an e-freight transformation that will modernise processes and improve the value proposition. The faster the industry can make that happen, the better," highlighted Tony Tyler, IATA's outgoing director general and CEO in a press statement.
The eMarketer report highlights that at present, air cargo's share in the transportation of e-commerce goods worldover is around $2 billion, based on figures from around 250 IATA-member airlines in more than 100 countries.
Shashitheren adds, "I would say that right now there is a boom in e-commerce of course. It seems to be the focus for a lot of carriers today. Especially since e-commerce brought about a new way of moving the cargo. Since, in the past, other modes of transportation would have been used to reach the stores. However, now it is going directly to the consumers themselves. Urgency has taken over as a big need for the consumers themselves and has impelled a need to use airfreight."
IATA, recognising the potential of e-commerce, has encouraged carriers to reduce 48 hours off the six-day transport timeline that has been the average since the 1980s. To remedy this, IATA has come up with a few initiatives like e-freight, e-airway bills and cargo 2000 now known as Cargo iQ. These are technologies that airlines should grasp to acquire a bigger share of the e-commerce pie. Especially given that online retail revenues are expected to nearly double, from $733 billion in 2015 to $1.4 trillion in 2020 in the Asia Pacific region, according to data provided by market research firm Forrester.