Curing pharma supply chain of ailments at ACI 2016
The exclusive pharma air shippers forum during AIR CARGO INDIA 2016 reiterated the fact that a community-based approach is mandatory to ensure pharmaceutical supply chain integrity from origin to end. 
Deeba Kazi
"For a lot of people in the air cargo industry it's always about planes but for the pharma industry, it's all about the patient, so we are sometimes too far away from the end consumer. Therefore I think, having a community, having a shipper on board and going into discussion by listening to what the industry wants is very crucial," said Steven Polmans, head of cargo, Brussels Airport Company at the Pharma Air Shippers Forum hosted by Brussels Airport on the first day of the AIR CARGO INDIA 2016 in Mumbai last month.
The objective of the forum was to bring together the pharmaceutical exporters and offer them a platform to exchange views and ideas and analyse various segments of the pharma supply chain industry thereby addressing key areas of challenges and opportunities.
The forum titled "India as world's pharma export hub – a global perspective" witnessed more than 125 attendees out of which 21 were logistics and supply chain managers of leading pharmaceutical companies like Biocon, Serum Institute of India, Watson Pharma, Cipla, Sandoz, Merck, Lupin and Reliance Life Sciences.
Moderated by Johan Leunen, cargo marketing manager, Brussels Airport Company, the session saw major participants like Peter Van Domburg, district manager, Expeditors, Belgium & Luxembourg; Nathan De Valck, cargo & product development manager, Brussels Airport Company; Emir Pineda, manager, Aviation Trade & Logistics (Marketing), Miami International Airport; Babette Desfossez, Customs Attaché, Embassy of Belgium, New Delhi; Manoj Singh, vice president & head of cargo, Mumbai International Airport and Ryan Viegas, Vice President, Supply Chain & Procurement, Watson Pharma (Actavis).
Peter Huyghebaert from the Consulate of Belgium in Mumbai, talked about the relationship of Belgium pharma industries with India that has been developing over the years. "Belgium is the perfect logistical hub, as we see already, many Indian companies like Cipla and Ranbaxy among others have set up their business and we hope that other companies will follow their example and set up business in Belgium." He also stated factors like central location, infrastructure, highly skilled workforce and ease of setting up business that make Belgium an ideal logistical hub.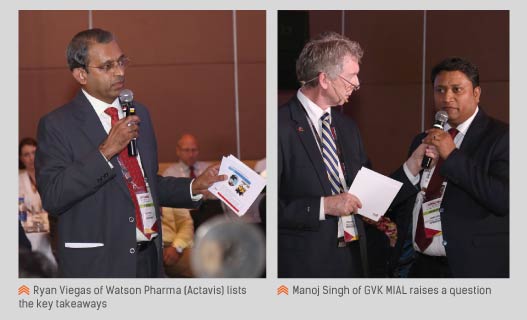 Responding to a question on whether there is an impetus by the Indian pharma supply chain stakeholders to adopt CEIV (Centre of Excellence for Independent Validation) process, with India being a major pharma producer, Nathan De Valck from Brussels Airport said, "We hear a lot of success stories of airports joining a group of communities that will invest time in standardising their cool chain and creating transparency by going through the CEIV process but it is a long process. It took Brussels two years from writing and drafting the checklist together with pharma manufacturers, to talking to International Air Transport Association (IATA) to develop this whole standard together with us. It's not something that happened overnight. It's creating this momentum, it's convincing the partners in the entire cool chain that all the different stakeholders in the cool chain have to be involved, otherwise the weakest link is going to define the quality of the chain which is not up to standard at that moment."
"I have seen willingness in the Indian community, it will take some time to convince shippers of the added value and then the shippers to speak up that this is what they need and then step by step talk to the airport authorities to probably play a moderating role where forwarders, handling agents, airlines, will be involved. From our experience it will take a lot of time," concluded Nathan.
Industry experts spoke on topics ranging from the present pharma industry trends, to the initiatives taken by the Indian government to reduce dwell times as well as the construction of special pharma zones at Indian airports. It also stressed on the importance of training all the stakeholders involved in the supply chain of pharmaceuticals, measures to improve transparency and technology limitations, not to forget the difficulty in finding efficient people to work in this industry.