CITY REPORT: The Mumbai Makeover
With many infrastructure projects already launched and many more under plan, Maximum City is set for a makeover. At least, for this time, it is more than just a dream. Twinkle Sahita
"More dreams are realised and extinguished in Mumbai than any other place in India," writes Gregory David Roberts in Shantaram, a 2003 novel which is famous for its vivid portrayal of tumultuous life in Mumbai.
Since the time when East India Company bought the 'island city' from the Crown and shifted its Western India headquarters here, the city has indeed, undergone a great evolution. Mumbai is now the nerve centre of India's growing economic and financial power. It is home to two of the largest stock exchanges in India. It accounts for about 5 percent share in India's GDP, 25 percent of industrial output, 70 percent share of India's total maritime trade, and contributes over 33 percent of India's total income tax collections.
The city of contrast offers it all. From housing one of the largest slums of the world to the most expensive private home in the world; Mumbai has everything and many lessons for the world around.
Take for instance, the city's 133-year-old institution called Mumbai Dabbawalla. Every day, for a very modest fee, the dabbawalas collect freshly cooked meals from their customers' homes all over Mumbai. Travelling by train, bus and bicycle, they then sort and deliver each of them to offices and workplaces throughout the city by lunchtime – and even return the used tiffins back to the customer's home for reuse.
This is not in any way a small operation. The dabbawala deliver an astonishing 200,000 meals across the city, every day, with incredible efficiency, and almost perfect accuracy in order fulfilment. This is the reason why they enjoy Six Sigma ratings, a measure of high process quality for their accuracy, reliability and punctuality. Western companies like Amazon and FedEx strive to achieve that kind of accuracy through advanced technology. Not so in the case of the dabbawala. Despite its incredible efficiency, theirs is a very low-tech system built around train schedules, bicycles, and delivery men. The only modern technology involved in the process are a website, and an ordering system enabling people to text in their last-minute orders.
In 2010, Harvard Business School added the case study The Dabbawala System: On-Time Delivery, Every Time to their compendium for its high level of service with a low-cost and simple operating system. The authors asserted that the dabbawalas operate to Six Sigma standards developed by Motorola in the 1980s and now used by global corporations including General Electric and BAE Systems.
[caption id="attachment_14257" align="aligncenter" width="500"]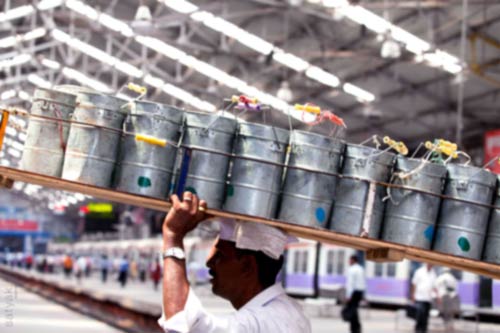 Dabbawala: Mumbai's lunchbox carriers - Image: Satyaki Ghosh[/caption]
You must not be too surprised at another situation in the city where you find employees dressed such that you cannot assume they are carrying goods worth several thousands of dollars. They are the famous 'Angadias', who are known to carry valuables like precious metals and polished diamonds particularly between Mumbai and Surat in Gujarat. They are equivalent to what you call the modern day 'on board courier' in the express industry sector.
With no support of the latest technology, they still work faster and more efficient. Most of the diamonds are polished in cities of Gujarat like Surat, Navsari, Bhavnagar and are then sent to Mumbai through Angadias. They are known for their reliability and on time performance.
Being in the financial capital and as a key gateway of the country, GVK Chhatrapati Shivaji International Airport (GVK CSIA) holds great significance in supporting the domestic and international traffic of both passenger and cargo.
Mumbai's air cargo terminal holds the market leading position in Indian airports with the highest air cargo throughout handled to the tune of over 0.6 million metric tonnes per annum. For the record, in the year 2014-15, CSIA handled traffic of 36.6 million passengers and 694,261 tonnes of cargo.
Mumbai International Airport Limited (MIAL) initiated cargo master plan to modernise its existing facilities, which helps to maintain its market leading position in the air cargo industry. MIAL's cargo master plan encompasses completed projects like the Export Perishable Terminal, the Import Cold Zone, the Export Unitisation Terminal and upcoming projects like the Export Heavy and Bonded Cargo Terminal, the Domestic Common User Terminal as well as future projects like the expansion of the Export Perishable Terminal and the relocation of Air India to a new facility.
"At CSIA, domestic volumes have seen a robust 15 percent growth year-on-year in 2014-15 and the volumes continue to perform well in the current financial year. This is largely due to rising e-commerce business," says Manoj Singh, vice president & head of Cargo & Express at GVK MIAL.
Indian exports remain uncertain due to weak global demand and particularly due to slowness in intra-Asia trade. "Pharmaceutical exports and imports at Chhatrapati Shivaji International Airport (CSIA) continue to rise despite market turbulence. The growth of pharma cargo has been massive in the last five years."
Mumbai houses India's richest civil organisation, Brihanmumbai Municipal Corporation (BMC), who ensures that the basic civic infrastructure is in place. Another important authority, the Mumbai Metropolitan Region Development Authority (MMRDA) plays a greater role in bringing about improvement in sectors like transport, housing, water supply and environment in the region.
One such project undertaken by MMRDA is Mumbai Trans Harbour Link (MTHL), amouting to 11,500 –crore that will facilitate decongestion in Mumbai by improving connectivity between island city, South Mumbai and main land (Navi Mumbai) and for development of Navi Mumbai region that was envisaged about 30 years back. The project includes a 22.5 kilometre long 6-lane bridge connecting Sewri on the island city to Nhava-Sheva on the mainland. As far as MTHL is concerned, Maharashtra chief minister, Devendra Fadnavis said the government soon will reach a financial closure with Japan International Cooperation Agency (JICA) which has desired to provide 80 percent loan.
MMRDA will develop MTHL on the cash contract basis. Currently, the Environment Ministry's Experts' Appraisal Committee (EAC) has asked the MMRDA to strictly comply with coastal regulatory zone guidelines during commissioning of the project. The MMRDA expects to float a tender for the project by March 2016 and complete construction by December 2019.
In May 2012, the MMRDA shortlisted consortia for the project: Cintra-SOMA-Srei, Gammon Infrastructure Projects.-OHL, Concessions-G.S. Engineering, GMR Infrastructure-L&T -Samsung C&T Corporation, IRB Infrastructure Developers -Hyundai, and Tata Realty and Infrastructure -Autostrade Indian Infrastructure Development-Vinci Concessions Development V.
IRB-Hyundai had announced their withdrawal from the bidding process, on July 31, 2013. Following the failure of the tender, the MMRDA decided to abandon the PPP model and instead implement the project on cash contract basis.
Since the existing airport in Mumbai cannot handle the increasing passenger and freight traffic, much needed development of Navi Mumbai International Airport (NMIA), estimated at Rs 15,000 crore, is put on a fasttrck. It is expected to be completed by December 2019.
[caption id="attachment_14258" align="aligncenter" width="500"]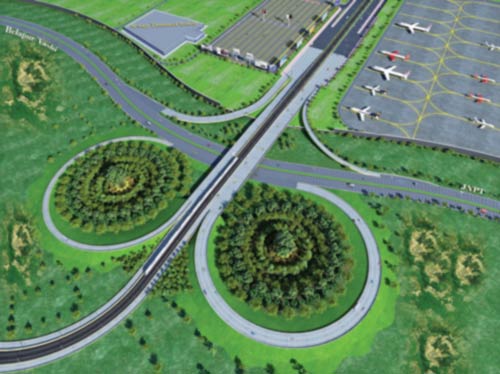 An artist's impression of the proposed Navi Mumbai International Airport[/caption]
Initially, four bidders were selected for NMIA. The four companies included GMR Group, the GVK-led MIAL, Hiranandani Developers along with Zurich Airport and Mia Infrastructure with Tata Realty and Infrastructure. Only three bidders - GMR group, GVK-led Mumbai International Airport and the Tata Realty-MIA Infrastructure consortium will now be in the fray for NMIA, as the Union ministry of home affairs has rejected security clearance to the fourth shortlisted consortium of Hiranandani Developers and Zurich Airport.
Amongst these bidders, the tender is likely to be awarded to GVK MIAL. Upon completion, the airport will handle annually 10 million passengers in its first year of operations.
Keeping in mind Prime Minister Narendra Modi's Make in India initiative and idea of developing some cities into smart cities, another vital development to enhance trade facilitation is the Dehi Mumbai Industrial Corridor (DMIC) aimed at developing Industrial zones spanning across six states in India which would spur economic development in the region and develop industries. The six states include Uttar Pradesh, NCR of Delhi, Haryana, Rajasthan, Gujarat and Maharashtra.
Freight operations are expected to witness a paradigm shift with the Western Dedicated Freight Corridor (WDFC) covering a distance of 1504 kilometre of double line electric track from Jawaharlal Nehru Port (JNPT) to Dadri via Vadodara-Ahmedabad-Palanpur-Phulera-Rewari. This corridor is a backbone of the DMIC project which links the political and economic capital of India. Segregating freight and passenger traffic shall pave the way for high speed movement of goods. The Dedicated Freight Corridor (DFC) is an ambitious programme of the Ministry of Railways involving construction of two corridors, the Eastern Dedicated Freight Corridor from Ludhiana to Dankuni, and the Western Dedicated Freight Corridor from Dadri to JNPT, Mumbai. It is being implemented by Dedicated Freight Corridor Corporation of India Limited (DFCCIL). The sanctioned cost of WDFC is Rs 46,718 crore. The WDFC will mainly benefit export and of import container traffic, besides petroleum, oils and lubricants, imported fertilisers and coal, foodgrains, cement, salt, and iron and steel. The traffic over WFDC in 2021-22 is expected to be 152.24 million tonnes.
According to a statement issued by the company, Tata Projects along with IRCON International Limited is part of the Express Freight Consortium, which is led by Mitsui and Company Limited of Japan. Tata Projects Limited said it is commencing work on the Rs 4,328 crore project to build a 320-kilometre stretch of the Western Dedicated Freight Corridor (DFC), a dedicated freight line connecting Delhi and Mumbai. The consortium plans to complete the work in scheduled time of 48 months using latest technology of Automated Track Laying Machines, it added.
JNPT, the biggest container handling Port in India, handles around 56 percent of total container handled by all major ports in India. JNPCT, its own container terminal with state of art facilities, meeting all international standards, user-friendly atmosphere, most economical, excellent connectivity by rail and road to hinterland. Backup infrastructure facilities like proximity to Mumbai, Pune, Nasik city and its industrial belt all makes JNPCT an unique container terminal.
JNPCT handled 4.467 million TEUs (twenty foot equivalent unit) of container traffic registering growth of 7.33 percent during the financial year 2014-15, which is highest ever container traffic since inception of the Port and 56.13 percent of the total container throughput of the country's major ports. Out of the total traffic of 4.467 million TEUs, the share of the JNPCT was 1.294 million TEUs (28.97 percent), the share of NSICT was 1.160 million TEUs (25.97 percent) and the remaining 2.012 million TEUs (45.06 percent) were contributed by APM Terminals.
In order to solve problems like acquiring vast tracts of land and building underpasses for people and cattle, the proposed Mumbai-Ahmedabad bullet train may run on an elevated corridor, rather on ground which is likely to increase the project cost by about Rs 10,000 crore. In December 2015, Japan agreed to fund 81 percent of the total project cost while rest of the resources would be pooled by railways and the state governments of Maharashtra and Gujarat. The project feasibility was jointly conducted by RITES, Italferr and Systra in July 2015.
Another important infrastructure project initiated recently is the 33.2 kilometre coastal road from Nariman Point in South Mumbai to Kandivali in the North. It is a Rs 12,000 crore project undertaken by BMC that Maharashtra Chief Minister Devendra Fadnavis has been pushing aggressively with the centre ever since he came to power. "We will ensure that by 2019, my car runs on the constructed coastal freeway," promises Fadnavis.
You may also like:-
---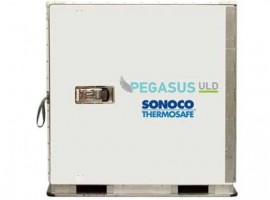 Logistics
FAA approval officially enables reciprocal EASA (European Aviation Safety Agency) approval, which is anticipated in the very near future.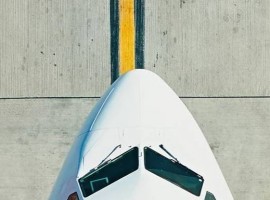 Logistics
The global rollout of CargoWise across a. hartrodt operations in Asia, South and North America, Oceania and Europe, will be a staged process with completion by March 2023.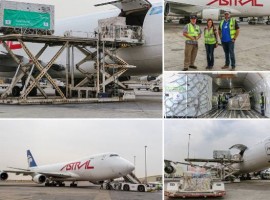 Air Cargo
Logistics
The hospital which included generators, tents, HEPA filters and medical equipment, can facilitate up to 200 people to receive potential lifesaving treatment.