CEVA Logistics appoints Fuat Adoran to head Balkan, Middle East and Africa cluster
Feb 08, 2016: CEVA Logistics, one of the world's largest supply chain management companies, appointed Fuat Adoran to lead its Balkan, Middle East & Africa cluster. He served as managing director, CEVA Turkey for the last three years.
Adoran will continue to be based in Istanbul and will report to company CEO, Xavier Urbain.  He has worked at CEVA since the company was established in Turkey in 2001. In his new position, Adoran will be responsible for some 4,500 staff across 9 countries. One of his primary responsibilities will be to share the knowledge and expertise to create solutions for customers in other countries within his cluster. He will intensify the collaboration between countries to provide new and service improvements to customers.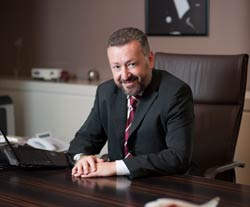 CEVA is the market leader in Turkey with an excellent footprint across the  country in both freight management and contract logistics. CEVA's Contract  Logistics footprint in Turkey provides it with an excellent opportunity to create a  roadmap for growing business opportunities within the cluster across all four  business lines - air, ocean, ground transportation and contract logistics.
 "I see a number of promising business development opportunities for CEVA.  This area comprises a diverse group of countries operating in a number of key  vertical markets where we have particular expertise which we can capitalise on to drive forward and achieve our goals. Investment in verticals such as our project business in the Middle East will certainly continue," says Adoran.
 Xavier Urbain, CEVA Logistics, says, "I am pleased to welcome Fuat in his new role. I am confident he will help us to develop the BAMECA cluster and support our goal of creating strong added value services for our customers."
 Adoran has a degree in Business Administration and a Masters in General Management.