Cathay Pacific rebrands Dragonair as Cathay Dragon
Jan 30, 2016: Cathay Pacific's wholly owned sister airline, Dragonair is rebranded as Cathay Dragon. The two will remain as separate airlines, operating under their own licences.
Since 2006, when Dragonair became a wholly owned subsidiary of Cathay Pacific, it has added 23 new destinations and the number of passengers travelling across both carriers has grown five times to more than 7 million in 2015. The combined annual passenger number of the two airlines grew from 22 million to more than 34 million last year. This growth has been made possible by the Cathay Pacific Group's efforts to channel international passengers to and from Mainland China, regional and long-haul markets through Hong Kong International Airport.
A new livery has been created for Cathay Dragon that features a Cathay-style brushwing logo. This livery will appear for the first time on one of Cathay Dragon's Airbus A330-300 aircraft in April and will be progressively introduced to the rest of the airline's fleet. The livery was redesigned to align Cathay Dragon more closely with Cathay Pacific.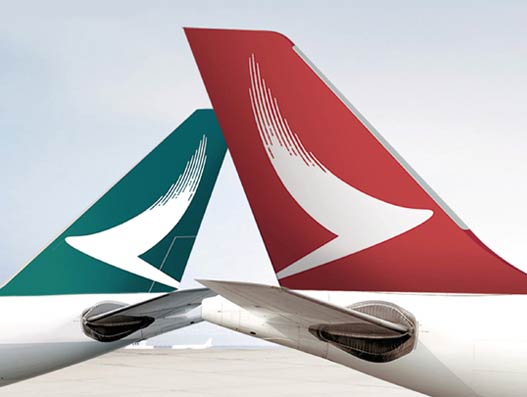 This rebranding will leverage on Cathay Dragon's unique connectivity into Mainland China, one of the world's fastest-growing business and leisure travel markets.
Ivan Chu, chief executive, Cathay Pacific, said, "We are building on what is a true Hong Kong success story that has made our city a leading international aviation hub and gateway to and from Mainland China markets. This rebranding will sharpen our competitive edge by offering an attractive Cathay-led brand package that carries the assurance of a consistently high-quality customer experience."
Both airlines will offer a premium in-flight experience, but each will have its own distinct personality that reflects the specific needs of our passengers.
Photo: Ivan Chu, Cathay Pacific (third from left) and Algernon Yau, Dragonair (fourth from left) unveiled the new Cathay Dragon livery.