Air Canada flies 300 firefighters from South Africa to assist with Alberta Wild Fire
May 30,2016: Air Canada, Canada's flag carrier flight AC7007 departed O.R. Tambo International Airport in Johannesburg, South Africa early en route to Edmonton, Alberta with 300 South African firefighters on board. It is carrying the largest number of wildland firefighters ever brought into Canada.
The Air Canada Boeing 777-200LR is carrying firefighters from South Africa's Working on Fire programme who will assist in firefighting efforts underway in Northern Alberta. It is also that organisation's largest-ever deployment.
"This is the first time Air Canada has operated into South Africa, which also required rescheduling flights to make one of our largest aircraft available in order to accommodate this request. We are extremely honoured to be able to support the firefighting underway in Northern Alberta, and on behalf of all Air Canada employees, I sincerely thank the men and women of the Working on Fire programme for the invaluable contribution they will make on the ground," said Marcel Forget, senior vice president, Commercial Strategy, whose responsibilities include the airline's network planning and scheduling.
"On behalf of the Canadian Wildland Fire Community we offer our gratitude and thanks to Air Canada for helping transport the South African Firefighters to Alberta," said Kim Connors, executive director, Canadian Interagency Forest Fire Centre.
"This mobilisation represents the largest group of wildland firefighters ever brought into Canada. Air Canada's willingness to make such a large aircraft available is greatly appreciated."
Air Canada is operating this flight on behalf of the Canadian Interagency Forest Fire Centre in cooperation with the Alberta Government with 17 Air Canada crew members on board.
Flight 7007 will make a brief stop in Barbados for refueling and change of crew before arriving in Edmonton Sunday evening, 22 hours after departing South Africa.
You may also like:-
---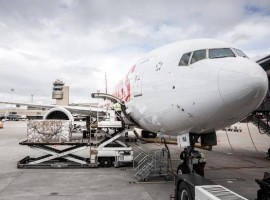 Air Cargo
Logistics
It expects to handle some 23,000 tonnes per annum for the two airlines, which have both signed three-year handling agreements commencing September 1, 2020.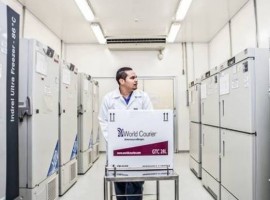 Logistics
Supply Chain
Vaccine development and manufacture and ensuring it reaches the people who need it are the two major challenges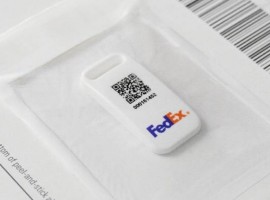 Logistics
The enhanced location visibility provided by this technology will create opportunities for FedEx customers to reimagine their supply chain through real-time updates on a package's location within the FedEx Express network.