Air cargo opportunity for Indian exports
Though India aims to become the third-largest aviation market by 2020 and the largest by 2030, the demand for air freight is limited due to the challenging export market scenario since the past few years. Deeba Kazi
India is one of the world's fastest growing economies and with this growth there exists an enormous opportunity for export where aviation plays a crucial role. The Indian aviation sector has recently seen a lot of opportunities opening up for private and foreign players. For the outgoing international air freight, India has implemented an 'Open Sky' policy whereby any airline can transport any amount of cargo between India and other countries without any capacity constraints.
Exports have played an increasingly important role in India's economic growth in the last two decades. India's top export commodities using air freight include pharmaceuticals, gems and jewellery, textiles, automotive components and leather goods. Exports in India have a major share towards the country's GDP. Many large and small scale industries have been showing consistent performance in their overseas sales.
With India playing a vital role in the export of a variety of commodities worldwide, choosing the right mode of transportation is very essential as most of the goods exported are not only time sensitive but are also significantly higher in value terms. Having said that, just in time manufacturing coupled with global outsourcing business model has seen a push in the demand for the air cargo business in India. From the top export items of FY 2015 listed by India's Ministry of Commerce and Industry, commodities like pearls, precious and semi precious stones, gold, drug formulations, motor vehicles and cars, cotton fabrics and readymade garments predominantly use air cargo as a medium of transportation. India's top export destinations for 2015 include the US ($42.4 billion) followed by UAE ($33 billion), Hong Kong ($13.5 billion) and China ($12 billion).
The demand for air freight is limited by cost, typically priced 45 times that of road transport and 12-16 times that of sea transport. These values differ from country to country, season to season and from product to product and for different volumes as well. As the volume of air freight grows, there is a natural progression from passenger aircraft to chartered cargo planes to accommodate the increasing volume; and ultimately to scheduled cargo services.
"We generally send most of our shipments by ocean since sending it by air costs almost 95 percent more," says Aslam Sheriff, CEO, India Shoes Export Private Limited, a subsidiary of Farida Group which is into manufacturing of high quality footwear. Sheriff's concern is if the rates are nominal then there is an opportunity to export more shipments via air which is of course the fastest mode to cater to the customer's demand. In 2014-15 the Chennai based group exported 674,305 pairs of shoes out of which only 35,402 pairs were shipped by air. What this demonstrates is that there is a need to make the air freight sector more affordable for small scale, medium scale as well as large scale companies in India.
For Siddharth Mehta, chief strategist, Rajesh Exports, air transport is the most viable medium to move jewellery as it saves time, also for security reasons. Rajesh Exports is the largest gold jewellery manufacturer in the world and the country's largest exporter of gold jewellery. The company has setup the world's largest gold jewellery manufacturing facility at Whitefield in Bangalore. It has a capacity to process 250 tonnes of gold into the world's finest jewellery. Quite recently, Rajesh Exports acquired the world's largest gold refinery, Valcambi in Switzerland, in an all-cash deal worth $400 million.
"92 percent of our revenues come from exports, out of which all the exports are attributed to air transport," confirms Mehta.
The quality of logistics is an essential element of competitive advantage. Cost is equally important and provides an advantage for countries that already have well-developed air freight routes, whether through scheduled freighters or space on passenger flights. For instance, when it comes to the export of perishables, non-resident Indian population living in the Middle-East and in other parts of the world, continue to source a large part of their food stuff requirements from India. Belly space available from the passenger aircrafts flying to these destinations provides an ideal opportunity for exporters of such items to supply perishables at competitive price. However, what is important is to enable the growth of this trade by facilitating appropriate infrastructure for handling, storage and faster movement of these goods for exports in the cargo terminals.
[caption id="attachment_14266" align="alignleft" width="323"]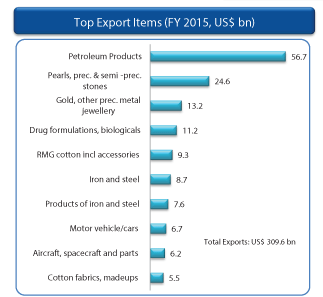 Source: Ministry of Commerce, India[/caption]
Besides constraints due to physical infrastructure, the Indian air  cargo industry faces challenges due to lack of adequate information  and poor adoption of latest communication technology. Therefore, a  collaborative effort to streamline the flow of goods and information  across the supply chain is imperative. Moreover, improvement in  India's transportation network will help to develop the air cargo  industry by reducing the turnaround time for the cargo by  eliminating delays at ports and custom clearance and by bringing in  a synchronisation of the process.
For Bhavik Chinai, director, BVC Logistics, manual customs  processes and documentation are major challenges when  transporting jewellery by air. BVC Logistics provides integrated  solutions to the jewellery sector and currently handles over 45  percent of the India's international trade of gems and jewellery of India.
Amidst many high flying take offs, the Indian export sector witnesses certain setbacks. India's merchandise exports fell for 13th successive month in December 2015, as orders from the US and Europe shrank and exporters grappled with a competitively weaker Chinese Yuan.
Perturbed by the continuous decline in exports, the government has raised duty drawback rates for exporters and implemented the interest stabilisation scheme in November 2015. While the increase in duty drawback rates will help exporters recover higher input tax outgo that they pay during the process of making the final product, the interest stabilisation scheme will allow exporters to receive bank loans at a lower rate of interest.
"Global demand also does not seem to be picking up. With only countries like the US showing little signs of improvement, this does not augur well for the country's export sector in the long-run," S C Ralhan, president, Federation of Indian Export Organisations (FIEO) said in a statement.
Due to a continuous dip, the total merchandise shipments are expected to reach a figure of $270 billion in 2015-16. India has aimed at taking exports of goods and services to $900 billion by 2020 and raising the country's share in world exports to 3.5 percent from 2 percent.
The last time Indian exports registered a positive growth was in November 2014, when shipments had expanded at a rate of 7.27 percent.